Ann-Marie's Top Food Travel Experiences
Ann-Marie Breen is a dedicated foodie and has travelled to over sixty countries. Owner and tour guide at Taste the Cape Travel and Tours, she specialises in gastronomic holidays and culinary adventures in Southern Africa. Here she talks about her top foodie travel experiences.
Asia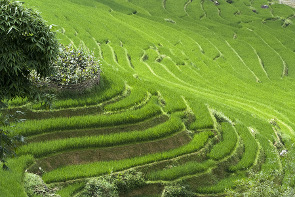 The soup dishes prepared throughout Thailand and Indonesia. Although you'd have a hot and humid day, people would eat soups with lemongrass, chillies and basil - beautiful fresh flavours. It wouldn't have been my choice if I hadn't noticed the locals were eating it. You'd think it'd make you hotter, but it works and actually cools you down.
It was unforgettable to visit the rice paddies in Vietnam and discover where the food comes from and how intrinsically part of the culture it is.
Europe
I had the best pork chop in my life in Finland! We bought the organic ingredients and cooked this amazing meal: white chops with black wild mushrooms - so flavourful. Eating fresh cherries and peas at Helsinki market, where they'd throw the pods down on the earth (amazingly there was no litter), was a unique fast food experience.
Iceland is pretty unusual, there their speciality is Puffin Cheeks - you know that beautiful little bird? I just couldn't bring myself to eat them, but that part of the world is intriguing and there's some really nice produce.
Not to be forgotten is English street food in Nottinghamshire. It was very cold and you could get a pot of peas with a tablespoon of mint sauce. Absolutely delicious, simple and good for you.
Oceania
A New Zealand tradition is to make a Hangi. They dig a hole in the ground, build a fire and bake within the fire. Nothing compares to being way out in the bush, eating an onion baked whole and seared black - the most delicious juicy pearl of an onion I've ever tasted.
My first night in Sydney, Australia in the early 1980s, after a belly full of beer, was the legendary pie and peas at Harry's Cafe de Wheels. It was meat pie which they slit open and dunked with softly cooked peas on top - a meal worthy of the legend.
Africa and South America
One of my most fun meals was in Rio, Brazil at Porcão Rio's where guys would come around with different cuts of meat on skewers. There was a stop-go sign on the table, so you could take a break and they'd know to bypass you as they went between tables.
My favourite fine-dining experience was a recent experience at Cape Town's Buitenverwachting restaurant where although I'd only ordered two of the five courses that my husband had ordered, they brought me the tiniest taste of each food and wine pairing going. It was very thoughtful.
To read about more interesting gastro destinations read our Top 10 Gastro Breaks.
more blog posts