All Blonde Island Resort In The Maldives?
By: Clayton Truscott
Published: 08 October 2010
Tags: bizarre
Lithuanian branding agents 'Olialia' raised a few eyebrows when they announced plans to open an All-Blonde resort in the Maldives by 2015. From the pilots that get you there, to the air hostesses, hotel receptionists, porters and chefs - all employees will be beautiful, young and blonde.
Olialia, pronounced Ooh-la-la, is recognized across the Baltics as the company run by beautiful blonde women. This raises a few questions about the kind of holidays that people will book at their new resort. The Maldives may just go from a popular honeymoon destination to a stag party venue. But Olialia has more than just the usual 'sexist' rhetoric to answer for.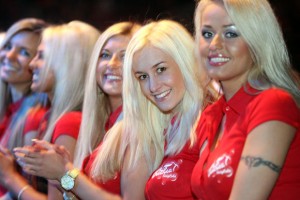 It's not a rule for employees to have blonde hair, according to Olialia's MD, Giedre Pukiene. She reckons that dark haired or ginger employees, 'are surrounded by all these beautiful blondes, so eventually they end up going blonde too.'
If this is true, it will be interesting to see how this dynamic plays out at the proposed resort. The law of the land stipulates that 50% of all staff members at any resort must be Maldivian - not a people known for their naturally blonde locks. Perhaps Olialia will get into the platinum-coloured wig business, in case local employees feel swayed to go blonde too?
Pukiene insists that Olialia, as a company, aims to liberate women. 'Our girls are very smart and they have degrees. All of them want to do something with their lives. They have lots of business ideas.'
Whoever is doing Olialia's thinking can't be feeling too bad about him or herself. Visual advertising plays a large role in their brand awareness strategy, which seems to be working very well - boasting around £6M in profit per year.
more blog posts