The struggle against frustration and boredom during a layover between flights is a never-ending battle.
You may arm yourself with an 80 gig MP3 player full of amazing music, a copy of the funniest, most gripping novel ever written, a deck of cards and enough money to drink every bar at the airport out of business - but airports are kryptonite to every fun distraction thrown at them.
The announcer calling for late travellers to check in, the travelling families with screaming children, the uncomfortable chairs, the freezing air conditioning... these things will chip away at your methods of distraction.
The only way to overcome the chaos of a four hour wait outside the gate is to embrace the madness. Travel writer, Ryan Aldred, has found a way to do this. In his blog Here There Be Dragons, Ryan transforms the unholy mess of stimuli into an entertaining game of bingo.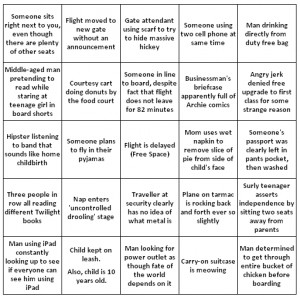 Getting points on the board is easy. But to get a full row requires time and your undivided attention. Armed with this bingo chart, your next layover is sure to be an exciting, fire-cracker quest for victory.
more blog posts