Abu Dhabi Airport Unveils Multi-Purpose Sleeping Pods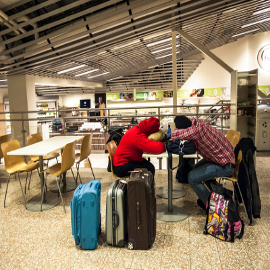 It's finally here! Since I was old enough to understand the concept of technology and brave enough to open my eyes while watching Harry Potter, I've been waiting for the inventors-that-be to create something that rivals the convenience and downright awesomeness of a flying car.
While I know a flying car isn't going to be in our skies for quite a while, I can sleep easily knowing that at least one airport recognises the importance of having a bed that will store luggage and charge phones right in the airport. The traveller in me is doing mental fist pumps; folks, the future is here.
The concept may be simple, but the design looks like it was dropped on Earth by a UFO. The best airport in the Middle East, Abu Dhabi International Airport, unveiled the world's first GoSleep sleeping pods earlier this week. For £7.91 an hour, travellers who are particularly sleep deprived can sit down, curl up and close their eyes in their own top of the range kangaroo-like pouch. The new addition to Abu Dhabi Airport means that airports like Manchester Airport, one of the best airports in the UK, are going to have to step up their game and start coming up with their own set of convenient attractions.
Not only can the chairs be converted into a bed, but they also have a sliding shade that can be used to shut out the bustle of one of the busiest airports in the Middle East. For now, only 2 pods have been installed in the AI Dhabi Lounge in Terminal 1, 8 pods are up at the Terminal 3 boarding gate and 35 more pods are set to come later this month. If you're at the airport over the next 2 weeks, then you're in luck as their soft launch phase means that travellers can use the pods for free while they test it out.
Known for its innovation and penchant for technology, it's no surprise that the airport is already brainstorming the next features that can be added; from internet and luggage storage to charging all electronic devices. Now if only this could fly...
Would you spend so much money for an hour of comfortable sleep? Drop a comment in the box and let us know!
more blog posts