WIN Prodrive Winter Driving Courses
This competition has now closed.
Each winter drivers face the increased risk of an accident when driving in freezing conditions. On icy roads stopping distances can be as much as ten times greater than in dry conditions, increasing the likelihood of a collision. Prodrive's winter driving course will teach you how to control your car in these conditions, boosting your confidence and helping you to stay safe during the winter.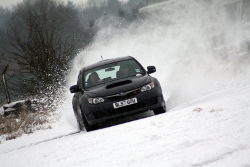 The course takes place at their own private proving ground in Warwickshire, which features specially designed low friction surfaces that simulate driving on snow or ice. Using low friction surfaces not only replicates snow and ice more accurately (than using a skid car), but allows participants to use their own car for the course increasing its relevance further.
Lasting two hours, it consists of both theory and practical sessions, all led by Prodrive's own advanced driving instructors. Following an introduction to the course and demonstration session from the instructors, you get behind the wheel to get a feel for driving on snow and ice and receive expert tuition in firstly, how to avoid getting into the situation where you lose control and then how to regain control. By the end of the session you should have a clear understanding of what to do should you ever find yourself driving in snow and ice this winter.
Five tips for driving safely during winter: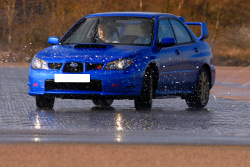 Take more time to carry out manoeuvres; stopping distances are 10 times greater in snow and levels of grip are greatly reduced
Move away gradually in second gear, this will decrease the likelihood of you loosing traction, causing you to wheel spin
Avoid having to stop part way up a hill by leaving enough clear space between you and the car in front. Maintain a constant speed, choosing an appropriate gear well in advance.
Reduce your speed before descending down a hill, use a low gear and try to avoid braking. Leave as much room as possible between you and the car in front.
If you have to use brakes, apply them gently. Release the brakes and de-clutch if the car skids.
For further information about the Prodrive Winter Driving Course please visit www.prodrive.com
How to Enter:
In order to enter the competition and stand a chance to win 2 spaces on a winter driving course please answer the question below and add it as a comment at the bottom of the page (add your email address too so we can get hold of the lucky winner).
Q: Tell us one way in which you can prepare your car this winter?
Hint - you may find the answer in our Winter Driving Tips article.
This competition is now closed.