← Go Back
No Hidden Fees on Airport Parking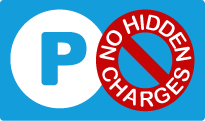 There are no nasty suprises when booking your Airport Parking with us. We like to make sure you know about any possible charges before you make your booking, so that you can rest assured you're getting the best deal possible.
1. No Hidden Credit Card Fees
Unlike many other parking providers we don't charge you for using you credit card, which means you could save as much as £4.00 on your airport parking booking just by booking with Essential Travel.
2. No Hidden Cancellation Fees
We know that from time to time plans change. That's why we offer some of the lowest and most flexible cancellation terms and conditions available.
Only £5 cancellation fee
Only 24 hours cancellation notice required
View full term & conditions
Experts Top Tip: Want to avoid paying ANY cancellation fee?
Cancellation Waivers cost only 50p and can be added to your booking so that if you need to cancel you won't be charged a penny, saving you the standard £5 cancellation fee!
To add the cancellation waiver to your booking simply tick the box marked 'Cancellation Waiver' on the payment details page during booking. It couldn't be easier!
Please Note: Savers or Super Savers CANNOT be cancelled or amended.
3. No Hidden Amendment Fees
We won't charge you any admin fee to change the details of your booking.
However if the amendments to your booking increases the final cost of your parking, we will ask you to pay the difference. The good news is, should the final cost be less – we'll refund the difference!
Well that's it, you know everything now, so can go ahead and get a quote safe in the knowledge that the prices you see are the prices you pay.
get a quote →