← Go Back
Car Park Attendant of the Month Award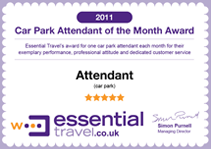 A new award designed to help us reward the individuals that provide you with an exceptional level of service.
How can you nominate?
When you return home you will be emailed and asked to complete a short survey on your parking experience and to recommend anyone that you feel provided an exemplary level of service. From these recommendations a winner will be chosen each month and awarded the Car Park Attendant of the Month award.
What does this mean for our car parks?
This really is fantastic for our winning attendants car park as it provides a great opportunity for them to receive recent, specific and relevant feedback on their service from the customers who use it. By gaining such acclaim and recognition of their great service this will encourage the car parks to ensure they are providing the experience that you deserve.
What's in it for you?

When you submit your review, you are automatically entered into the Car Park Reviewer of the month competition
Our Reviewer of the Month is selected at random at the start of every new month from all of the reviews we have received in the previous month. This lucky reviewer wins £50 and features as our Car Park Reviewer of the Month and takes their place in the Essential Travel Car Park Reviewer Hall of Fame!
Your feedback on our service is incredibly important and with this we are able to maintain the exceptional level of service we constantly strive for.