The Travellers Lounge West at Hong Kong Airport
Want to relax in one of the busiest airports in the world? Why not try the comfort of the Travellers Lounge in Hong Kong International. This airport lounge has all modern facilities for business and pleasure passengers alike including WiFi, TV and a range of drinks. See below for full details.
Lounge Facilities
Air Conditioning
Refreshments (Alcoholic)
Conference Facilities
Fax
Flight Information Monitor
Internet
Newspapers/Magazines
Refreshments (Soft Drinks)
Shower Facilities
Telephone
Television
Wi-fi
Travellers Lounge West Information
Maximum 3 hour stay (a 3-5 hour stay is available too - get a quote to find out more)
Ticketed passengers only
Non-smoking
All children must be accompanied by an adult
Smart casual dress at all times
International calls, fax service and conference facilities are subject to payment
Drinks from the Wine List are subject to payment
Complimentary alcoholic drinks are limited to beer only
Children Allowed: Yes
Infants Allowed: Yes
Directions to the Travellers Lounge West
Level 6, Departures Level, near Gate 35. Transit passengers can access the Lounge via escalators near W1 to reach the Departures Level.
The Travelers' Lounge (West Hall) Photos
Please find below, where available, a selection of photos of this lounge.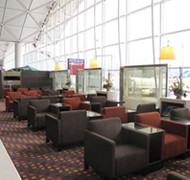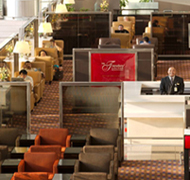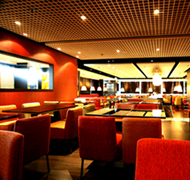 Name

The Travelers' Lounge (West Hall)

Terminal
Location
Opening Hours

Mon: 00:00-23:59
Tue: 00:00-23:59
Wed: 00:00-23:59
Thu: 00:00-23:59
Fri: 00:00-23:59
Sat: 00:00-23:59
Sun: 00:00-23:59