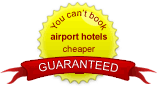 Gatwick Last Minute Hotel Deals
If you haven't had a chance to book your hotel yet, spare yourself the effort of looking with our online Gatwick last minute hotel deals. Comfortable and very budget-friendly, our airport accommodation packages will give you only the best in comfort to start your trip off relaxed.
Great value rooms
Rooms with Parking
Quick Transfers
Family rooms
Instant booking Confirmation
Includes:
You won't find cheaper Gatwick Hotels anywhere else.
Choose room only or a room and parking package for the duration of your trip.
Check prices and availability at over 20 Gatwick Hotels near the North and South terminals.
Port Hotels with Parking:
Back to top
Cheap Gatwick Last Minute Hotels
Don't worry if you've left your hotel booking to the last minute. At Essential Travel we bring you Gatwick last minute hotels that provide you with the perfect night's rest at the best prices around. You'll catch that early flight refreshed and ready to go.
Our easy-to-use booking system is the quickest and easiest way to find Gatwick last minute hotel deals. All you have to do is enter your travel dates and details into our quote form and click "Quote Me". Within a few seconds, you'll be able to pick and choose from our live-updated list of hotels, affordably servicing Gatwick.
And it doesn't matter which terminal you'll be departing from. We offer cheap hotels at Gatwick North Terminal and hotels at Gatwick South Terminal for your convenience.
Room Only Or Including Parking
If you haven't had a chance to book your parking yet, why not kill two birds with one stone right here? Many of the Gatwick airport hotels that we partner with also provide long stay parking for your car. So, not only do you get the comfort of a good night's rest in a hotel, but your car will be expertly looked after by hotel staff for the duration of your trip.
To find out more, simply select "with parking" in our quote form and pick from our list of affordable rooms including parking.
Any Extras?
To make sure that you are always on time, we include full directions to your hotel with your instant booking confirmation. We will also include additional information you might need like transfer frequency and room types and facilities.
Essential Travel Reviews
Essential Travel has been rated 85% by 1551 reviews.