Why Do You Need Winter Sports Travel Insurance?
By: Nina Montgomery
Posted: 13 December 2013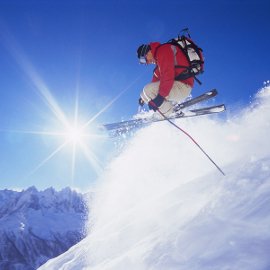 Don't go skiing or snowboarding without a winter sports travel insurance policy.
If you've booked or are planning a skiing / snowboarding holiday you'll know that it's a relatively expensive sport to take up - albeit worth every penny! It's also one of the most dangerous types of holidays you're likely to go on and as such the chances of an accident are higher when tearing down a mountain than if you were going to the beach to read a book. It's these 2 factors that make winter sports insurance a must.
However, winter sports isn't something that is generally included in basic, standard or a free-with-your-bank-account travel insurance policy. From the alps to the rockies, if you're going skiing or snowboarding, you'll need a specialist winter sports travel insurance policy.
What Cover Does Winter Sports Travel Insurance Provide?
Winter sports cover is usually an optional extra that can be added onto a Single Trip, Annual Multi Trip or Backpacker travel insurance policy. What this means is that you get all the cover you need for the type of trip you're taking, like cancellation and baggage, but you're adding extra cover that is specific to participating in winter sports. It literally adds cover for medical emergencies whilst on piste and any equipment, or pre-paid passes and packs you may have.
Includes Winter Sports Equipment Cover
Personal or Hired Equipment: This covers your boots, bindings, boards and more in the event of loss, theft or damage
Piste closure: Sometimes the weather just doesn't cooperate. This covers the cost for you to be transported to another resort where the piste is open.
Ski pack cover: Covers the unused portion of your ski pack if you get injured halfway through your trip.
Includes Emergency Medical Bills bills bills
Up to £10 million Medical Expenses, including air ambulance, mountain rescue and repatriation fees.
One of the biggest mistakes a skier can make is to underestimate just how expensive hospital bills can be following an accident on the mountain. To provide you with an example, Essential Travel's recent winter sports claims include £37,063 in Canada for a fractured vertebrae (£28,500 in medical expenses plus a further £8,400 for air ambulance), as well as £35k in the US for hospital bills for a broken knee.
Even in Europe, medical bills may not be fully covered by the EHIC, as only state provided emergency treatment is provided, and it certainly will not cover for being airlifted off the slopes. Essential Travel's recent Europe related travel claims include £9829 in Austria for a leg fractured in three different places and £8570 in France for a broken pelvis.
What about Off Piste Skiing?
Off piste cover may not be included by all insurers so make sure you read the fine print if you're looking to go beyond the resorts boundaries.
Essential travel for example, does include off piste as standard on its Winter Sports policy, provided that you are accompanied by a local guide. If you want to go off-piste without a guide, as that's even more risky, you will need to add Sports Grade 4 to your winter sports policy too.
Drinking Alcohol & Skiing Can Invalidate Your Insurance Policy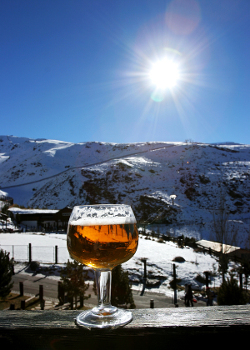 Being paralytic on piste is a big no-no, especially in the eyes of an insurer and can invalidate your policy. Worryingly, in a recent survey 52% of respondents didn't know this. However the reality is that should you be involved in an accident whilst under the influence of alcohol, an insurer has the right to refuse your claim - leaving you to pay the bill. Ouch!
What's more, the Foreign Office warns that, consuming alcohol when 1,850m above sea-level can make people feel drunk more quickly and when inebriated much less equipped to deal with the slippery ground and sub-zero temperatures. We all like a tipple on holiday, but wait until you've packed your skis away for the day before reaching for a vin chaud.