What Is Backpacker Travel Insurance & Why Do I need It?
By: Nina Montgomery
Posted: 07 June 2013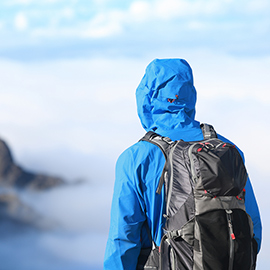 Whether you're going away on a sabbatical, taking some time out for a career break, off on a gap year, or just taking a nice long holiday, don't be fooled into thinking a bog standard travel insurance policy that comes free with your bank account will provide you with the cover you need.
Designed With Backpackers And Extended Trips In Mind
A round the world trip isn't your typical holiday, which is part of the appeal, but also the main reason as to why you need a specialist backpacker travel insurance policy that has been specifically designed with this type of trip in mind. But what makes this policy so special? Check out these features and additional benefits below.
Two Years Continuous Cover
The Essential Travel backpacker policy is one of the few backpacker premiums to provide up to two years of continuous cover. You may not be aware, but a Single Trip policy typically only provides cover for up to 87 days, whereas an Annual Multi Trip policy will cover you for a whole year, but only a maximum of 45 days per trip.
Multiple Destinations
The chances are, if you're going travelling for up to two years, you're going to be visiting more than one country, so you'll need world wide cover right? Essential Travel gives you the choice of three areas of cover, Europe, Worldwide including USA or Worldwide excluding USA, to make it easy to ensure you're covered no matter where you go. Similarly, by giving you the option to rule out certain areas (USA for example), it means that you only pay for the cover you need.
One Trip Home
As well as providing cover for working abroad and volunteering, this specialist policy will also cover one trip home, for a maximum of 14 days. So if you get homesick and want to see some familiar faces, or need to come back for your brother's wedding you can do it without disrupting your cover.
Extend Cover Whilst Abroad
Plans change, especially when you're off on the trip of a lifetime, and you may well find that you want to stay away for longer - and who could blame you! But it's important to make sure that whilst you extend your time away, you're able to extend your cover too. Essential Travel's customer service team will be able to extend the duration of your cover to a maximum of 2 years whilst you're still abroad.
Over 100 Sports, Work And Volunteering
If you're planning on working to help fund your travels or volunteer in community projects, a backpacker policy should cover this. However, it's worth reading the policy wording document as although many jobs are included as standard (bar work, fruit picking, office jobs) it's unlikely to cover you if you're planning on operating heavy machinery.
Up to 55 Years Old
This year, we've increased the age limit for this type of policy from 45 to 55 years old (inclusive) in recognition of the growing trend of career breaks and sabbaticals - gap years or extended trips are no longer just for freshers!
Emergency 24 Hour Multilingual Helpline
If you're travelling alone or in a country where you don't speak the local language, if you find yourself thrown into an emergency situation, you may feel the lack of someone to lean on or just talk things through. In cases like these, help is on hand 24 hours a day with our dedicated emergency helpline. The team can provide advice on things like what to do if you become a victim of a crime, need legal assistance or just need to know where the nearest dentist is.
15% Discount
That's right, until September 1st 2013, Essential Travel have lowered the cost of all backpacker policies by a whopping 15% to make sure you've got the best possible cover and with Backpacker Insurance from £8 per month getting protected won't compromise your travel budget.