FCO: Help & Advice Before Travelling & Whilst Abroad
By: Nina Montgomery
Posted: 22 November 2013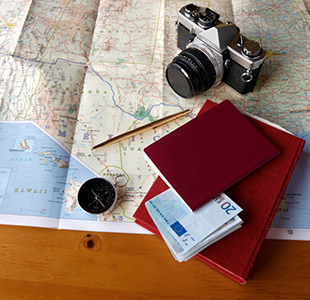 Travelling abroad comes with risks no matter which country you are visiting and a little research before you go can ensure you've got the right vaccinations, visas and are clued up on any laws or restrictions.
Similarly, as a tourist in a foreign country it is not always obvious who to approach, where to go or how to handle a situation, should something happen whilst you're abroad. That's where the FCO come in.
Who Are the FCO?
The Foreign and Commonwealth Office, commonly called the Foreign Office or the FCO supports British citizens around the world. As well as providing advice to British travellers before visiting a country, the FCO are often able to help while abroad should things go wrong.
You can visit the FCO Website or follow them on Twitter @FCOtravel .
FCO: Help & Advice Before You Go Overseas
If you're planning a trip overseas, the FCO travel advice widget (on the right) is an invaluable resource for worldwide news and advice that's bang up to date. Simply type in the name of the country that you're planning on visiting and then select the type of information you wish to find out.
The FCO widget provides up-to-date information on over 200 countries including:
Travel Summary: A snapshot of all travel advice relating to the particular country searched for
Entry Requirements: Detailed information relating to visas, work permits, travelling with children and exit requirements
Local Laws & Customs: A description of all the important laws and customs for the country searched for, but it specifically highlights the difference from British laws
Safety & Security: Containing all the advice to ensure you're safe at all times with updates on general crime, travel safety, possible terror alerts and political stability
Health: Covers everything you need to know about vaccines, insurance and any other health issues
FCO: Help & Advice Whilst Abroad
As well as providing advice to British travellers before visiting a country, the FCO are often able to help us while we're abroad should things go wrong.
The FCO offer help that is appropriate to each individual's circumstances, including:
Issuing replacement passports
Providing information about transferring funds
Providing the appropriate help and assistance should you suffer a serious assault, are a victim of crime or are in hospital
Providing details of local lawyers, interpreters, doctors and funeral directors
Contacting you (where possible) within 24 hours of you being told that you have been detained
Contacting friends or family should you request it
Making special arrangements in cases of terrorism, civil disturbances or natural disasters
What help CAN'T the FCO provide?
You'd be suprised to hear some of the requests that the FCO receive and although they can help in many ways, the FCO are not able to help you:
Get out of prison, prevent local authorities from deporting you, or interfere in criminal or civil court proceedings
Help you enter a country, should you not have a valid visa or passport
Provide legal advice, investigate crimes or carry out searches for missing people (although details of people to contact can be provided)
Get you better treatment in hospitals or prison than is given to locals
Pay any bills or give you money
Make travel arrangements for you or find you work or accommodation
Make business arrangements on your behalf
The FCO & Your Travel Insurance Policy
The travel insurance industry recognises the FCO as a governing voice for the travel community, and therefore travellers must adhere to the advice provided!
Failing to adhere to the FCO's advice could invalidate your entire travel insurance policy as well as risk your overall safety! For example; should the FCO deem a country or a specific area unsafe, issue a travel ban and yet you still travel to that destination and get into difficulty, then an insurer has every right to decline any travel insurance claim submitted as a direct result of travelling to this area.
Information regarding how the advice given by the FCO and it effects on your travel insurance can be found in the Policy Wording. "We will not pay for claims arising directly or indirectly from your travel to a country or specific area or even to which the Travel Advice Unit of the Foreign and Common Wealth Office (FCO) or The World Health Organisation (WHO) or similar body has advised against all or all but essential travel." It's important that you read your policy wording before you travel to fully understand what you are covered for.