Egypt Travel Warnings and Travel Insurance
By: Nina Montgomery
Posted: 05 July 2013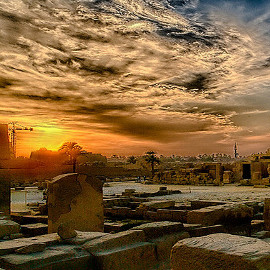 The FCO is advising Britons against all but essential travel to parts of Egypt amid mass protest about the country's leadership. If you're currently in Egypt or are booked to travel to Egypt, you may be concerned as to what cover your Travel Insurance policy will provide.
Travel Insurance in relation to civil unrest is a little bit murky, as you'd no doubt suspect. I'm going to do my best to explain what you're covered for, under what circumstances - and what's not. Here goes!
Travel Insurance Order Date
The moment the FCO issues a travel warning to a specific area, it becomes a known risk. This means that there's no point buying a Travel Insurance policy, to be covered for such an incident after an announcement. Which is why it's so important to buy your policy as soon as you can.
However, it's worth noting that there are currently no FCO travel restrictions on the most popular Red Sea and Sharm El Sheikh tourist resorts. Therefore, in theory if you're soon to be travelling there, you could purchase a policy now and still be covered. But what cover is available?
Medical Cover
If you have purchased your policy before the official announcement, most standard policies will cover you for Medical Emergencies, Hospital Benefits and Personal Accidents, providing that you adhere to the advice given. Travelling to areas deemed unsafe invalidates your entire policy!
Cancellation And Coming Home Early
Unfortunately, the majority of travel insurance policies don't accept civil unrest as a reason to cancel or curtail your holiday. This means that you can't decide you no longer want to be on holiday or go on holiday and be able to claim for the loss of money.
Similarly if your flights are cancelled as a direct result of the commotion, standard insurance won't cover this cost - it is the airline or tour operator that is liable to find you alternative travel arrangements or give you a refund.
Separate Flights And Hotels: If your flights are cancelled and you've booked your hotel separately, this could have a knock on effect and you will have to look to the hotel to re-arrange accommodation for you, as a standard policy won't cover these costs which are in direct association to civil unrest.
Independent Traveller - Civil Unrest Cover
If you did want to have civil unrest covered by insurance, you would have to look for a policy that specifically covers it. Essential Travel's Independent Traveller is an optional extra that can be added to a Single Trip or Annual policy and includes cover for civil unrest. However, even these policies don't cover cold feet and it won't pay out unless the FCO advises against travel to the region. Make sure you read the full policy wording before buying any policy.
Package holidays: These are far better protected against this sort of crisis as it's up to the tour operator to fulfil their end of the deal either by offering you alternative travel dates or finding you a different holiday.
24 Hour Emergency Helplines
If you are currently in Egypt or travelling soon, most Travel Insurance policies come with a 24 hour Emergency Helpline that you can call for advice or assistance. This number is usually clearly referenced on your policy wording document.
I highly recommend that you keep abreast of the situation by visiting the FCO website, speaking with your tour operator or airline, and adhere to any advice given.
Travel Insurance Reviews
Customers have scored Essential Travel 8.5 (ratings from 0-10) based on 1551 reviews.