5 Reasons To Beware Of The European Health Insurance Card (EHIC)
By: Nina Montgomery
Posted: 01 October 2013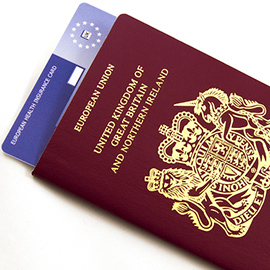 A recent ABTA report has highlighted that an increasing number of Brits are choosing to travel with a European Health Insurance Card (EHIC) instead of a comprehensive European Travel Insurance policy. Worryingly, this is without fully understanding what the card entitles travellers to, with many thinking it's an easy way of saving a few bucks.
Before you choose to forgo your travel insurance, here are some things you should be aware of:
1. EHIC Doesn't Always Mean FREE Medical Treatment Abroad
The EHIC, which replaced the E11 in 2006, gives UK residents visiting any EU country (including Iceland, Liechtenstein, Norway and Switzerland) the same level of care that is available to its local citizens under their national health service. Depending on what country you are visiting, the medical treatment will either be free or discounted. This may sound great, but the level of care in poorer EU countries such as Bulgaria or Romania, may fall short of your expectations. Having travel insurance can mean the difference between being treated in a clean, modern hospital or forced to make do with a not so nice alternative.
In Spain, although the health care is (meant to be) free of charge with an EHIC in any public hospital, you must present a valid card on admission otherwise you run the risk of being charged as a private patient. Costs incurred for private treatment are unfortunately non-refundable.
2. EHIC Doesn't Cover ALL Medical Costs
The EHIC card will cover medical costs should you become ill or have an accident and require medical treatment, even in relation to pre-existing medical conditions and routine maternity care as long as you're not going abroad to give birth and providing you're in a public hospital.
However, it will not cover private medical health care or costs relating to mountain rescue in ski resorts, repatriation or costs associated to being flown back to the UK, or additional accommodation costs that may incur should your flight home be delayed. A comprehensive travel insurance policy would. As you can imagine, such costs can be exorbitantly high and without a travel insurance policy, you would have to come up with the funds.
Tip: You may find that if you have both EHIC and travel insurance, in an event of a claim on your insurance policy, the insurer may waive the excess fees.
3. EHIC Can't Be Used In ALL Hospitals
The EHIC will entitle you to free or discounted medical care in public hospitals only. If you end up in a private hospital or fail to present your EHIC card upon admission you will be asked to provide your travel insurance or credit card details before you are treated.
To add confusion to the matter, in Spain there are 3 types of hospitals: publicos, privatos and concertados. The hospitales concertados are privately owned, but provide public services, so they should accept the EHIC. Although according to the MSSSI (Spanish Ministry of Health) the situation 'may be less clear cut'.
I would imagine that if you're in the back of an ambulance the last thing on your mind is going to be whether you're being taken to a public or private hospital. Unfortunately, without a travel insurance policy this is something that you'll need to think about.
4. EHIC Scams
The EHIC is entirely free of charge. However, there are several unofficial websites that charge as much as £20 per person if you apply through them. Surprisingly, what these sites are doing isn't illegal, as hidden somewhere in the small print is a disclaimer telling applicants that the cards are available free of charge from the NHS.
The safe place to purchase your EHIC is via the official NHS site.
5. EHIC No Longer Being Accepted In Cash Strapped Countries
Many news stories have cropped up recently announcing that cash strapped countries like Greece and Spain are no longer accepting EHIC cards. This isn't strictly true, they certainly should be - but it is a worrying thought that even with a valid card and in the right hospital you could still be asked to pay or be refused treatment.
To add fuel to the fire, it is rumoured that there are a number of cartels working across Spanish resorts where holidaymakers are being taken to private clinics where the EHIC card is not accepted instead of state-run hospitals. The private clinics are then able to charge for the medical treatment, which must be settled by private travel insurance or failing that, the holidaymaker.
With this in mind, I would advise that if you're travelling to Europe, by all means get an EHIC, but make sure you have a comprehensive travel insurance policy too. With our standard European Travel Insurance from as little as £6.94 per week and the alternative of footing a big hospital bill, it just isn't worth the risk!
Read more about what the European Health Insurance Card is and why the EHIC is not an alternative to travel insurance.