"You must be mad to be working when you could go to Thailand and live on a beach for a year," is one of the not so helpful comments you may get when you decide to spend your career break or gap year working. And, truthfully, there may well be moments when you indeed do question why you've effectively just swapped one job for another and wonder if you wouldn't be better off doing something less taxing instead.
But there are many, many very good reasons why it makes perfect sense to choose to work on your career break or gap year, and not the least of them is money.
Money
Taking time out costs money and, although you are unlikely to amass a fortune, making the decision to work during your time away means that:
You can actually go! If saving enough money for your break is proving hard, choosing to work may mean that you need to save less as some of your day to day outgoings will be taken care of whilst you are there
You may be able to stay away for longer as you are not just eating into your savings
You may be able to afford better accommodation, travel in more comfort, enjoy more nights out or just home comforts such as sitting in a cafe with a decent meal and a delicious cappuccino
You may have the cash to be able to travel some more at the end of your stint working - a perfect way to reward yourself
You'll feel a sense of satisfaction in being financially independent, and that's not to be underestimated
Most "paid for" internships won't bring in a lot of money, and you may find that you want to take on a second job if earning money is really important to you.
Improving Your CV
Working whilst on your break will improve your CV enormously. And, if you are learning a new skill such as underwater filming, concentrating totally on that, day after day, means that you will improve and learn at a very fast rate. Even if you choose to do something that you know you won't want to do back home, you will still increase:
Confidence
People skills
Language skills
Problem solving skills
Knowledge of a country and culture
All of these qualities are attractive to employers!
Cultural Immersion
"If really getting to grips with a whole new culture is part of the experience for you, then make sure that you do get chance to live with the locals, get to know the culture as well as you'd like."
This is where you need to think carefully about what you want from a gap year. If really getting to grips with a whole new culture is part of the experience for you, then make sure that you do get chance to live with the locals. On some paid-for programmes you may find yourself living with a bunch of other participants in shared accommodation and whilst this can be a great laugh, you may not really get to know the culture of the host country as well as you would like. Some gap year and career break placements such as Intern Latin America (www.internlatinamerica.com), based in South America, offer the choice of being placed with a host family. It may seem daunting at first, especially if you are not confident in your language skills, but of course, this is the best way to improve them.
Try On A New You
I suspect that many of us have an "alternative" career, the one we sometimes think we should be doing, or wish that we had done whilst we had the chance. Working during your break gives us chance to try on a new identity and play around with that other path. Whilst, of course, we can't suddenly become a doctor in a year, we could work as a medical or dental intern with a project such as Gap 360 (www.gap360.com) which is based in Ghana, and get an idea of what it is like working in the medical profession. We might very well return to our desks at the end of it relieved that we didn't go in that direction after all, or we might decide that's the path we want to take from now on, but the truth is that we will never know unless we try.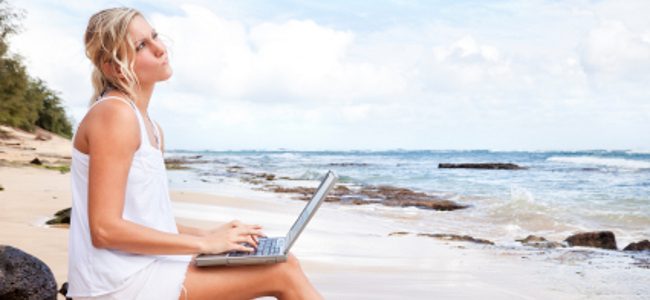 Take the time to think about what you really want to do
For more ideas on what jobs are available abroad and how to go about finding them, check out our article 10 Companies That Help You Find Paid Work Abroad.