If you are about to set out on your gap year or career break, travel blogging probably sounds an ideal way to make money and finance a great lifestyle.
But, as in many professions, the reality isn't always what you imagine it to be from the outside. Essential Travel caught up with some of our favourite travel bloggers out there, and asked them the hard questions about their enviable lifestyle.
Meet the Bloggers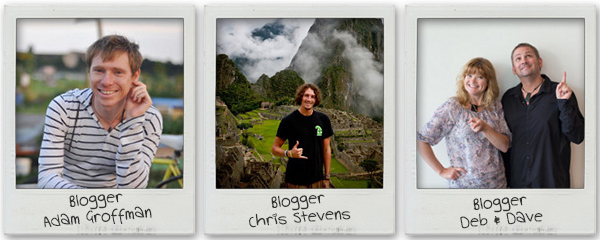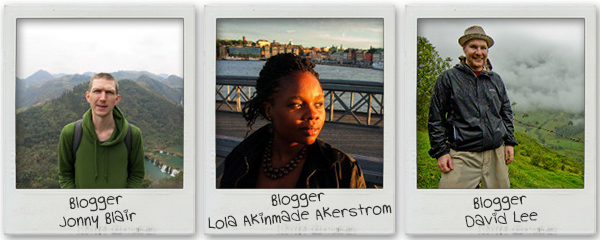 Blogging is Hard Work
How hard can it be? Visit a few places...get out the laptop, write them up and press post. How difficult can the business of travel blogging actually be?
Well, It is quite a serious business, according to our bloggers. Dave and Deb treat their website exactly like a business. "I think that a lot of people go into travel blogging thinking that it is going to be an easy job but to be successful and to make money you have to work hard. When we are not traveling, we have a strict schedule. We wake up and answer emails, we have a set time for social media interaction, and then the afternoons are spent writing blog posts, editing videos and photos and answering interviews and doing guest posts. The work never stops."
Adam Groffman admits to struggling with the organisational skills and structure that blogging demands; and whilst he feels he may not have the best time management skills yet, he is currently learning German in Berlin, and has a set timetable into which he slots his blogging work. Mind you, he also admits that his social media always seems to be on!
A Serious Business or Beer Money?
"It takes even more commitment than a typical job. Working for yourself, it's sink or swim"
David Lee points out that there is a difference between blogging to make a living and blogging for fun: "If you want to make a little extra beer money, you can update your blog(s) casually. If you want to build a business from it in order to fully support your lifestyle, it takes even more commitment, persistence, and dedication than working a typical job for a large company. Working for yourself, it's sink or swim."
"Making money online is far from easy, despite the marketing that suggests otherwise. Most bloggers will need at least 6 to 12 months getting their feet wet, building an audience, and learning the ropes before they can or should start to think about making money. That said, there are always exceptions. The more business-minded bloggers I know are able to turn a much quicker profit because they care more about making money than the actual creative process, or quality control."
"The first couple of years are tough. You are building your business and establishing yourself as an expert."
Dave and Debs are upfront about the work you have to put in: "A Travel Blog is like any business. The first couple of years are tough. You are building your business and establishing yourself as an expert. Once you have a foundation, you will begin to make money. We have turned our blog into a lucrative business. Right now it's an exciting time for the online world because possibilities are endless. If you are creative and professional you will make a great living online."
Some Bloggers are still in the process of moving to that full time blogging status. Chris Stevens says that It took him quite a while to start seeing any financial rewards - but he actually aimed to use it as a way of saving money, getting freebies in exchange for reviews and photographs, but it's now built up some good momentum: "I know if I put in enough time and effort I could probably take the jump into making it a full business, at the moment though I'm content with it just supporting my lifestyle on the road."
Jonny Blair's approach is very similar: "I LOVE to blog but because it is also a source of income and a way to get sponsored trips, then I class it as working. However this is the type of work that I do while having a beer or relaxing by a beach, so it's not quite a normal "job"!! It's more of a hobby which I'm turning into my job over time."
Some bloggers are freelancers who, rather than making money through their blog, use it as a showcase to get other work, as in the case of Lola Akinmade Åkerström: "Because I work primarily as a freelance writer and photographer, my blog acts more as a showcase with dispatches, photos, notable news, and similar so my blog complements my work as a freelancer. I certainly don't have set times, but I do have a task list of what I want to accomplish everyday and every week with regards to blogging."
Pressures
Every job has its own pressures of course, but what exactly are the things that test travel bloggers? Internet? Travel connections? Budget? It can be all of these but we were also surprised to hear that bloggers do put a lot of pressure on themselves...
Jonny admits that he forces himself to write a blog post and also make one post on his Facebook page every day, even when on the road. Hard travelling can also be tough on the hardware. Jonny cites three broken laptops and 2 broken hard drives in the last couple of years, plus many internet connecting problems.
Dave and Deb struggle with finding balance and confess that they end up working very long hours whilst juggling a lot of travel and adventures as well. "It is difficult when you are running your own business, because you don't want to turn down opportunities, but sometimes you have to say no to be able to keep up with the workflow." This is echoed by Lola who talks about how easy it is for a blogger to get off balance by overworking at odd hours just to get tasks and projects accomplished.
"Travel bloggers, in particular, have an added challenge of trying to juggle their responsibilities while traveling in foreign countries, often with less than ideal accommodations and internet connections."
Adam talks about the red tape around travelling, "Anyone who works independently as a contractor/freelancer or as a self-employed worker faces a different set of challenges than those who might be employed by larger corporations. Dealing with health insurance, taxes and other bureaucratic efforts can be a challenge when living abroad and traveling so frequently".
David was even more frank: "Despite the photos and social media updates shared by bloggers day and night, it can be a very solitary job. Bloggers often spend long hours in front of their computers, writing, editing photos and videos, and promoting their content. Travel bloggers, in particular, have an added challenge of trying to juggle these responsibilities while traveling in foreign countries, often with less than ideal accommodations and internet connections."
Can Anybody Do This?
Adam says yes, as long as you are up for a challenge, but the others don't agree...
Jonny insists that you need a love of travel - if you don't like moving around all the time, it isn't for you: "I'm a nomad and I never have a set home. Also those who hate typing up details couldn't handle this job. Writing a detailed blog post on a place you have been to requires a lot of research and knowledge. Your readers need details and it is your job to provide them with that."
Dave and Debs agree that travel blogging is definitely not for everyone, and people who like stability may not be cut out for it. They admit that they thrive on excitement and have always loved a challenge: "In our previous careers we were freelancers so just like travel blogging, we didn't know when the next pay check was going to come in the beginning. But then as we became more established we could relax and know that there would always be work out there. We've always been ones to move a lot and we have no desire to settle down. We enjoy the unpredictability of this life. If you aren't comfortable with unknowns, you won't be happy in this lifestyle."
Lola also makes the point that you need a certain level of confidence too: "If you're not comfortable selling yourself or confident in your skills no matter what level you're on, you'll have a hard time building a blog into a business."
What Skills Do You need?
Adam cites networking skills as a must and Jonny agrees that being a good people person is important.
Dave and Deb mention taking various courses in travel writing, photography, and video editing, and constantly taking courses and updating their skills, whilst David suggest concentrating on your strengths, and outsourcing the rest, such as a site design or troubleshooting, if you're not a technically-inclined person.
Advice for Becoming a Travel Blogger
Our bloggers were more than encouraging, but at the same time brutally honest:
"Jonny suggests telling truthful stories about your travels. These offer amusement and real life travel experiences."
Jonny cautions that you can make money and get free trips, but you have to really travel and work hard on your blog, nothing will come for free. He suggests that you "engage with your readers and tell the truthful stories about what really happened when you went travelling. People get bored of posts about top 5 things to see in London, trying pizza in Italy and getting drunk in Thailand. Talk about what food you ate in Taiwan, what hostel you love in Paraguay and the day you wore girl's pants to a swimming pool in Iceland. These offer amusement and real life travel experiences, away from the obvious tourist stuff."
Dave and Deb were equally practical and insisted you need to have a business plan, and know what you want out of travel blogging. Questions they suggested you ask yourself are:
Do you want this to be a business or do you want it to be a hobby blog?
Who do you want to work for?
Is the goal of your blog to write for publications?
Do you want to be a spokesperson, have a travel show or partner with companies?
David cautions "Behind the images of every exciting press trip to a new destination is a stressed out blogger doing his/her best to promote the destination and/or related businesses. There's no such thing as "free travel" when you're a travel blogger."
"Adam suggests if you know what you want, you should definitely go for it."
Chris thinks that it's not worth the effort if you were only going away for a few months. In that case, he suggests you are better off enjoying your time on the road to the max rather than worrying about uploading posts. But if you decide to take the plunge he suggests that you need to put in A LOT of work at the start with no reward, keep going and network heaps!
Adam, however, is the most encouraging: "Go for it!! I'm not one of those "lifestyle designers" who promote quitting your job, throwing it all away and following your dream. But I do believe that we all should be able to be happy. So if you know what you want, you should definitely go for it. If you fail, you fail. You're allowed an infinite number of hopes and dreams and I know I'm always trying out new things."
Contributors:
Adam Groffman is the the author of the internationally popular travel blog, Travels of Adam, as well as the editor of My Gay Travel Guide, follow him on Google+.
Chris Stevens of Backpacker Banter is a mid twenties backpacker who's been on the road since 2009 - surfing, photographing and blogging his way around the world.
Deb & Dave of The Planet D are a travel couple who have visited over 80 countries on seven continents and aim to inspire people to follow their dreams and push boundaries. Get in touch with them on Google+
Jonny Blair hails from Northern Ireland and runs a one man, seven continent travel blog called Don't Stop Living, contact him via Google+.
Lola Akinmade Åkerström of Lola Akinmade is a Stockholm-based writer, photographer, and blogger who writes for many travel publications. Follow her on Google+.
David Lee left his job to take a dream trip around the world, documenting the entire 20-month journey on his travel blog, Go Backpacking. Contact him via Google+