If your office job is taking its toll and has left you feeling deflated, craving adventure is all very well but where are you going to get the energy to do all things you're dreaming of? Starting your career break by learning yoga, to paint, sing, cook, surf or get spiritual may just be the ideal start to your extended break. Below we give you some ideas of different types of retreats on offer.
Get cultural
Consider a cultural retreat, time away from your normal life and job to enjoy different types of cultural activities in a relaxing location, much more than just another holiday. Chateau Lou Casteou (www.loucasteou.com) which is located 30 minutes from Nice Airport in France and sits in the mountains between Cannes and St. Tropez presents the ideal start to your career break. Morag Baxter, owner and founder of the luxury property describes the activities guests will be able to enjoy "...gourmet cookery, water colour painting, photography, singing and songwriting classes (and also music lessons as requested), trekking and appreciation of nature and dancing classes. Additionally we offer wine tasting sessions and visits to local galleries and Provençal market towns."
Why choose a cultural retreat?
Morag Baxter sees the cultural retreat as a way for like-minded guests to meet other interesting people from around the world and have "...the opportunity to try and develop new skills or enhance existing skills and hobbies." The cultural retreat is ideal for those seeking an alternative career break or those on a sabbatical as it allows guest to "...escape and relax, away from the corporate world, and to reflect on their goals and objectives. They will also have the chance to enjoy art and cultural and sporting pursuits and to recover and relight their passions, outside of the workplace."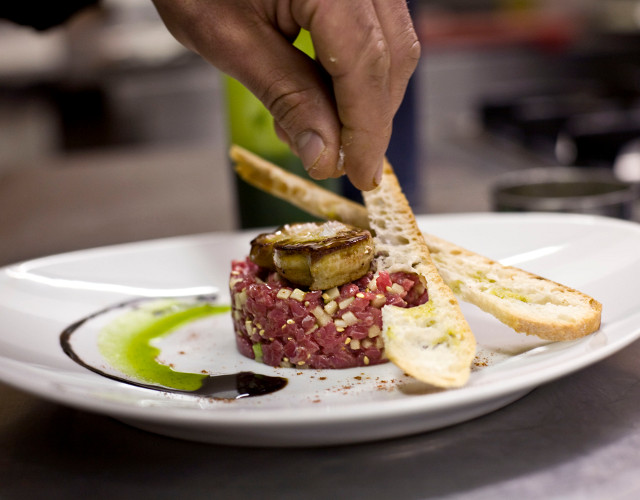 Gain spiritual awareness
"The world around you is slowed down and you're able to concentrate on finding inner balance and harmony."
Get spiritual and dig deep about why you felt you needed a career break in the first place. There are a number of spiritual retreats from Ashrams in India, meditation centers in Sri Lanka to yoga retreats on a tropical island where the world around you is slowed down to a gradual pace and you're able to concentrate on finding inner balance and harmony.
Ashrams
Ashrams are typically the residence of a particular guru and are used as religious retreats where followers are able to take time out from their busy schedules and enrich their lives by living in the Ashram for a period of time. Your time in the Ashram will be divided between meditation and chores in order to help maintain the building such as cooking, cleaning and gardening.
Strict laws govern Ashrams, you will not be allowed mobile phones, radio, internet, TV, alcohol or cigarettes. Most Ashrams enforce silence except when talking with your guru. These rules are dependent on the Ashram you choose and are not necessarily enforced in all. Although you'll benefit from the end results, spending time in an Ashram is not an easy challenge.
"It's wise to invest in a couple of books, or experience life in India beforehand, as it can be a real culture shock to come straight from Western culture."
However there are more tourist friendly Ashrams which charge approximately £10 a day, Govinda's (https://www.govindas.com.au) offer tourists 'time out' from materialistic busy lifestyles, Gap Year 365 (https://www.gapyear365.com) also have some on offer. If you'd like to find a more 'authentic' Ashram, it's best asking through hostels in India or finding a local meditation group you like and asking if they have a Guru in India. It's wise to invest in a couple of books, or experience life in India beforehand, as it can be a real culture shock to come straight from Western culture.
Yoga havens
Practicing yoga will help with fatigue, stress and insomnia and a retreat is the ideal kick start to a career break. Alchemy Tours (https://www.alchemytours.com/) have a range of amazing retreats all over the world you are seriously spoilt for choice, from a yoga and surfing retreat in Costa Rica, to a yoga and wine retreat in Tuscany or the Almalfi coast, or perhaps you'd like to learn to surf and practice yoga off the coast of Hawaii. Other retreats take place in Mexico, Washington, Ecuador or Bali. Alchemy Tours creates its retreats along the 4 elements of earth, water, fire and air, depending on what you're in need of. Pick earth to get grounded, water for change, fire for courage and air for balance and peace.
A spokesperson from Alchemy Tours tells us "We have over 20 years experience working with clients to relax and do something for themselves. We build fun itineraries that include yoga, surfing, hiking, cycling, wine, and plenty of down time for you to do what you want to do. Our clients quickly see the value of having a fun itinerary planned for the week—one that allows just enough structure and just enough down-time. After all: it's your vacation!"
Detox!
Your desire for a < a href="/travelinsurance/backpacker-insurance/career-gap/10-reasons-why.asp">career break may just be your body asking for some time out, whether it's a fitness retreat, raw food or diet program you may be in need of a detox retreat with healthy eating, exercise and relaxation to allow your body to heal and re-energise. There are a number of detox retreats out there that offer an individualised program that will work best for you and your specific needs.
Essential Escapes (https://www.essentialescapes.com/detox-holidays) offer a variety of detox programs, some are aimed at weight loss, aiding those that suffer from anxiety or depression as well as general well-being. A few weeks at a detox retreat could be all you need, or it could get you in the right frame of mind for the rest of your break.
Cover your break
No matter how far or how long you take out from work or study, it is always wise to ensure you are sufficiently protected from any mishaps along the way. Essential Travel offer travel insurance policies to cover a wide array of activities and lengths of stay. Our backpacker insurance is ideal for anyone from 18 up to the age of 55 and can cover you for 2 years of continual travel. If you're taking just one short trip, our single trip policy can cover you for 87 days continual travel around the world. Alternatively, if you will be taking a number of trips within the next year it would be wise to have a look at our annual multi-trip policies.