One of the best parts of a travelling is deciding where to go. Of course, you do need to plan a journey that is going to be unique to you, but here are some routes that might help inspire you on your worldwide adventure.
New Zealand and the Great US Road Trip
There are a multitude of places to stop off en route to New Zealand, including Dubai, Singapore, Thailand, India or Malaysia. Or why not make Delhi your first stop and make your way overland through Northern India, and into Nepal, before you fly out to Thailand or Singapore? Hit New Zealand where you can hire a camper van to take you around the two islands (suggested time for this is a month) and then over to L.A., find yourself a vehicle of your choice (corvette, pickup truck, Harley) and make your way across the States to New York. You really will have a road trip to remember.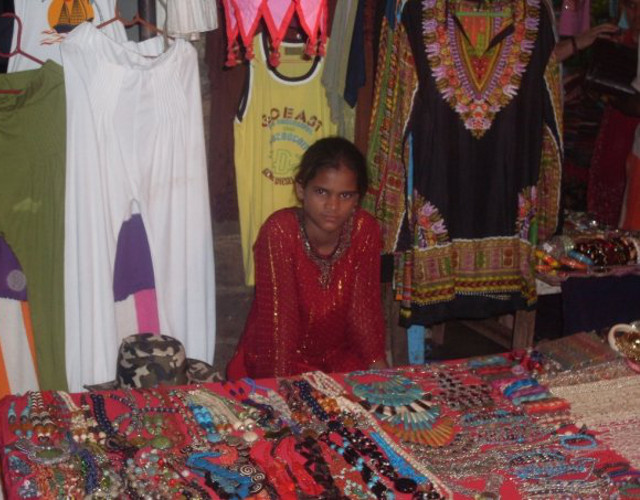 Africa and Asia
Nothing is going to beat Africa and Asia for exotic destinations and this route has an abundance of them. Fly to Johannesburg for your first stop, then head overland to Nairobi, Kenya; stopping off at Lake Malawi, Victoria falls and going on safari in the Serengeti. From Nairobi, fly to Thailand and hit the beach, or go overland to Cambodia or Vietnam. From Thailand, Vietnam or Cambodia, head to Hong Kong for a bit of big city time before your last stop-off in China which really will be a total culture shock. But with street food on every corner, you can eat out cheaply with your remaining gap year budget for as long as possible.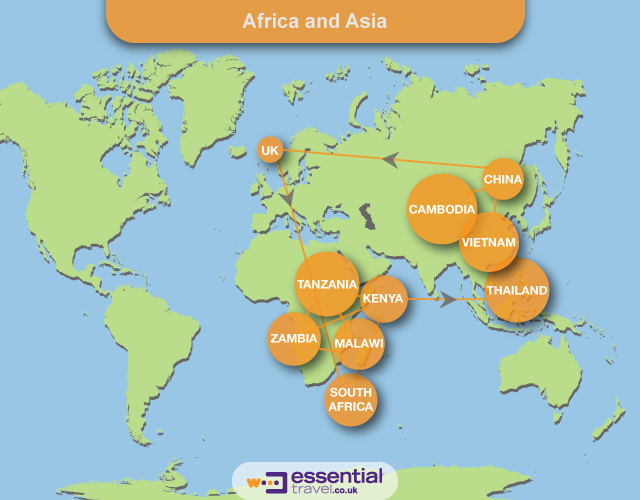 South America
South America seems to be the place of the moment to visit, especially amongst our survey respondents. Why not start off by flying to Colombia, a passionate Caribbean destination that will get you in the mood. You can make your way across the Andes to Ecuador and into Peru, where, of course, you have to do The Inca Trail and take a trip to Machu Picchu. You can sidestep into Bolivia or Chile, and then head down to Buenos Aires in Argentina. Finish off with some downtime on the beautiful beaches of Brazil!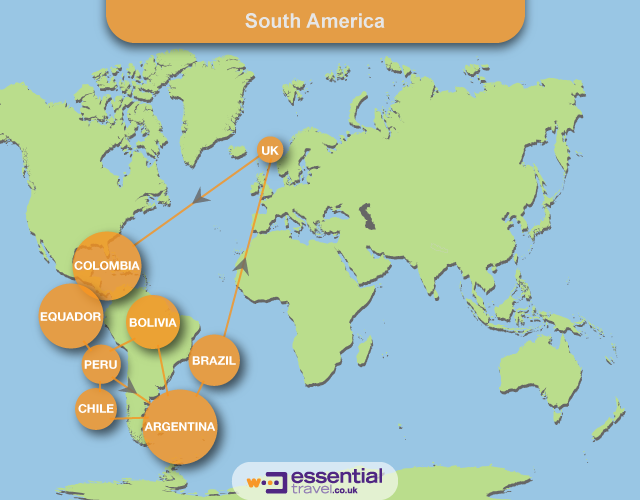 Central America
If you want to practice your Spanish, this little itinerary couldn't be better, you'll take in volcanoes beaches, and Mayan ruins. Start off by flying into Mexico and heading overland into Guatemala, and then onto Honduras, Nicaragua and Costa Rica, where you can visit the extremely active volcano of Monteverde. And finally, finish off your trip in Panama city and a trip to the Panama canal.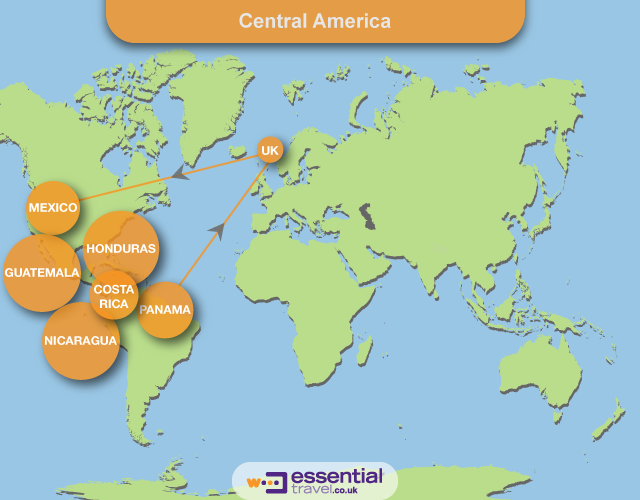 Europe
You don't have to go to the far ends of the earth to have an adventure. European travel can hold just as much excitement and may even be a cheaper option, without the need to have a long haul ticket thrown in. Mind you, you'll need to be savvy and research destinations and accommodation if you do want to do Europe cheaply. But it's also a good option for people with responsibilities or family events that may possibly mean a trip or two home during their break. A good variety will include a mixture of beach destinations (at the right time of year – this is Europe after all). Start in Paris – the gateway to Europe, and from there head down to Barcelona for some culture and onto Madrid for a taste of the Spanish capital. Then, back up to Paris and take a train through Switzerland (a stop off at Geneva maybe) and over to Milan where you can sample a little style before heading down through Italy (Naples? Rome?) to Brindisi on the Eastern side where you can catch a ferry for the 14 hour journey to Greece. Take your time exploring this fascinating country (and its beautiful islands) and fly home from Athens.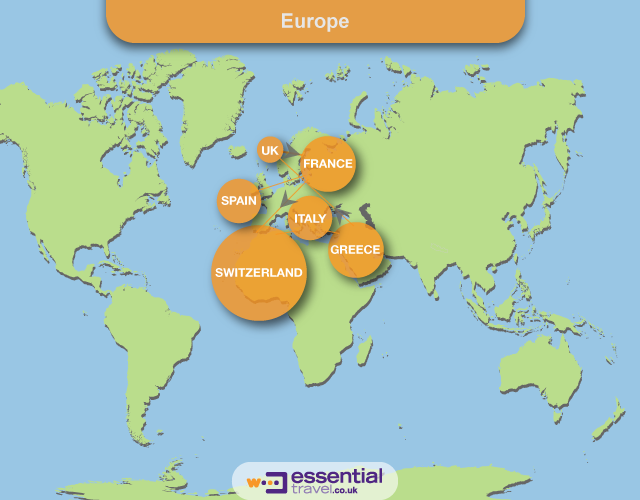 Tips on Planning a Great Route
Before you decide on your route, it's worth taking certain things into consideration to ensure you have a great trip.
Mix things up
A trip that consists of beach stop to beach stop to beach stop will eventually get boring, even if you're a sand and sea fanatic. What will be most memorable, and keep you interested and stimulated is a good mix of regions and landscape.
Give yourself time
You can't visit every location on the map, and every trip will be a compromise in one way or another, but what can destroy a holiday is unrealistic expectations of what you will do in that time. You need to leave yourself time to be flexible and head off to that festival you hear about, or stay a while longer with some new friends. If you are rushing from destination to destination in an effort to tick the boxes you will miss out on a lot.
Personalise your trip
Think about what matters to you, personally. Someone with an interest in water sports will want ample opportunity to indulge their interests on their trip; the same goes for someone with an interest in 17th century churches or wine. Personalise your trip by including the activities and interests that you love.
Think about your budget
Bearing in mind that some places will be cheaper than others, you might want to make sure that a fair bit of your trip is focused on places where the hostels, travel and food is going to take up a smaller part of your budget, rather than big cities that will eat it up quickly.
Consider the seasons
Will you follow the summer (or the snow!) around the world or do you want to experience a mixture of seasons? Including maybe even the rainy season in Asia? Of course this impacts on the clothes you'll be lugging around - if you'll be moving from sunny climes to the slopes you'll need to have gear from both, unless you plan to ditch some and buy anew for the new climate...which of course impacts upon your wallet.
Get Covered
You'll need to think about what sort of activities you might do on your trip (ski? bungee jump? water sports?) and figure them into your backpacker travel insurance. You'll also need to investigate if you need any vaccinations and make sure you have these done at the right times so that your insurance is not invalidated.