Affordable London Attraction Tickets
Make the most of your London experience with our extensive choice of attraction tickets. Whether you're a thrill-seeker, sight-seer, or music-lover, be sure to explore the great deals that Essential Travel has to offer.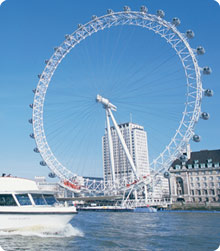 Includes
Low prices on a range of attraction tickets
No credit card or booking fees
Instant confirmation of your London attraction tickets emailed to you
An easy platform for browsing!
We provide:
Back to top
What Attractions Does London Have To Offer?
If you're keen to spend the day in London, you won't run out of exciting attractions to experience during your stay. From the magnificent London Eye, incredible wax works at Madame Tussauds, and exhilarating rides at Thorpe Park, just outside of London, there is something for everyone to enjoy.
For the best views of London, put your fear of heights aside and book a 30-minute trip on the London Eye to experience the beauty of the UK's capital.
World-renowned for its lifelike wax figures, check out Madame Tussauds to rub shoulders with your favourite celebrities and historical figures.
During your stay in London, don't miss out on the musical that everyone's been talking about. Wicked is a colourful and enchanting smash-hit musical that's fun for the whole family. Book your tickets or overnight package deal today!
If you love to get your heart racing, head to THORPE PARK, a few miles from London, for some of the UK's most spine-tingling rollercoaster rides.
Book Online For Low Prices
Plan your trip with ease through our Essential Travel online booking and quote system. Our straightforward method only requires you to fill in the requested fields at the top of this page to receive an instant quote. Book the London attractions on your list of sights to see for low prices.