Cheap Florida Attraction Tickets
See what excitement Florida has to offer with our wide selection of attraction tickets. Boasting a vast array of adventure parks, resorts, and entertainment centers, be sure to find the best deals on Florida attractions through Essential Travel. Book online now and jump ahead of the queues!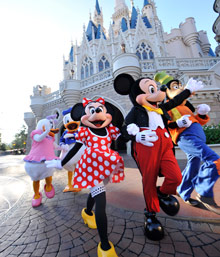 Includes
Low prices on your Florida attraction tickets
No credit card or booking fees
Instant confirmation emailed to you
An easy platform for browsing!
We provide:
Back to top
Choose From The Following Florida Attractions
If you're planning a trip to the Sunshine State, there are plenty of fun and exciting attractions to visit during your stay. Whether you're a theme park lover, movie fanatic, or enjoy the company of animals, the attraction opportunities in Florida are endless.
Visit Walt Disney World Resort in Florida, the ultimate Disney attraction, for an experience you'll never forget! Enticing the young and young at heart, this huge theme park is home to rides, shows, and attractions for all ages. Book your stay at the magical Walt Disney World Resort and enjoy the entertainment right at your doorstep.
If you enjoy movies and cinematic adventure, make sure to visit Universal Orlando® Resort during your trip to Florida. With some of the most thrilling rides, eye-catching 3D shows, and movie attractions, Universal Orlando® Resort is not one to miss.
For a truly unique encounter, head to SeaWorld Orlando to experience underwater creatures like never before. From live shows to tours and rides, interact with the animals of the deep: you won't be disappointed.
Book Online For Low Prices
Essential Travel offers unbeatable value when you book your Florida attraction tickets through us, so save big and plan your trip the smart way with our easy-to-use online quote and booking system. Just fill in the required fields at the top of this page and choose the attractions that suit your budget and interest. Let the fun begin!
©Disney