Women Business Travellers Unite

Maiden-Voyage.com, a free social network for women business travellers, was started in 2005 by Carolyn Pearson, an IT expert who travels a great deal as part of her job. Essential Travel caught up with Carolyn and asked her a few questions about Maiden-Voyage.com and being a female business traveller on the road.
Carolyn, how did you come up with the idea for Maiden-Voyage.com?
I was on a business trip to LA and had added an extra weekend onto the start of a trip to do things such as hang out in Santa Monica and go shopping for an outfit for a party I was going to to attend. When the time came to get out there, however, I really wasn't comfortable travelling on my own in a place I didn't know at all. I was a little nervous about the safety aspects, and also didn't know if I would be able to get a taxi back to the hotel easily.
That night, I was sat in the hotel restaurant, alone, tucking into spaghetti carbonara, and all I could think about was all the stuff that was going on at my doorstep in Hollywood, which made being unable to get out and take part all the more frustrating.
So I came up with idea of Maiden-Voyage.com, a community where business women on the road can connect and meet up with other travellers, and have someone to meet for lunch or coffee with, shop or go exploring. After running it past some colleagues at a business meeting the next day the response I got was very positive. Two days after I returned home I had a prototype of the Maiden-Voyage.com site (working in IT also helped with that!) .
That site now has thousands of users, has been featured in such publications as Management Today, and now offers training to hotels in how to become female business traveller friendly, as well as recommendations for places to stay that are lone female friendly.
Carolyn, how much business travel do you do now?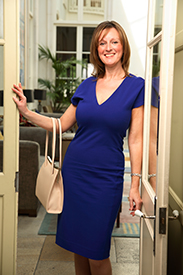 I tend to do an international trip once a month, and am often away from home four, maybe five, times a month on national trips. It goes in waves. Recently I slept in five different beds in a week and it does get to the point where you wake up and the bathroom isn't where you think you left it, or you quote room numbers that don't exist to room service.
But, despite always feeling like I am either packing or unpacking I do very much enjoy it. Travel is a great time to get stuff done. I do my nails. I read things I never have time to otherwise, and plan, reflect and make lists for what I want to achieve. I don't see it as dead time at all. I recently did a straight through flight to Australia. Most of my friends were horrified but I was looking forward to that 24 hours of me time as much as the rest of the trip!
What are your own pet hates about travelling?
I hate having to stand up and wait ages until you board. Some airlines call your flights 45 minutes before now without enough space to accommodate everyone. Being somewhere with no internet connection is frustrating and I also hate being hemmed in: I always ask for the aisle seat on the plane.
What's your essential travel gadget or item?
My black pashima. It's a great scarf, I can use it as a throw on the bed if I am cold and squidge it up into an extra pillow if I need one!
Carolyn, what does a hotel need to make it to your recommended list?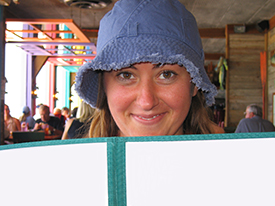 The basics are double locking doors, a 24/7 reception, a well lit entrance and to be located somewhere central. But we also look for the small things: full length mirrors, decent hairdryers, a bath, quality toiletries, healthy options on the restaurant and room service menus, and a good selection of herbal teas. We also value hotels that are safety conscious and don't shout out room numbers to female guests travelling alone, or place them on the ground floor.
Do you have any advice for lone women travellers?
Plan ahead. Research where you are going and how you will get to the hotel when you arrive. In particular make sure you have the shuttle bus telephone numbers as they are notorious for not arriving. Also choose hotels that offer food on site, so if you don't feel like going out, you don't have to. And, of course, check out Maiden-Voyage.com!
What are the common mistakes that female travellers make?
Thinking that a conversation on their mobile phone is private and telling everyone they are alone, where they are staying and where they will be going. Also, not taking a name badge off after a conference and wearing heels they can't walk home in!
What's the worst thing that has happened to you on your travels?
I was travelling with a husband and wife through the Australian outback in their 4 wheel drive. They had an argument and the husband told his wife to get out. In a show of female solidarity I joined her and we found ourselves in the middle of the outback in the blistering 45 degree December sun.
And the funniest?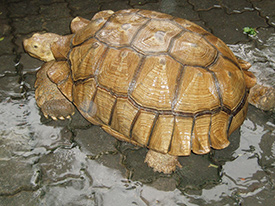 I have a habit of being bitten wherever I go. Over the years have been bitten by a tortoise, a duck, a penguin, and a dog. Oh, and whilst I was swimming with dolphins one of the dolphins tossed me about ten foot in the air. I landed awkwardly on the dolphin itself and ended up with a very bruised behind, with everyone watching the whole display from the boat!
Do you have any tips for saving money on your business travel?
Travelling off peak saves me a huge amount and, of course, booking hotels and parking well in advance.
How do you keep travelling fresh?
My philosophy is more to squeeze every bit of enjoyment out of every trip. So I try to meet people while I am there, do something cultural or eat somewhere nice, and treat it as a mini holiday. That's the other side of the network of Maiden-Voyage.com; all of its members tend to be very sociable and very into travel. They engage and want to find out more about where they are going.
One of my favourite stories is of a lady who was travelling to Rio for business. She arranged to meet up with someone else whilst she was there and when they got together found out they were both from Henley on Thames!
Do you have any tips on landing a job that involves travelling??
Well, don't expect it to necessarily be well paid. If travelling is going to be a big part of it, make sure your enthusiasm comes over at the interview. Us travellers are a passionate lot and like to see enthusiasm for it in others.
Any final comments?
Travelling alone isn't difficult just for women. Almost every month I have at least one man ask me when I am going to launch a male version of Maiden-Voyage.com because he's fed up of sitting in his room, eating alone. It's not just women who feel like this.