Generation Z: Changing the Face of Travel
Last week, I came across a term I hadn't heard before, but I have a feeling it will become more and more popular. People vary in their definitions of "Generation Z": Wikipedia cites that it encompasses all those people born in the late 1990s and early 2000s, while many others explain that it refers to those born specifically in 2002 and beyond.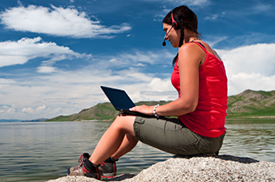 The exact definition isn't terribly important, what is interesting is that Generation Z is the first generation to have grown up with social media. Indeed, there will be many that cannot remember life without it. It's not unusual for a Generation Z -er to be on Facebook, BBM and watching TV all the same time. While I have to focus on one thing alone or I forget what I am doing, I know many generation Z-ers that can do all the above, as well as hold a sensible conversation. It's an enviable skill, but what has it got to do with travel?
The Power of Friends
At a recent event on PR and the travel industry, one of the speakers on the expert panel was Inge Bauwens from Trip Advisor, who explained how more and more of their customers are Generation Z-ers who are at least researching, if not choosing, the family holiday, and what plays a huge part in their final decision is what their Facebook friends have said, which they can see on the Trip Advisor site. She also admitted that their competitors, Expedia, have the same technology.
And, unlike those from previous generations, whose social media friends tend to be people they know, business acquaintances, or friends of friends, generation z can be friends with a large amount of people: from those who like the same author to those who they can challenge to play Assassins Creed online.
It is fascinating to watch how people en masse are slowly changing from making decisions based on what the media or third parties say, to honing that down to take notice mainly of what their own friends and contacts are saying. It doesn't bode well for the profession of PR for a start, and experts are even predicting that this and further generations will exercise their political power through social media rather than the ballot box. You can already see this happening on Twitter where people are calling for a mass boycott of Starbucks and Amazon.
Changing The Face of Travel
It also raises questions about how this generation will travel. For a start, with huge University fees and the fact that it is getting harder and harder to get on the housing ladder, might mean that this generation might forego the experience of a gap year and concentrate on their getting their act together sooner rather than later. Or, equally, it could mean that they might think what's the point and disappear on an extended trip anyway.
Whatever they do, they are likely to do it digitally. For me, carrying around a battered copy of a Lonely Planet guide was part of the trip. In fact, the more battered it was, the more of a serious traveller you looked. Today, travellers are turning to their iPads, laptops and now Kindle Fires to keep them connected with the rest of the world, as well as supply them with all the information they need to get where they want to go (one reason we went digital with our Essential Travel Safety Guide for Backpackers guide). And, for those with roaming, it is much easier to use maps and Apps on your phone to introduce you to a city, than wrestle with a map that always seems to be the wrong way up anyway.
Of course, it's not just generation Z that benefit from digital travel apps. Most of us have taken advantage of a 360 degree tour of our possible hotel choices, or at least looked at a city from street level with Google maps, and a growing number of our customers are using the Passbook and Passwallet apps with their Airport Parking bookings to receive automatic updates, allow them to go paperless and forgo having to print out a confirmation, and help them locate their car park easily.
Travellers are also getting together via the net, long before they go, through sites like Travel-buddies.com, and creating blogs about their experiences via free versions of Blogger and Wordpress, long before Generation Z even buys a ticket. It will be interesting to see how things evolve...
We'd love to hear your comments on how you see travel changing, or even what it is like to be part of Generation Z yourself so please share with us below.