Are Young Drivers Getting A Raw Deal?
There's been a lot of talk in the media this past six months about young drivers. In July 2012 a report by the Transport Select Committee highlighted the fact that road accidents are the main killer of 16-24 year olds. ROSPA (Royal Society for the Prevention of Accidents) is even more precise: "Over 3000 car drivers aged under 25 are killed or seriously injured on the Britain's roads each year."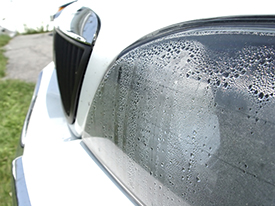 My initial response to all this was here they go again, picking on young drivers. But, after reading around the subject, what they are actually referring to are new drivers and in reality these do tend to be the young. And, as they gain more experience, the likelihood of having an accident falls.
But it's still a horrendous statistic and, chillingly, inexperienced drivers are not only putting their own lives at risk, but everyone else's too.
So, what can we do?
Cultivate, not Condemn, New Drivers
I think it's important to cultivate ways in which we can help new drivers, not penalise or condemn them for their inexperience. And there have been many suggestions that can help this, some of them more controversial than others:
Banning Friends From Travelling
ROSPA cites peer pressure as one of the factors in having a crash, especially amongst young men who are showing off to their friends (although when searching online I found a fair few stories of young women who had been showing off to their mates and ended up having a crash). But, let's face it, new drivers may just not prepared to go from driving alone with a parent or instructor to having groups of chatting passengers in a car.
The government has admitted that it has looked at proposals on banning young drivers from carrying non family passengers for the first six or nine months, but I am torn on this one. It sounds like a sensible idea, but very hard to police in reality. But, more important, it could actually do damage in other ways. Over the years we've been telling people young and old not to drink and drive and appoint a designated driver. If young people aren't going to be able to do offer lifts to their friends then it will be harder and harder to allot someone as a designated driver.
Changes to the Driving Test
There are calls to include both rural and urban driving in the driving test and this is a great idea, as conditions can be very different. In the meantime, what parents or instructors can be doing is making sure Learners have experience of as many types of road and traffic as possible, as well as practice driving at night, with the onus not only on passing a driving test, but also staying safe after it.
A Safe Driving Agreement
This is something that has caught on in the States where parents allow their children use of their cars unsupervised if they agree to certain conditions. Popular conditions include putting a limit of number of friends in the car, no alcohol or drugs, keeping speed down, wearing seat belts and not using a mobile whilst driving. With experience, some of those conditions, such as having friends in the car, can be relaxed.
Too Young to Die
Brake, the road safety charity, are calling for a graduated driver licensing where new drivers will develop skills and experience gradually while less exposed to danger. It includes a 12-month learner period, an initial test, then a two-year novice period, when you can drive independently but with restrictions, like a late-night driving curfew and zero tolerance drink-drive limit. Other countries have adopted it and it's predicted it would prevent 200 deaths and 14,000 injuries a year in the UK.
Innovations In The Motor Industry
The New Ford Fiesta now has ground-breaking MYKey technology which allows parents to place restrictions on young drivers to help promote safer driving. The car owners can limit top speeds, music volume and override any deactivation of driver assistance and safety technology such as Electronic Stability Control and Active City Stop which helps prevent low speed collisions. It even disables the audio system altogether if driver and passengers are not using safety belts.
Speed is Not Sexy
Personally, I think that a hard hitting advertising campaign, just like the one that got the UK wearing seatbelts, would help.
Yes, it is gruesome, but it did the job and did it well. With this number of deaths there is certainly cause for the government to get behind it and do something drastic – and if not them, perhaps a big name in the motoring industry who would be willing to stick its neck out and do something for the greater good.