Top 10 World's Best Dive Sites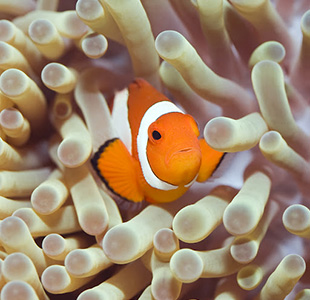 Whether you want to plunge into the deep blue with whales in Rurutu, night dive in Malaysia or snorkel over a wreck in Australia, Essential Travel has a dive site for you...
Best for... All Round Experience
Having reached iconic status, the Great Barrier Reef in Australia is probably the first place you think of when it comes to diving, particularly if you're new to the activity. It is, undoubtedly, a top destination and still one of the most exciting places to dive in the world. Novices will find plenty of calm shallow areas to test their fins and the more experienced divers can challenge themselves. Opt for an environmentally conscious dive operator as overuse has already damaged much of the reef.
North Sulawesi in Indonesia, meanwhile, boasts the Bunaken National Marine Park which protects the area's diverse marine life. Visibility and depth range here is perfect for scuba diving and due to there being no continental shelf, depths range from 200 to 1840m, quite close to the shore.
Another dive favourite is Palau in the Pacific Ocean. The waters around the island nation (east of the Philippines) are heaving with coral gardens, sharks, world war wrecks and walls. The Chandelier Caves in Palau will delight experienced divers; made up of five chambers that go beneath the islands, the tight spaces and ink black darkness are definitely not for the claustrophobic but are bound to delight all intrepid explorers.
Best for... Beginners
Learning to dive can be a challenging (not to mention pricey) process, but some sites make it easier on beginners than others with plenty of dedicated schools and shallow, calm waters. Sri Lanka is one such place offering plenty of English-speaking Professional Association of Diving Instructors (PADI) and the underwater treasures of the Indian Ocean. Dive season alternates from east to west coast - dive Hikkaduwa on the west coast from November to April and Trincomalee on the east coast from May to September.
Thailand tends to be a cheap place to get a PADI Open Water certificate and the waters around Samui, off the west coast of Thailand, are an exciting and beautiful place to learn. As the second largest island in Thailand (after Phuket), Ko Samui is fast becoming the top dive destination in Thailand. With well over 15 dive schools, it's the perfect place to get your under-water wings.
Best for... UK Diving
It may not be the first place you think of when it comes to scuba diving, but the UK is actually very well furnished with dive sites. Skomer Island in Pembrokeshire gives those with a thick drysuit the chance to spot the European conger eel, porpoises and basking sharks - the second largest fish species. The temperatures in these waters can go down to 8 degrees centigrade, so cover up and remember to reduce your dive time by at least 25% to account for increased metabolism in cold water. Meanwhile, the UK's answer to the Caribbean, the Scillly Isles, has more than 100 dive sites providing the opportunity to explore wrecks and get up close and personal with some friendly seals.
Best for... Wreck Diving
There's something endlessly magical about wreck diving. The mystery of the ships' fated end, their ability to morph into stunning reef colonies and the adrenalin of exploring a submerged man-made structure make them an unbeatable experience. Two of the best wrecks can be found at Vanuatu (a South Pacific island) and Grenada (a Caribbean island). The former is the 600ft luxury liner SS President Coolidge from the 1930s. The shallow depth of this wreck dive makes it accessible to recreational divers. The latter site is home to the 'Titanic of the Caribbean' - Bianca C: a mammoth cruise ship that sank in 1961. The ship is still mostly upright but is deeply submerged, so this dive is strictly for the pro's.
Best for... Night And Cave Diving
Night diving might sound frightening, daunting even, but it's definitely worth braving. A host of marine life can only be seen at night, and there's nothing quite like shining a strobe light to illuminate brilliantly coloured walls of coral. Maaya Thila in the Maldives is a hot destination for night diving, famous for the elusive ghost pipefish. These tiny fish are the chameleons of the ocean - you have to look really carefully to pick them out. On the other side of the world the Cenotes of Riviera Maya in Mexico make up a hauntingly beautiful underworld. The Mayans believed them to be entrances to the afterlife and would throw people into them as sacrifices to the rain god. Thankfully these days divers from all over the world actually volunteer to be thrown into the water. With no current to contend with, you can really be in the moment and admire the stalactites (from the top) and stalagmites (from the bottom). These dives require expert buoyancy control so keep an eye on the depth watch.
Best for... Snorkellers
Listening to divers chatter on about sharks and manta's can make snorkelling seem dull in comparison, but there are snorkelling spots that match any dive experience. Snorkelling at Klein Curaçao (off the coast of Venezuela) is like a dive without the heavy equipment and tight wetsuits. The island is uninhabited and untouched and has a Robin Crusoe feel to it. With great visibility and a chance to get up close to the endangered green sea turtle, it's a great way to while away a day detached from civilisation. Between Australia and New Zealand Lord Howe Island has a lagoon, purpose built for snorkelling. The enclosed azure waters are calm enough for even very young snorkellers. The island boasts perhaps the only wreck-snorkelling spot in the world. A small ship was scuttled in the shallow waters near the island and has become a unique attraction for snorkellers.
Best for... Blue Hole Diving
Blue Holes are submerged sinkholes that are noticeably darker than the surrounding ocean. The most famous instance being the Great Blue Hole off the coast of Belize. This 125 metre vertical drop may be low on marine life (apart from the odd shark) but the experience of diving into the incredibly deep blue is unparalleled. An even deeper blue hole can be found in the Bahamas. At 202 metres Dean's Blue Hole is the deepest blue hole in the world. Barely a swim from the shore it looks innocent until you're staring at a gaping endless hole. Recently, a free-diving record (diving without a tank) of 100 metres and 3 minutes underwater was set in this hole - we recommend bringing along a tank, as you won't see much with one breath.
Best for... Spotting Whales
Whale lovers should make Rurutu a must-see item on their travel itinerary. From July to October, the migratory humpback whales make their way to the warm waters of Rurutu giving divers and fearless snorkellers the chance to get up close to these graceful mammals. There is no better soundtrack to a dive than whale song. The songs are made up of complex evolving verses and can go on for days. This is the most moving aural experience anywhere in the world. If you like your whales with teeth, the cold waters of Norway offer fun dives with Orca's. Contrary to their Killer Whale nickname there have been almost no Orca attacks on humans in the wild. Winter sees the migratory Orca's make their way through the fjords of northern Norway. Catch them in Lofoten with unique Orca safari dives that you can boast about when you arrive back home.
Best for... Drift Diving
Drift diving feels a lot like you would imagine flying feels. The current lifts you on imaginary wings for a weightless ride that would make Superman jealous. Rangiroa Island in French Polynesia has a wicked current that carries you from its lagoon into the ocean. 'Shooting the pass' takes you past a stunning coral reef and an abundance of marine life. Unlike normal dives the boat follows the bubbles and you have to keep up with the group or get left behind. Beginners might want to take guidance from a divemaster.
Best for... Macro Diving
Macro diving shuns the touristy thrills of sharks and whales and instead focuses on the little guys - the many small fish that hide in the reef and support the oceans ecosystem. The best place to find your own Nemo is Mabul in Malaysia. The range of macrolife that can be found in these waters is enough to keep your camera clicking for hours. Shrimp, gobies, frogfish, stargazers, seahorses, clownfish, crocodile fish, snake eels...name the fish and it's probably swimming in these waters. Taking the perfect picture requires a bit of skill, patience and luck. First make sure that the subject is adequately lit with a good strobe light, then watch the fish for a while before snapping your masterpiece.
Sea Sense Top Tip: Make sure you get diving certified before going on a dive. Do not go with a company that allows novices to dive: it's unsafe and your travel insurance policy won't cover you if something goes wrong. Check your travel insurance policy to see what type of diving you're covered for. For a detailed guide on how to get started and to see what sort of diving you're covered for, Essential Travel has prepared a How To guide to Scuba diving.
Last Updated: January 2010