Top 10 Winter Snow Socks and Chains

Whether you're worried about getting to work or driving long distances, the snow can be disruptive, and having either snow socks or snow chains can make a world of difference. We count down the Top 10 Snow Chains and Snow Socks, so you can feel confident in your purchase decision.
Before you get started, there are a couple of things you need to think about when getting snow chains.
Tyre size and wheel arch space: Can you push both your forearms into the space between the top of the tyre and the wheel? If you can't then your choice of chains will be limited.
Check your handbook: What does your vehicle handbook say about fitting snow chains?
Comfort: Chains need to be tightened once they have found their optimum position on the wheel, so you need to stop to re-fit them. Self-tensioning chains do this automatically, but they cost more.
What's the difference between snow chains and snow socks?
Choose snow socks if driving on slush, new snow and occasional short stretches of tarmac
Choose snow chains if driving on hard, compacted snow, with ruts and ridges
Both serve a different purpose and if you can afford it, get both
Snow Socks
Snow socks are a relatively new technology and are perfect for the UK weather. As the British weather is unpredictable it may or may not snow and unless you live in a remote area or where snowfall is due for the entire winter period, snow chains and winter tyres seem hard to justify. All snow socks are sold as a pair - for front wheel drives they should be fitted on the front wheels and for rear wheel drives, on the back.
To make sure you're fully prepared for any eventuality on the roads this winter, why not check out the Top 10 Winter Car Kits.
10. The Roof Box Company Snow Socks
If you're planning on driving around Europe this winter, snow chains are compulsory on most alpine roads, however if you're staying in the UK then you can most definitely get away with snow socks. AutoSock snow socks are made from a textile with an elasticated edge, making them easy to slip on when you find yourself stuck in snow. They really are as easy as pulling a sock over your foot, and priced at £49.95 they are a bargain. They weigh less than 1kg, take up minimal storage space, one size fits at least 60% of cars and they're re-usable. The Roof Box Company sells a range of products including car roof racks and boxes, bike racks and boxes, seat covers, snow chains, ski carriers, car styling and car accessories. Visit The Roof Box Company to view their full range of products.
The Roof Box Company are giving away a 10% discount to Essential Travel customers who buy Airport Parking, until February 2013.
9. Snowchains.co.uk Snow Socks

Snowchains.co.uk are the UK's leading specialist snow chain company based in Kent. They have been supplying all kinds of snow chains for over 30 years and currently sell Weissenfels snow socks for a bargain £49.95. As long as there is enough space above the tyre to pull them over, they are easy to fit and they also self-centre as you drive. If you're looking for an alternative to snow chains then these Weissenfels snow socks are perfect for a smooth ride - literally! Visit them online - www.snowchains.co.uk
8. Rock Shore Snow Socks

Snow socks by Multi Grip, priced at £44.95 are a great alternative to snow chains. These snow socks are perfect for an emergency situation - they come with gloves and a small bag and if you find yourself stuck in snow, they will help increase friction between the wheel, snow and ice. These Multi Grip socks will wear down when in contact with the asphalt road, and this will determine their life span. When the road is clear it is advised to remove the snow socks in order to preserve them. To see their full range of automotive accessories, visit Rock Shore online - www.rockshore.uk.com.
7. Snow Chains & Socks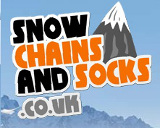 At Snow Chains & Socks you will find four snow sock brands, Silknet, Snocks, Trendy and S-Grips - all affordable and a quick, convenient solution to driving on the snow. They even have a handy comparison tool where you can see exactly what all the different brands offer you, depends what you're looking for - be it price, warranty, reviews or material quality. Visit them to decide on the best snow socks for you - www.snowchainsandsocks.co.uk.
6. Snowchains.com Snow Socks
Fit and Go Sox from snowchains.com are anti-skid tyre covers. Designed for those cars that cannot fit snow chains, they fit all passenger cars. They are made from a resistant, anti-wear material and although they'll get you home from work and a trip down to the shops they are not appropriate for heavy or extreme conditions. Priced at £35.95, we'd recommend keeping a pair in the boot of your car, in case you need them - they come with a pair of gloves and are relatively easy to fit. Snowchains.com are a snow chain specialist and suppliers of the Polar snow chain range, which are favoured by AA and RAC. They are also a credit-crunch friendly option. Visit them online at www.snowchains.com to see what else is on offer.
Snow Chains
Snow chains help vehicles navigate during snowy or icy conditions by increasing traction, which prevents skids. Snow chains, which are made from heavy steel links are better than snow tyres and more appropriate for heavy snow over long periods of time.
5. Ski Drive Snow Chains

Ski Drive, based in the UK have been one of the longest established distributors of snow chains within the UK. The Arctic Snow Chains are a great value product, which have an automatic tension system. They are suitable for UK weather, where there is less snow for shorter periods, and are designed for occasional use and a smaller budget. Ski Drive sell other big name brands, including Konig and Thule, and also specialise in bike racks, roof bars and roof boxes, in addition to snow chains. Visit them online, www.skidrive.co.uk, for their full range of products.
4. Auto Warehouse Snow Chains
Auto Warehouse focus on products that make travelling a pleasure. Supplies of RUD snow chains (which are a top brand in the UK), Auto Warehouse fit an array of vehicles, including cars, vans, 4X4's and light commercial vehicles. These chains are approved for use in all EU countries. With seven different options to choose from - ranging from those perfect for black ice all the way up to ski holidays - Auto Warehouse has a range of snow chains to fit different needs and budgets. Visit them at www.autow.com.
3. Brindley Chains Snow Chains
Brindly are the official suppliers of Pewag snow chains, which began in Austria in the early 1900s. Ranging from £42.00 up to £500, they cater for all budgets, ensuring that all can afford this top brand. These snow chains are easy to remove, will not damage your alloy wheels, there is minimal vibration due to diagonal pattern tread and they have simple tensioning that uses a ratchet system. They are packed in pairs and come in a case. Brindley Chains are also resellers of AutoSock snow socks. To view a full range of snow chains with different specs and prices, check them out online at www.snowchainshop.com.
2. Snow Chains & Roofbars Snow Chains

Snow Chains & Roofbars Snow Chains boast Polar Car Snow Chains, which are a popular choice along with Michelin snow chains. They provide excellent road-holding on snow and ice, feature a diamond patterned chain that is colour coded for easier fitting and take less than five minutes to fit. Snow Chains & Roofbars snow chains also have a number of other winter products, so visit them online at www.snowchainsandroofbars.co.uk.
1. Top Gear Snow Chains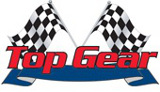 Top Gear's range of snow chains is impressive: they will fit any vehicle, from cars and vans to heavy duty vehicles, forklifts and tractors. It's a one-stop shop, with big brands including Thule, Konig and K-Summit. The Thule snow chains range from £159.00 to £199.00 and taking up just 7mm of space around the tyre, they hold the title for the thinnest snow chain. They also feature a micro-regulation system for perfect tensioning of the chain. Check them out online at www.topgearsales.co.uk.
You may also like...

It's that time of year again - keep safe whilst driving during the winter months, we countdown the Top 10 Winter Car Kits out there.
read more →
Last Updated: December 2012