You can say what you like about the United States of America, but there's one thing you cannot deny: they know how to put on a festival. Going all the way back to Woodstock in 1969, the great-grandfather of all modern festivals, the Yanks have fine-tuned the process over the years. This month we decided to take a look at ten of the best festivals this year, for anyone lucky enough to be heading over for one.
10. The Bamboozle Festival, New Jersey
Dates: April 29 - May 1, 2011
The Bamboozle Festival is a full-on rocking music festival that takes place in the Garden State, close enough to surrounding cities for day trippers to make the commute. Held in the parking lot of the Meadowlands Sports Complex over three days, you have all the ingredients of a major outdoor festival (huge bands, beer in plastic cups, questionable food), minus the mess of camping. www.thebamboozle.com
9. Bonnaroo, Tennessee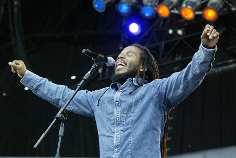 Dates: June 9 - 12, 2011
If you can stand the heat, love camping with thousands of strangers and want to see more great bands in four days than you can stand, Bonnaroo needs to be on top of your list of festivals to attend. Like the American cars, turkey legs and all things Texan, Bonnaroo is massive. From the incredibly diverse line-up, to the campgrounds, stages and numbers attending, everything comes in XXXL servings. Celebrating its 10 year anniversary, 2011 is the perfect year to go. Useful tip: Bring a tarpaulin for shade! Tennessee is hotter than the devil's armpits in June and shade is as valuable as cold water in the desert at noon.
8. South By Southwest Music Festival, Austin
Dates: March 11 - 20, 2011
The modern metropolis of Austin, Texas, is the perfect setting for a festival like South By Southwest Festival. For nine days, the city hums with live music, film viewings, gaming presentations, art shows, media conferences and more. There is so much going on and only so many hours in a day when you can do it that some find the whole experience a frantic rush to digest as much as possible. The city itself is filled to the hilt with the biggest names in music and media. Every bar, park and nook where a gig of sorts is possible will be hosting one. It is all the fun and madness of an outdoor festival, hosted within the confines of a brand new city. www.sxsw.com/
7. The Safeway Waterfront Blues, Portland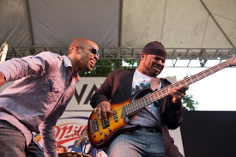 Dates: July 1 - 4, 2011
Portland, Oregon, is arguably the coolest city in America. It's beautiful, clean and bursting with arts and culture. And as if that isn't enough, for fours days a year the whole of Portland goes blues-crazy as the banks of the Willamette River play host to the second-largest blues festival in the USA - the Waterfront Blues Festival. The festival has hosted greats like John Lee Hooker, The Neville Brothers and The Blind Boys Of Alabama - to name a few. While the artists are baring their souls with songs about love lost and drinking problems, the actual reason for the event is to raise money for the Oregon Food Bank and its fight against world hunger. The entrance fee is only $10 and two cans of non-perishable food - the cheapest entrance fee of all the festivals on this list! For more info, visit www.waterfrontbluesfest.com
6. Sierra Nevada World Music Festival, California
Dates: June 17 - 19, 2011
If you are into music with a positive message, good vibes or just camping in Northern California's beautiful summer weather, The Sierra Nevada World Music Festival is well worth the effort. The festival's ethos is about bringing people together through 'conscious music', which it more than accomplishes. Whole families are welcome to attend - there are children's areas set up for young ones when hanging around mom and dad gets boring. What S.V.W.M.F. lacks in flashy lights and and volume, it more than makes up for in atmosphere. www.snwmf.com
5. Sasquatch Music Festival, Washington
Dates: May 27 - 30, 2011
For the last six years, Sasquatch has been the outdoor festival everyone wants to attend. With a picture-perfect venue above the Columbia River, a deadly line-up and five-star organisers who take their job very seriously, you can't put a foot wrong by going to Sasquatch. 2011 will host the biggest, best and hottest up-and-coming bands in the business again, and they're all eager to blow your minds (and to have theirs blown by the other acts). It's pure festival bliss.
4. New Orleans Jazz & Heritage Festival
Dates: April 29 - May 8, 2011
Not only is the New Orleans Jazz & Heritage festival a chance to watch a mix of the finest musos on earth play their hearts out, you'll get to celebrate the eclectic mixture of cultures that makes this part of the USA so famous - the history, food, architecture and those bizarre accents... everything. You are guaranteed to see an incredible line-up: from Arcade Fire to Willy Nelson, Jimmy Buffet and The Coral Reefer Band to Ms. Lauren Hill, plus everyone you want to see in between. But most importantly, you will have an unforgettable time. Just remember to bring gumboots, a rain coat and something to sit on.
3. Coachella, Palm Springs
Dates: April 15 - 17
Cochella is the Disney Land of music festivals. It boasts the biggest, most diverse line-up, the best stages and an entire carnival of things to do. Look at forums online and you will struggle to find a review written by someone who had a terrible time. To begin with, Palm Springs is an incredible location for a festival. If you are one of the 75,000 odd people who manage to get tickets, we envy you. Lots. www.coachella.com
2. The Voodoo Experience, New Orleans
Dates: October 28 - 39, 2011
New Orleans is such a weird, wonderful and bewitching place, to double your visit up with a trip to the Voodoo Experience festival is a once in a lifetime opportunity (for those of us who don't live there). The festival brings together a diverse bill, consisting of rock, hip hop, blues and world musicians, all playing on the same stages for a massive crowd. While there is no camping at the festival, you don't need it when the city is right there summoning you into the night. www.thevoodooexperience.com
1. Burning Man, Black Rock Desert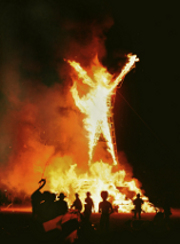 Dates: August 29 - September 5, 2011
It's hard to pin down exactly what Burning Man is - part art festival, part cultural phenomenon, part crazy throwback from the 70's and entirely mind blowing. If you haven't heard about or seen pictures of the Burning Man Festival, log on to their official website for the best possible explanation. Take thousands of extremely creative people who have spent far too many hours building models, drive them out into the desert and add flames and you have the Burning Man Festival.
Last Updated: April 2011