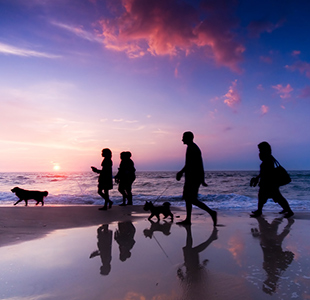 After a hard week of work, we all deserve some rest, relaxation and a little pampering. And yet, most of the time we'll spend our weekend running errands or sleeping and before we know it, it's Sunday night. Don't you think you deserve a proper break? Not a three week holiday where you dread returning to your job because of all the work to catch up on, but a fun weekend break that will leave you feeling energised for the week ahead.
We've put together a mix of the best seaside resorts, historical towns and fun cities in the UK. Why not just get away for a couple of nights?
Llandudno
Llandudno, the largest seaside town in North Wales, was once quietly inhabited by mining villages along the Great Orme Peninsula. Today, it's the Queen of the Welsh Resorts.
The Great Peninsula's two limestone headlands divide Llandudno into the north and west shores, with the River Conwy and the Irish Sea creating a picturesque backdrop to this charismatic seaside town. The North Wales footpath runs along the summit of the Great Orme Peninsula, through a nature reserve full of flora and farmlands.
Famous for having the longest pier in Wales and the only drawn cable car ride in the UK, Llandudno also offers a variety of other charms. Snowdonia National Park rises over the town and boasts castles, cathedrals, botanical gardens and even a toboggan run.
There are a number of hotels and hostels in Llandudno, especially along the promenade and in the town center. The Llandudno Hostel offers great budget deals throughout the year.
Torquay
A town formerly known for its fishing and agriculture, Torquay has taken on a distinctive Mediterranean charm over the years to become Devon's answer to the fashionable, English Riviera. Colourful fishing boats still decorate the busy port of Torquay with sailing yachts adding to its appeal.
The nine blue-flagged beaches and the impressive array of water sport activities may just be the deciding factor for anyone contemplating a weekend visit to Torquay. Or maybe it's the striking 19th century architecture and the quieter towns of Brixham and Paignton that interest you. Either way, Torquay is always a popular seaside town and certainly won't disappoint.
If you want to splurge out and pamper yourself, then look no further than the promenade, which is lined with luxurious hotels ready to cater to all your fine dining and spa-day desires. On the other hand, if the seaside-town bustle isn't what you're looking for, then you can escape to The Orestone Country House and Manor. Located just off the coastal road between Teignmouth and Torquay in South Devon, the award winning boutique restaurant overlooks Lyme Bay, a view you can feast your eyes on while relaxing in the landscaped garden. For budget accommodation, visit Torquay Backpackers. With its Victorian terraced building, Torquay Backpackers mirrors the overall image of the popular beach town - welcoming and homely with a dash of classic English culture.
Isle of Man
Nestled in the northern Irish Sea, is the Isle of Man. While the island may be better known for its lingering coastline, colourful landscapes and dazzling beaches, it also has another accolade to add to its belt - it has been inhabited for more than 6,500 years. As one of only six Celtic nations, the people of the Isle of Man can proudly say that thousands of years of language, arts, culture and literature has survived on their land.
The Isle of Man is a paradise for outdoor enthusiasts. Wander through moorlands and meadows, while looking out for Sparrowhawks, Buzzards, Red-legged Partridges and many other species. Or if you prefer being out at sea, then look out for Grey Seals, Basking Sharks, and maybe even dolphins. Naturetrek offers tailor-made holidays for people wanting to explore nature or marine life.
If you're after luxury, convenience and tranquility, The Sefton Hotel is a great choice for accommodation. Or for a more budget-friendly option, the Edelweiss Bed and Breakfast is nestled away from the hustle and bustle of the town and is located along the Queens Promenade in Douglas.
Blackpool
If regular performances from some of the UK's top artists and an attraction named "Pleasure Beach" isn't enough to lure you over to the bright side of Blackpool, then maybe lighting shows and an impressive new seafront will do the trick. Whatever your cup of tea, a weekend in Blackpool will be packed with activities. In fact their tourism industry are introducing new attractions in a bid to keep visitors coming back for more magical memories.
The Blackpool Tower has been a tourist attraction since it was first erected on 14 May 1894. With over five main attractions, including a circus, the dungeons and a skywalk, the whole family can enjoy this playground.
Blackpool is a cabaret of fortune tellers, magicians, theatrical performers and entertainers, luring you to visit for a weekend. For a last minute weekend deal, stay at Adelaide House. The prime position in the town centre opposite the Winter Gardens and Houndshill Shopping Centre, and only minutes from Blackpool Tower, make it an ideal accommodation choice. The Fylde Backpackers is another place ideally located in the city centre. They specialise in group bookings and run deals throughout the summer months.
Bristol
In 2008 Bristol became the UK's first Cycle City. With wide, open spaces and over 450 parks, it's dedicated to environmental sustainability and a greener UK. In recognition of this, it has since been nominated Europe's Greenest City for 2015.
Uncover the underworld of street art in Bristol, home to the famous Banksy. To see it all for yourself, go on a walking tour - Where The Wall will be more than happy to take you on a street art walking tour. Another attraction you should make time for is the SS Great Britain, a former passenger ship that transported people from Bristol to New York. After being stranded due to a navigational error and then used as a warehouse in Falkland, she was returned to Bristol and turned into a museum. Isambard Kingdom Brunel, the designer of the SS Great Britain, also designed another one of Bristol's famous attractions - the Clifton Suspension bridge.
The nightlife in Bristol is bound to result in good memories. The Rock and Bowl Hostel in central Nelson Street caters for party-goers coming to Bristol either for festivals or organised group bookings, such as Stag and Hen dos. The hostel has been decorated by artists who have stayed with them - all part of the down-to-earth ambience. They pride themselves on delivering a party atmosphere, offering packages that include a bed in a dorm room, breakfast, ten pin bowling, karaoke and pizza.
For more information about this popular city, check out our 24 Hour Guide to Bristol.
Edinburgh - Scotland
Edinburgh, the capital of Scotland, is home to playwrights, novelists, artists and creative enthusiasts who have delivered some of the most influential work in the world. JK Rowling, inspired by Edinburgh's Gothic architecture, spent months developing the ideas for her Harry Potter series inside one of the many corner cafés in the city.
In August, Edinburgh hosts the Edinburgh Festival, the largest arts festival in the world. For 25 days, dancers, performers, exhibitions and eccentrics transform the city into an art haven. Along the Royal Mile, in the old town, is where the street action takes place, with busy restaurants and bars serving up a feast. The Inn On The Mile is an ideal location for your weekend escape. This urban, chic hotel serves tasty Sunday roasts and is located right in the city centre. If it's more of a budget weekend away you're after, you can stay at The Hostel, a new modern hostel with comfortable dorm beds at affordable prices. It's directly opposite Haymarket Train Station and only a 5 to 10 minute walk from Princes Street, one of the main shopping streets in Edinburgh.
St Ives - Cornwall
St Ives is famous for its artistic community and sub-tropical lifestyle. The town is nestled around a historic harbour with colourful bobbing fishing boats. Along the narrow cobbled streets are homes of various artists and dozens of galleries, displaying centuries of artistic talent produced on the shores of St Ives. You can surf uncrowded waves during the day and soak up its thriving nightlife at dusk, with an array of pubs and bars playing host to local musical talent. Take a scenic boat ride, visit the Tate Gallery or enjoy the global garden that is the Eden Project, the list of activities in St Ives is endless.
Set on the Cornish coastline in St Ives is the Boskerris Hotel, providing panoramic sea views from the bedrooms. Built in 1931, it has since been transformed into a cool, contemporary hotel, giving you that feeling of peace and comfort that you seldom find in city hotels. Or for a more budget-friendly option, St Ives International Backpackers offers dorms and private rooms at very affordable rates.
Liverpool
This UK weekend destination has all the perks for making a memorable weekend away - from the opportunity to revel in pop culture history to watching world-class soccer.
Liverpool's status as the culture headquarters of North West England is a result of its diverse range of art, religion and music stemming from all corners of the world.
It's also known to have one of the best public transport systems in the world, although it's not surprising considering that steamships, municipal trams, railways and helicopters were all world-first innovations pioneered in Liverpool.
A weekend break would not be the same without the comforts of good accommodation. The Hatters Hostel is ideal for long or short stays and is situated right in the city center.
Oxford
The town of Oxford is known for it's university, which spans throughout the city. Even outside the walls of the university you'll find students who give the historical town a distinct atmosphere of educated youthfulness.
One of the best suburbs to stay in is Jericho, a trendy side of town that represents the Georgian and Victorian atmosphere for which Oxford is so popular. When it comes to nightlife, the entertainment selection is wide enough to suit everyone's tastes. And for your weekend lodgings, stay in The Tower House, a 17th century guesthouse right in the heart of the city.
Bath
The pilgrimage walk, which starts in Stratford Upon Avon and makes its way along the River Avon through the countryside of Somerset, is an interesting way to reach Bath for those who like the outdoors. Bath is a historic Roman and Georgian City, boasting beautiful countryside landscapes and crescent architecture reminiscent of earlier times.
For a luxurious accommodation option, try Homewood Park Hotel and Spa, a top-end hotel set in 10 acres of mature parklands.
By Josh Downes
Last Updated: August 2013