Theme parks are magical places where adults can act like children and kids have the time of their lives. What better way to spend a day out than strapped into a roller coaster? We've found the top theme parks in the UK and across the world.
Which theme park would you enjoy the most? Let us know what you think of our theme park list on Facebook or in the comment box below. Don't miss out on the cheap attraction tickets we offer to make your theme park experience even more enjoyable.
Best For Adrenaline Junkies
Alton Towers - Staffordshire, England
Alton Towers is the most visited theme park in the UK and is a thrill seeker's paradise. The park features nail-biting rides such as the popular, 800 metre long Th13rteen horror roller coaster. Or if you're interested in experiencing the sensation of flying, head for the famous ride Air, where you'll need to dodge objects and trees as you soar along. The park also features many other attractions, including live shows. Kids can also get their fair share of fun with attractions such as Ice Age in 4D.
Tickets: £43.50 per adult and £34.75 per child.
Oakwood Theme Park - Pembrokeshire, Wales
For those craving speedy turns and dips that will make your stomach knot, this is the park for you. Be daring and go on the Megaphobia roller coaster - a wooden coaster bound to make you squeal. Another appropriately named roller coaster, Speed, dips and dives at a heart-racing 95 kilometres per hour, making sure you have white knuckles by the end of it.
Tickets: £21 for adults, £15 for kids under 12, and children under 3 years get in for free.
Thorpe Park - Surrey, England
Thorpe Park is home to the infamous Nemesis Inferno, a fully inverted roller coaster with speedy spins and ludicrous loops. The park also boasts two new rides that are receiving much attention. The Swarm is the UK's first 'winged' coaster. It is the ultimate daredevil's dream, as you hang off the sides of the railings with nothing around you but air.
For the horror lovers out there, you're not excluded thanks to the new Saw roller coaster where you can enjoy the exhilarating thrill of plunging over 30 metres into razor-sharp blades. If that's not enough, pay a visit to Saw Alive - a maze where live actors re-enact the movie's famous death trap scenes.
Tickets: £43.20 per adult, £33.60 per child under 12 and kids under 1 metre get in for free. Please note that prices vary and these prices are based on 1 day passes.
Ferrari World - Yas Island, Abu Dhabi
Abu Dhabi is home to the world's largest indoor theme park. Ferrari World is guaranteed fun for the entire family and it's a bonus if you're a Formula 1 fanatic. Kids can enjoy rides such as the Ferrari Carousel and can even race in their own little Ferrari. The main attraction is the Ferrari Rossa - officially the fastest roller coaster in the world and definitely not for the faint hearted. The ride goes from 0 to 240 kilometres per hour in less than five seconds. The force is so strong that those daring enough to go on it have to wear safety goggles.
Tickets: £39.45 per person over 1.5 metres tall and £28.93 per person under 1.5 metres tall. This is the general admission fee.
Best For Family Fun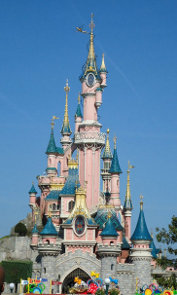 Disneyland Paris - Paris, France
Disneyland Paris' two theme parks create a fantasy world that both children and adults can enjoy. Disneyland Park gives girls the chance to meet their favourite Disney Princesses and to explore Sleeping Beauty's castle. Boys get to have laser battles with Buzz Lightyear and shake hands with Peter Pan. Exciting rides such as the Flight of Peter Pan and Pirates of the Caribbean will keep the whole family entertained for hours on end. You can also visit the Disney Studios Park, to take a tour around the studios for a behind-the-scenes view of Disney animation.
Tickets: £74 per adult and £60 per child. Children under the age of 3 get to go for free. These prices are based on a day pass that includes both parks.
Blackpool Pleasure Beach - Lancashire, England
This is definitely one of the most ideal places for the whole family. There are tons of family rides, such as go karts, flying machines and spinning tea cups. Nickelodeon Land makes this park perfect for kids. New to Pleasure Beach, Nickelodeon Land features rides based on all the famous Nickelodeon characters, such as Spongebob Squarepants, Dora the Explorer and Avatar Airbender and kids can even have their photo taken with their favourite characters.The park also features rides such as the wooden coaster, Grand National and many others to keep adults entertained.
Tickets: Prices vary from £5 to £50, depending on the package you wish to choose.
Universal Studios and Universal Islands of Adventure - Orlando, Florida, USA
Being a part of a famous movie in real life is an unlikely experience for most, which is why these two parks are so popular. Take a trip to Universal Studios and enjoy roller coasters such as The Incredible Hulk Coaster and The Revenge of the Mummy. You and the kids can also fight off aliens in the Men In Black ride or visit the home of the iconic alien, E.T.
Don't forget to visit Islands of Adventure right nextdoor, to experience the Wizarding World of Harry Potter where you can go on the Dragon Challenge and explore Hogwarts castle. Also stop at Jurassic Park, but you'll need to be prepared to escape the clutches of the giant T-Rex.
Tickets: £79.30 per adult and £75.46 per child based on one day ticket pass to both parks.
M&D's - Lanarkshire, Scotland
Scotland's fun and colourful theme park is definitely somewhere your kids will be begging you to take them. Not only are there 18 rides perfect for the whole family, there are also rides for parents who desire some thrilling excitement. Adults will love Tsunami, undoubtedly the park's most popular attraction, with close to half a mile of twists, turns and loops that will leave you feeling euphoric. Kids rides range from slippery water rides to Flying Jumbos. There are also trampolines to keep the little ones entertained.
Tickets: £15.85 per person depending on the package deal.
Best For Water Lovers
Wet 'n Wild - Queensland, Australia
You'll want to make sure you're wearing your swim suit for this one. Step into the Extreme H2O Zone for a ride on the Tornado, a waterslide that will keep you going back for more. Slide down a 40-metre-long tunnel where you'll get swished around until you make it into the pool below. Another ride you'll have to try out is the AquaLoop, with its free-fall drop and a transparent loop slide. With over 15 attractions, you're bound to leave the park soaked and happy.
Tickets: £39.38 per adult and £22.97 per child.
Ocean Park - Aberdeen, Hong Kong
Ocean Park offers a variety of amazing attractions. Water lovers can take a ride down the rough rapids and get soaked along the way, or hop onto a log boat on the Raging River ride and get plunged down a waterslide at 36 miles per hour. The fun continues in the Ocean Theatre show which features beautiful dolphins and seals. Animal lovers will also enjoy seeing the native giant pandas and other Asian animals. And thrill seekers will love Hair Raiser, a roller coaster you'll never forget.
Tickets: £23.29 per adult and £11.64 per child.
Last Updated: August 2012