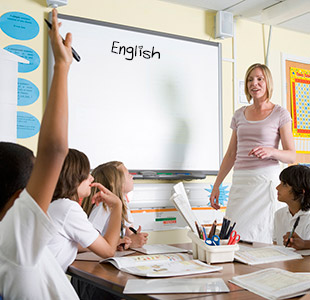 Just a few years ago, eager to propel their learners to the forefront of economical and technological advancements, a handful of countries started looking for native English speakers to Teach English as a Foreign Language (TEFL) to their young learners. At the time, not many qualifications were needed and the salary wasn't very good. And then the industry exploded. Teacher demands increased, salary and benefits became better and people flocked to the doors of foreign schools hoping to make money, travel and save. With the school year for most of these countries starting in August, we thought it would only be fitting to look at The Top 10 TEFL Destinations.
In a land famous for cheese, bicycles and tulips, The Netherlands sets the tone for an exciting and unusual experience. The laidback, but driven culture is known to reduce stress levels associated with living in the busy city. And the extensive history, open landscapes with rolling hills and colourful, closely-knit buildings provide a rich, homey atmosphere.
The Netherlands is also one of the safest and well run countries in the world - with a high standard of education, good medical care and low pollution levels, and of course, ample freedom. When it comes to teaching, the market is extremely competitive and you may need to teach at multiple schools to make up enough hours. Teaching English on a freelance basis and offering private lessons may be a good idea.
Why go? The history and culture, and... it's The Netherlands!
Watch out for: The bikes! Seriously, there are thousands.
The most affluent country in Central America lives up to its name. The "rich coast" comes complete with clear coastal waters, green, gleaming rain forests and an incredible volcanic landscape. In a world where war and violence has become all too common, we can learn a thing or two from the county that abolished its army to use the money for development and education, and that is revered for its serenity and stability.
The main TEFL destinations in Costa Rica are San Jose, Manual Antonio and Heredia. Employers don't offer accommodation, but they will help you find a place. You can expect to pay between £90 and £220 per month. As for the visa requirements, most schools will help with the arrangements and pay for the costs.
Why go? Costa Rica is one of the most beautiful countries in the world. You may not be able to make a lot of money there, but the experience more than makes up for that.
Watch out for: The driving. Apparently road signs are merely for decorative purposes.
Does France need any introduction? Picturesque beaches, world-class slopes for skiing and of course, cuisine good enough to turn you into a professional foodie. On the south you have the Pyrenees and Mediterranean, on the north the English Channel, and on the east you have the Alps. It's a little bit of everything all mixed together to produce one spectacular travel destination. Now imagine living there.
Granted, France is very expensive. This probably isn't the place you should go if you want to save. But can you imagine waking up in Paris every morning? It's the stuff that dreams are made of. Although the demand for teachers is high, the market is very competitive. You'll probably need to give private lessons in addition to your day job if you want to live comfortably. And at more than £400 for one flat plus three months deposit, staying in Paris may put a strain on your bank balance. Don't let this deter you though, it's perfectly do-able.
Why go? France wasn't voted the top tourist destination for no reason.
Watch out for: The scams. There are a lot of tourists in France and scammers love taking advantage of this.
Including Egypt was touch and go at one point. With the on-going conflict, I doubt many people will be flocking there to teach English. However, I decided to include it because in time the political tensions will ease and Egypt is a magnificent country, and the benefits that come with teaching English there are some of the best. Global Tesol provides an excellent programme.
Cairo is Egypt's main city for TEFL and there are a lot of jobs to go around. Some employers provide you with accommodation, or at least a flat allowance. And the students, well, they're often very energetic, but if you're up for a challenge, then the experience can be very rewarding.
Why go? The great salary and benefits you get, along with the opportunity to learn about Egyptian culture - one of the oldest in the world.
Watch out for: Egypt is in the midst of political turmoil, perhaps hold off on this experience until a resolution has been achieved.
Yet another Asian city makes the list. One of the world's oldest civilisations is also one of the newest industrial powerhouses. Because of this, China is encouraging its citizens to take up the international language of English.
Shanghai leads the pack when it comes to the demand for English teachers, with Guiyang and Hangzhou trudging in a little later. Virtually every city in China is a popular TEFL destination so you can take your pick. You can expect to teach for about 15 to 25 hours per week, which is not much, but classes can be big and sometimes there are over 50 students in one class. However, most of them are well-mannered and eager to learn. With online and combined TEFL courses offered by Teach English Abroad, you can find yourself in China in just a few months - it certainly will be an experience to remember.
Why go? The salary and benefits are great, and China is the fastest growing country in the world.
Watch out for: The amount of people there are. China has one of the biggest populations in the world.
Last Updated: August 2013