Top 10 Summer Walks In The UK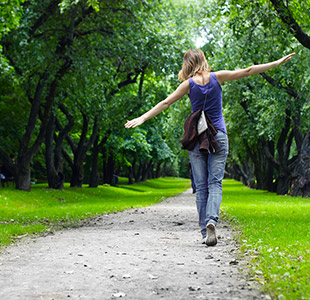 I've always been one of those people who really enjoyed sport, but after university and an ankle injury, I put the memories of those days in a photo album and stuck them in my mum's dining room cupboard. If you've done this too, then stop right now. You're making a big mistake.
You don't have to be super fit or into sport to enjoy the great outdoors. There are many beautiful places in the UK that can be enjoyed on a stress-free walk . And I don't mean those 5 minute walks interrupted by a one hour picnic and followed by a 5 minute walk back to the car. I mean the ones where you tie up your shoe laces, put on a cap and sunglasses, and spend the next few hours soaking up vitamin D and connecting with nature in a healthy, peaceful way. To give you some extra motivation for this season, we've found the Top 10 Summer Walks in the UK.
We also have a very cool competition where we're giving away two London Family Adventure Walks books, a helpful guide about the popular and hidden gems on the streets of London. All you have to do is visit our blog: Win London Adventure Walks for Families and follow the competition instructions. Good luck!
Water of Leith, Edinburgh
Distance: 2 miles (about 40 minutes)
Details: www.waterofleith.org.uk/walkway
The original Water of Leith Walkway is a tough 12 mile trek, which is accompanied by the snaking river. Since we're taking it slow, our walk is just 2.5 miles and runs along the riverbank, allowing you to ramble from Stockbridge to the Leith leg of your journey. The light walk leaves plenty of time to photograph the lush greenery, quaint cottages and renovated docklands at Leith, where you can also find a pub that will serve a filling and satisfying lunch.
South Hams, Devon
Distance: 3.5 miles (less than an hour)
Details: www.southdevonaonb.org.uk
The walk in Bantham, South Hams is a comfortable 3.5 miles, which should take you less than an hour. But you won't even notice the time, as this is one of the most beautiful walks in the UK. Explore the sandy coves and watch as surfers take command of the waves. The River Avon winds downstream from Aveton Gifford, all the way through the secluded valley to the sea. The walk traces the river's course, so there is plenty to see on your way. There are resting spots if you get tired, but you'll keep going if you really want to make the most of your adventure.
Dancing Ledge, Dorset
Distance: 5 miles (about 1 hour and 20 minutes)
Details: www.swcp.org.uk
The walk along Dancing Ledge in Dorset is perfect for summer, mostly because it allows you to see the sparkling sea below. Your walk starts in the village of Worth Matravers, where you will head west on the path for a short distance before looping around St. Aldhelm's Head and following the cliff-top path. It's on this section of the walk where you will come across the Dancing Ledge. Centuries ago, the rocks and sea formed a circular shape made of rocks and filled with seawater gushing against the shore - it's quite a sight as the waves come crashing down. Although the walk isn't too long, it won't be complete without a dip, so spend some time there enjoying the water and soaking up the sun before heading back.
Tegg's Nose And The Dean Valley, Cheshire
Distance: 6 miles (about 2.5 hours)
Details: www.ramblers.org.uk
With a beautiful mixture of heather and harebells in bloom, this summer walk on the edge of the Peak District is perfect if you want to connect with nature. And if that's not enough to get you up the hill, then maybe the wood sage and bilberry on the moors with mountain pansies in the meadows will do the trick. If you want to take time to admire the plants and animals, then the walk will take you about three hours. It's best to leave early so that you can enjoy the trail without having to push for time. While you're enjoying your lunch, be sure to look out for flycatchers, thrushes, treecreepers, buzzards and woodpeckers.
Kemsing, North Downs
Distance: 6.5 miles (about 2.5 to 3 hours)
Details: www.nationaltrail.co.uk/northdowns/
This circular 6.5 mile is perfect for a warm, relaxing Sunday, especially when it's coupled with a delicious picnic lunch. The terrain consists of field paths and tracks, and nature does throw in a few steep slopes, but nothing that will make your walk too difficult. Thanks to the Weald of Kent, you'll be provided with magnificent views throughout your journey. There are also pubs and shops in Kemsing if you need to refuel.
River Severn, Shropshire
Distance: 7 miles (about 3 hours)
Details: www.walkingbritain.co.uk
This is when the walks start getting a little longer. To ease you into the greater distance walks, we've chosen a relatively easy path. It follows the River Severn south from Highley to the Georgian town of Bewdley. During your walk, you'll pass parts of the Severn Way and the North Worcestershire Path. The best part of this walk is that you'll be so distracted by the diversity of the River Severn and exploring the town that you won't even notice if your body's getting a little tired. Look out for the Severn Valley Railway, which hosts perfectly preserved stations and steam-hauled trains.
Aberlour To Knockando, Speyside
Distance: 6 miles or 12 miles (about 3 to 5 hours respectively)
Details: www.walkhighlands.co.uk/speyside-way.shtml
This Speyside walk can be twofold, it can pass as a light 6 mile walk or as a long-distance hiking trail.For anyone still finding their feet, we'll stick to the shorter walks for now. The malt whisky town of Aberlour in Scotland is famous for more than just it's legendary breweries, and the 6 mile trek along the River Spey is one of the things that will keep you coming back to this walk each summer.
Ben Nevis Via Carn Mor Dearg, Scottish Highlands
Distance: 10 miles (about 4 hours and 20 minutes)
Details: www.walkhighlands.co.uk
Okay, so this walk is more of a climb. But it's time we put the real hiking shoes on and move out of our comfort zone. It's more for experienced, fit walkers. It may be a tad tough, but the spectacular route consisting of two Munros (mountains in Scotland over 3000 feet high) will be well worth it. Don't worry, we don't expect you to climb those mountains on your walk just yet, simply looking at them will be enough for now. The mountain paths are good for both climbing up and coming down, with a clear path and easy to see signs marking the way. Once you get to Carn Mor Dearg however, the path disappears and is very steep - something that can be quite gruelling if you're not fit. But fear not, the traverse is pretty painless (although quite long) and really, if you're feeling tired, sit down and have a snack - it makes for a great photo opportunity too.
Around Lake Bala, Welsh District, Wales
Distance: 14 miles (about 6 hours and 20 minutes)
Details: www.visitbala.org/things_to_do/walks
Bala and Penlynn in Welsh District play host to a number of walks; from the light, scenic trails, to the more gruelling mountain climbing treks, the area has an enjoyable walk for people of all ages and fitness levels. The Lake Bala walk may be 14 miles, but it isn't a tough one. The trail is relatively flat and curves around the Lake, offering beautiful mountain and water views. After walking through beautiful farmland, moorland and forestry, you won't even feel the distance. Coming back is a lot easier; you can hop aboard a steam railway and bus and enjoy the scenery from the comfort of your seat.
Alternative London Tour
There is no set distance for this walk as there are a range of routes you can take and how far you want to walk is completely up to you.
Details: www.alternativeldn.co.uk
This one is a little different. Moving out of the nature walks, we dive into cultural and historic routes that celebrate art and people. East London's alternative side is highlighted on this walking tour. From the history and culture of Brick Lane, Banglatown to the vibrant street art of Shoreditch, this walk reveals London's other side. For this excursion, you can leave your snack bag at home and bring your wallet along. The local flavour of the restaurants is sure to whet your appetite and the trendy art and jewellery are souvenirs that you'll certainly want to take home with you, even if home is just a few miles away.
Last Updated: June 2013