Top 10 Street Art Across The UK And Ireland

Summer has arrived! Now that there's no reason to stay indoors, it's time to get outdoors in the sunshine and walk the streets of the UK and Ireland. The streets are abundant with both modern and old school street art, so why not take a moment to explore these masterpieces while soaking up some much-needed Vitamin D? This month, we have scoured the UK and Ireland to find you the Top 10 Street Artworks, new and old.
10. Stik's Street Art, London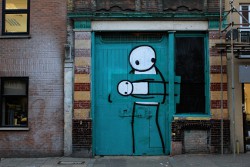 Walk around the back streets of London, and you're likely to come across one of Stik's colourful art pieces. His paintings are all depictions of stick people painted in such a way that they seem to embody human emotions. Take a short five minute walk from the Old Street tube station onto Pitfield Street and you will be able to see one of Stik's famous pieces on the door of his studio. While this piece was originally a painting of two stick figures, Stik recently changed it making the one stick figure carry the other one. It is now referred to as The Art Thief. London Street Art Tours offers tours all over East London, where you get to see the work of over 40 street artists including Stik.
Address: Opposite Samuel Court Flats, 36 Pitfield Street, London
9. Lobey Dosser on Woodlands Road, Glasgow
Â

For something fun and humourous, you will want to take a look at the infamous Lobey Dosser statue on Woodlands Road. Erected in 1992, it was created in honour of Glasgow's famed cartoonist, Bud Neill, 22 years after his death.

Bud created a cartoon strip called Sheriff Lobey Dosser of Calton Creek in 1949, and it quickly gained a cult following thanks to its hilarious puns. It's also worth knowing that the Lobey Dosser statue features three of the main characters including Lobey's two-legged horse, El Fideldo. This makes the statue the only two-legged equestrian one in the world.
Address: Across from The Halt Bar, Woodlands Road, Glasgow, Scotland
8. The London Police Wall Mural, Newcastle
Popular Art Collective, The London Police are famous for their street art using their LADS characters, and they have brought these characters to Newcastle in the form of a large wall mural. This mural took just five days to paint and it has become a big attraction for both the locals and tourists. This mural tends to give a sense of pride to Newcastle, as the various pictures on the wall depict local heroes saving the day. You can see this mural on the wall of the Ship Inn pub in Ouseburn Valley.
Address: At the bottom of Stepney Bank, Newcastle Upon Tyne, Newcastle upon Tyne, Tyne and Wear, England
7. O'Connell Street, Dublin
O'Connell Street is one of the widest streets in Europe and home to many public statues. At the entrance to the street you can see the beautifully sculptured monument of Irish political leader, Daniel O'Connell, after whom the street is named.
Another notable statue is that in honour of Sir John Gray, the person responsible for bringing clean drinking water to Dublin. The Spire is also a must-see, but standing at 121 metres tall, there's no way you can miss it. This is the tallest sculpture in the world and it stands at the end of the street.
Address: O'Connell Street, Dublin, Ireland
6. Art On The High Street, Swansea
The city of Swansea is teaming up with LOCWS International (an art-based charity) to create bold and bright art across the High Street. Street artists, both local and from around UK, are being brought in to paint abandoned and disused warehouses, retail units and other empty places. Right in the heart of Swansea at number 226 High Street, you can go and look at Sean Puleston's masterpiece, We Are Here. His use of bright, blocks of colour and the way in which they are arranged will have you staring at this somewhat ugly building in awe.
Address: 226 High Street, Swansea, Wales
5. The Girl With The Dolphin, London
Take a relaxing stroll along the River Thames and as you approach Tower Bridge, you will come across one of the city's most beautiful and elegant sculptures: David Wynne's The Girl With The Dolphin. The sculpture depicts a girl swimming in the air with a dolphin. The fascination with this piece is that it gives the illusion of the two figures flying unsupported in the air. Illuminated at night, this old school street artwork is a definite must-see.
Address: On the bank of River Thames, north-east side of Tower Bridge, London
4. Banksy's Street Art, Bristol
Banksy is arguably the most famous street artist, leaving his signature stencil style artwork all across the UK. He was born in Bristol and started street art as a kid. Soon enough he became known worldwide for his dark, often humourous, sometimes controversial pieces all over the streets.
As Bristol is his hometown, you can see many of his oldest street paintings here. If you are a fan of Banksy's work, The Naked Man, one of his most famous creations, is a must-see. This piece is painted on the wall of a sexual health clinic and it depicts a naked man hanging onto the windowsill of an open window. This painting became so popular, that the City Council agreed for it to stay there.
Address: Park Street, Bristol, England
3. The Family, Cardiff
Fancy a little shopping while you admire some sculptures? Head down to Queen Street, home of Cardiff's shopping district. A beautiful bronze Robert Thomas monument named The Family is situated here, and it depicts two parents with their son and daughter sitting on a bench. Thomas was able to sculpt these figures so that they have uncanny human expressions. Take a walk further along Queen Street and you will come across three more of his sculptures: "Nye Bevan", "Mother and Son" and "The Miner".
Address: Cardiff Queen Street, Cardiff, Wales
2. Conor Harrington's Street Art, Dublin
This Irish street artist had been in studio concentrating more on fine art lately, but that doesn't mean that he no longer takes time out to paint the streets. Last year, he filmed a documentary of the process of him painting three wall murals in Dublin called The Black Herds of the Rain. Conor chose to depict cowboys, one of which shows a cowboy being thrown off his bull. It is said that this is used as a depiction of his thoughts on this Irish government. Two of the three somewhat political and interesting murals can be found on Ennis Street and Ennis on Glor Theatre.
Address: Ennis on Glor Theatre: Causeway Link, Ennis, Co. Clare, Ireland
1. George Square, Glasgow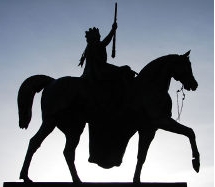 Named after King George III, you can feast your eyes on 12 public statues within this civic square. Take a walk around one of Glasgow's most famous squares and admire sculptures such as The Cenotaph, a memorial to all those who died in the Great War. Another great one to have a look at is the statue of Thomas Graham - this Scottish genius invented kidney dialysis. Undoubtedly the main attractions on the square are the breathtaking statues of Queen Victoria, the longest reigning queen of England to date, and her husband, Prince Albert, both created in the late 1800s.
Address: 5 St Vincent Place, Glasgow, Scotland
Last Updated: July 2012