Top 10 Ski Holiday Destinations

What is the first thing that comes to mind when thinking of a ski holiday? For adults, a bit of cardio out on the slopes finished off with Glühwein around the fire may sound appealing. For kids, it could be the thrill of tobogganing down a slope and making snow angels. Extreme sports junkies are probably looking for something a bit more hair raising, while couples may just want a bit of privacy. In this month's Top 10, we count down the best ski resorts and destinations for everyone from the frugal traveller, to the adolescent student, to the luxury jetsetter, adventure junkie and many more:
Best For Families
Sainte Foy, French Alps
A trip to Sainte Foy gives the whole family a chance to enjoy the magic of the French Alps. With a desirable mixture of mountainous landscape for all levels, the gentle flowing slopes make it easy to keep an eye on the inquisitive little ones (who often tend to wander off). The red and black runs are available for the more experienced skiers, so no one is left out. The resort sits some 1,500 meters above sea level, and the surrounding landscape could not be more flawless. Parents can treat themselves to some down time at the resort spa while children are well looked after at creches and various ski schools. www.sainte-foy.info
Best For Skiing
Chamonix-Mont-Blanc, France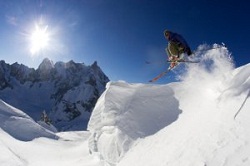 Home of the first winter Olympics back in 1924, Chamonix is widely regarded as the skier's mecca. There is an outstanding selection of on and off piste skiing options, spread out across three skiing areas. Beginning around the December period and lasting up until May, the French Alps become decorated in layers of powdery white snow, just begging to be carved up. The views, facilities and atmosphere are all part of the grand package that makes Chamonix such a thrilling location for experiences skiers. www.chamonix.com
Best For Snowboarding
Saas-Fee, Switzerland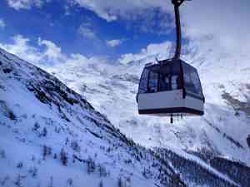 A combination of near year-round snow, a crazy board park and incredible on and off piste runs make Saas-Fee a snowboarders dream location. Every year it hosts some of the world's best for pre-season training - the glacier in Saas Fee ensures snow fall from as early as October. Located some 1,500 meters up the Swiss Alps, the resort also offers some of the highest altitude slopes in Europe. The welcoming locals, great nightlife, the wide range of accommodation, and the fact that it is a car-free town which only adds to its charm, make for the full package snow boarding holiday. www.saas-fee.ch
Best For Beginners
Telluride, Colorado, USA
The adorable old mining town of Telluride Colarado, with its 2300 strong population, has the beautiful San Juan Mountain as its backdrop. The anxiety of skiing for the first time is palpable and Telluride Ski Resort offers beginners the comfort of knowing that they are in very responsible hands with motivated and attentive ski instructors. There are several easy beginner slopes making for a low pressure ski environment - the 4.6 mile Galloping Goose Trail, makes its way down to the Mountain Village winding gently through the charming landscape. Although getting there is both timely and expensive, as a first -timer, it is the perfect starting point to a lifetime of skiing. www.tellurideskiresort.com
Best For Experts
St. Anton, Austria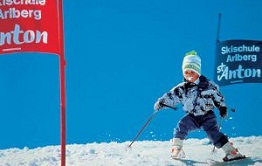 The St. Anton resort is ideally placed at the base of the Arlberg Pass - home to some of Europe's best and most challenging runs. For experienced skiers looking to show off their skills on fast and difficult slopes, this is the resort to be one with the white powdery snow. The slopes are fairly crowded during season time, but this is converted into a festive and unified atmosphere off the slopes. Although there isn't much in the way of shopping, St. Anton is within arm's reach of Innsbruck and other more tourist-friendly resorts. www.ski-st-anton.com
Best Budget Ski Holiday
Megeve, France
Fancy a long weekend away without having to pay the outrageous last-minute prices- then Megeve works out to be very reasonable by all accounts. The resort offers a host of great pistes (which have been used to host World Cup races), a snowboard park and trails for exploring - complete with magnificent views. The old town is rustic and still very French both in its charm and gastronomic offerings, and has all the facilities you'd expect from the best in Europe - from shops, to hotels, budget chalets and hostels. To cap it all off, it gets really festive during good snowfall and the nightlife parties become the centre of snowfall attention.
Most Glamorous
St Moritz, Switzerland
Located in the southern Swiss Alps, on the Upper Engadine lakes, St. Moritz is one of the most glamorous ski resorts in the world. The ski resort has been host to two Winter Olympics and offers adventurous skiing with outstanding off-piste skiing. The Kempinski Grand Des Bains in the snow season has the appearance of a majestic fairytale castle, balancing both an old Hollywood glamour with new world elegance. The award winning spa is a dream and boasts a number of indulgent treatments and designer saunas and water pools. With an annual influx of the Who's Who in the celebrity, royalty and sport scenes, its no wonder that St Moritz sets the standards high and the pockets deep for luxurious ski vacations. www.kempinski.com
Best Ski Resort For Gap Year Students
Cerro Catedral, Argentina
It's not hard to see why Argentina tops the gap year destination list: famous for the tango, Argentinian style steak, wines, football and of course the Cerro Catedral or Bariloche ski resort, students are spoiled for choice. The Catedral Resort, overlooking the impressive view of the Nahuel Huapi lake, is one of the largest ski centres in the Southern Hemisphere. With the ski season beginning in June, you can enjoy over 2965 acres of ski terrain with fantastic piste terrain and skiing for all experience levels. Bariloche town has a party culture and it's not rare to mix ski and fun with local Argentinians. Do not expect any early nights in and around the fire as locals only tend to go out from midnight through to the wee hours of the morning. www.bariloche.org
Best Adventure Ski Holiday
Gulmarg, India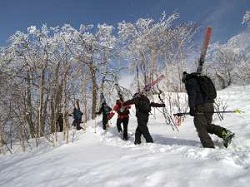 Definitely not what you'd expect from a holiday that starts in Delhi! Gulmarg ski resort takes you 4,000 meters into the Himalayan slopes, where heavy annual snowfall produces world class powder runs. Known widely as Asia's most breathtaking ski resort, intermediate and advanced skiers can explore the seemingly endless stretch of off-piste runs. If skiing the Himalaya slopes isn't thrilling enough, then a popular trek to the Mount Everest Base Camp will literally be the icing on the snow cake. www.ski-gulmarg.co.uk/
Best All Round Ski Resort
Arinsal, Andorra
Arinsal is part of the stunning Vallnord ski area, which includes several other resorts. Overall Arinsal offers a little something of everything for everyone. Located in the bosom of the Pyrenees mountains, where the snow capped conifers decorate the escapement, you will find ski runs to suit all ski levels. A wide and varied selection of accommodation make it accessible for almost any budget, from couples looking for a four star hotel, to students who don't mind bunking up in a backpackers lodge. The tax free shopping goes down well for some post skiing retail therapy. www.worldtravelguide.net/ski/arinsal
Last Updated: December 2010