Top 10 Reader Recommendations

Reader comments on the Essential Travel Magazine are always appreciated. Whether it's to say you enjoyed an article in the Essential Travel Online Magazine, or to point out a typo we'd missed during the editing process, or simply to make an educated suggestion, we always take note of what you have to say about the articles we post.
In this month's Top 10, we pay tribute to reader comments by listing the best suggestions over the last year. Thank-you to everyone who has helped us compile this and keep 'em coming!
Skiing In Slovakia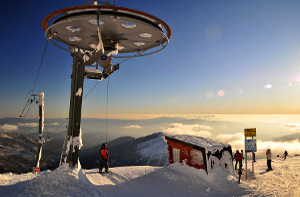 Comment left by Ivan Mazgurt
Just about everyone at Essential Travel's headquaters is crazy about skiing holidays. When we were putting our heads together for the Top 10 Destinations, one of the unsung jewels of Europe was brought to our attention through comments. The Carpathian Mountain range that runs through Slovakia provides the infrastructure for classic skiing throughout the winter period. Although skiing in Slovakia is still in a development stage, with resorts springing up like mole hills and offering fantastic holiday deals, it won't stay this way for too much longer. For more information skiing and all the other activities on offer on the Slovakian slopes, log on to www.slovakia.travel.
Scaresville - The Haunted Village, Kentwell Farm, Suffolk
Comment left by Sue
During our Halloween edition last year we missed out on an award winning Scarefest that takes place near the East Anglian coast. Kentwell Farm becomes Scaresville every October, where smaller groups of between 6-8 people are invited to walk through the haunted barns, woodlands and buildings... if you dare. The whole route takes roughly an hour and is likely to give you goosebumps the size of small animals. For more information, log on to www.kentwell.co.uk.
Chatuchak Weekend Market, Bangkok, Thailand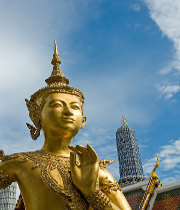 Comment left by Dana
If you are in Bangkok over a weekend, the Chatuchak Market is where you will find just about anything you'll ever need. This weird, wonderful and exotic market is 27 acres of trippy retail therapy. from counterfeit designer clothing, to household appliances, furniture and pirated DVD's. Among other things on sale at chatuchak market, you'll still find animals to take home - including kittens, puppies, and sometimes even rare snakes (to eat) and birds. The animals are sometimes known to be kept in cramped and hot conditions, so we recommend that sensitive tourists brace themselves or prepare to go home with some new Taiwanese pets.
Click here for more information.
Basilica Cistern, Istanbul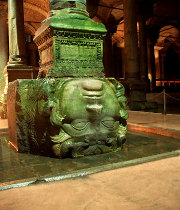 Comment left by Mary
The ancient Basilica Cistern, built beneath the capital of Turkey, is one of those structures you can see once and spend an entire lifetime wondering about. This was a fantastic suggestion from one of our readers - a spectacle not to be missed on any first time trip to Istanbul. The remarkable workmanship that went into building the pillars, the strangeness and eerie beauty of the Medusa's head and the sheer dimensions of this underground reservoir takes you into the heart of a world we can never know enough about.
Bowery Ballroom, New York
Comment left by Layla
Since the Bowery Ballroom opened in 1997, it has soared in popularity, earning critical acclaim as a live music venue for its intimate set up and edgy vibe. There is standing room only and strict capacity rules, so that everyone is guaranteed a good view of the stage. Throughout the year it draws the biggest names in music, making it as desirable for the musicians who want to play there. In 2010 the venue hosted the star-studded Bob Dylan Festival, in celebration of the legendary singer/song writer's career and 69th birthday. Best to check the calendar and book tickets before you leave for New York.
Our feature on Britain's Best Beaches was arguably the most difficult list to compile. Tempers flew over venue selections, ties between friends were nearly severed, great disputes ensued, people threw office supplies at one another... it was hell for a while. Eventually we reached some semblance of a consensus, moments before the article went out, and waited for readers to respond.
In all seriousness, we always knew there would be several great locations left out. So we have decided to dedicate the final five spots on the list to your strongest suggestions. There will no-doubt be beaches we have left out again, so please feel free to respond with your latest suggestions!
Southwold Beach, Suffolk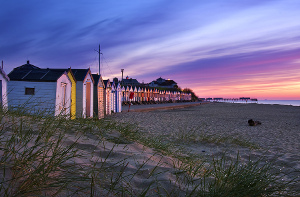 Comment left by Clay
Southwold Beach offers visitors a picturesque, dog-friendly walking path that starts in front of the iconic pier. From there you will pass the quaint, pastel-coloured beach huts that line the promenade and overlook the stony beach. As you head towards the Walberswick harbour, where the best fish and chips in all of Suffolk awaits you, the sand gets soft and local marsh comes into view. Right in front of you, the lonesome North Sea sends mushy waves crashing towards your feet. When it's all over, you can head back into town for some original Adnams bitter.
Bamburgh Beach, Northumberland
Comment left by Hugh Penny
A beach holiday in Bamburgh Beach, Northumberland, feels a bit like you are going back in time. The historical Bamburgh Castle, which overlooks the beach, still looks as solid and esteemed today as it did hundreds of years ago. Although it's not the typical beach-blanket holiday you could expect from a commercial resort, there is something entirely unchanging and unique about the old village, with its 13th century church and selection of shops.
Tresaith Beach, West Wales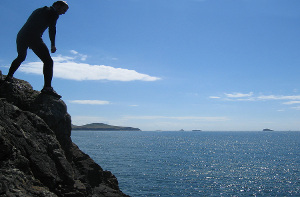 Comment left by Loz
This Blue Flag award winning beach is guarded by lifeguards, decorated by a waterfall, surrounded by mountains and warmed by the sun over summer - what's not to love? West Wales is spectacular in its lush, unspoiled beauty, making it great on and off the sand. All amenities, like bucket and spade rental and shops are on hand, plus there is a second beach option around the corner - this makes for a great walk at low tide.
St Ouen's Bay, Jersey - Water Sports Heaven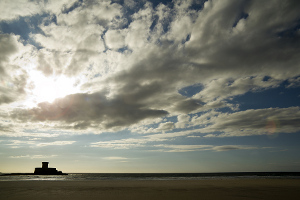 Comment left by Julie
St. Ouen's Bay stretches for 5 kilometers, offering beach-goers more than enough space to roam and relax, without feeling crowded. If building sand castles, sun bathing and going for dips in the perfect blue water don't blow your hair back, you can always hop on a surfboard and enjoy the waves - surfers and kite boarders are some of the most regular customers at St. Ouen's. When you are finished on the beach, there are pubs, restaurants and cafes close by for some after-sun treatment on a lazy afternoon.
Tresco, Isles Of Scilly
Comment left by Caroline Bennett
Tresco, the crown jewel of the Isles Of Scilly, is not what you'd expect from an island resort in UK territory. The perfectly sculpted beaches, wild array of bird life, lush foliage and warm climate (which has a lot to do with its southern location) make it a small slice of paradise just off our local shores. Although it's not easily accessible - visitors can get there by boat or helicopter from Plymouth - it's worth all the effort.
Last Updated: February 2011