Top 10 Things To Do In Paris For Under €10

Western Europe can be notoriously expensive for tourists, especially in bigger cities like Paris. But there are ways around it. You don't have to be a rich man or woman to enjoy the most romantic city in the world. All you need is a keen sense of adventure and our Top 10 Guide to enjoying Paris for under ten Euros.
10. Catacombs de Paris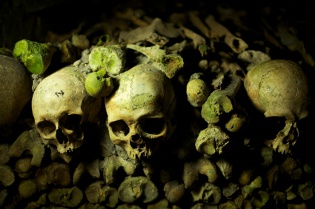 Admission fee: €8
There is something undeniably curious and enticing about walking down a long spiral staircase, into a set of spooky tunnels bellow the city of Paris, to look at skeletal remains. The scene is like something out of a Camus novel, and yet it draws a massive crowd throughout the year. This bizarre attraction takes us back to the 1700's, when the city council was forced to remove over five million bodies from the unhygienic cemeteries in town, and take them to the catacombs. Today you have the biggest display of skeletons on the planet and a neat, if slightly macabre, place to visit for under €10. www.catacombes-de-paris.fr/english
9. Picnic At The Eiffel Tower
Cost: €0 (excluding snacks)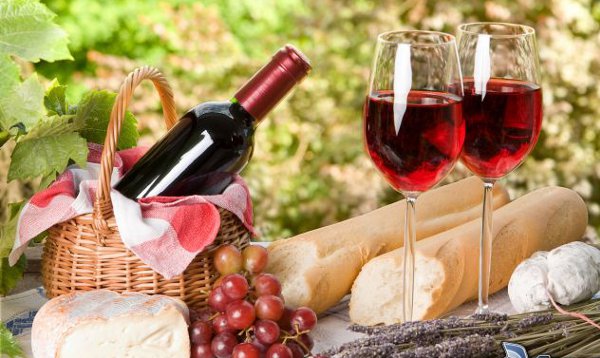 So Paris is the last stop on your InterRail holiday through Europe, and you've found yourself a bit short on cash now. You'd love to see Paris from the top of the Eiffel Tower, but the entrance fee is a bit steep in season. So, the next best thing you can do is to see the Eiffel Tower from the bottom of Paris. Head down to the public park surrounding the world's most famous man-made landmark for free. Just because it's free, doesn't mean it can't be romantic. Bring a blanket to sit on, and pick up a couple of baguettes, some cheese and a bottle of cheap wine (these will cost you less than a tenner) and presto: you have a delicious meal at the best restaurant in Paris.
8. Pere-Lachaise Cemetery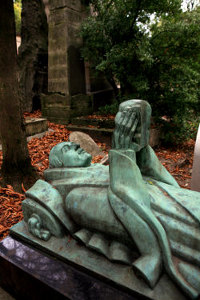 Admission fee: €0
It's strange that we are featuring two places where people are buried on our list of sites to see in Paris. But the Pere-Leachaise cemetery is the complete opposite of the Catacombes. It's an open area, decorated by flowers, grand monuments and the tomb stones of some incredibly famous and talented people. From Chopin, the composer, to Jim Morrison, the rock star, and the outrageously creative Oscar Wilde and Marcel Proust, there are some of finest contributors to modern pop culture and art buried there. www.pere-lachaise.com
Travel Tips
Get hold of a map of the site to avoid walking around aimlessly for ages!
Bring tissues for the Holocaust and World War 1 memorials
If you are taking public transport, arrive at the Gambetta entrance to avoid a steep walk uphill - trust us, it's tough!
7. Arc de Triomphe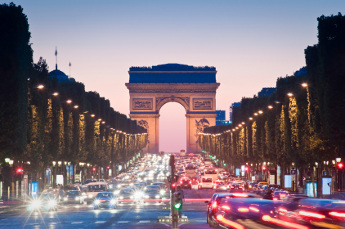 Admission fee: €9 (Adults), €5,50 (Youth 18-25), €0 (Children under 18)
The view from the Eiffel Tower is by all means the most spectacular in Paris, but following closely is the Arc de Triomphe. Like a true monument from the 1800's, the Arc has no elevator - access to the top is by stairs only. The walk up to the top is pretty gruelling, but well worth it for the visual rewards once you're there. Napoleon Bonaparte wasn't in power long enough to stand at the top and see the city from the Arc's 50 meter vantage point, but being up there will make you feel a bit like a powerful general today.
Travel Tip: Use underground access to get there. Trying to cross the busy traffic circle is playing with your life!
6. Fashion Shows At Galeries Lafayette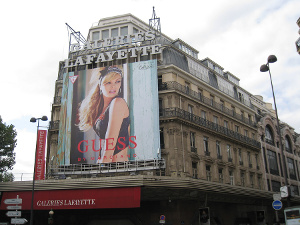 Admission fee: €0
If you've got an appetite for fashion and want to see the latest items coming out of Paris, the Galleries Lafayette hosts a free fashion show every week (on Fridays). Galleries Lafayette is the Rolls Royce of department stores - in terms of architectural beauty, layout and designer stores - so you can expect to see the best of the best on display. We'd recommend calling at least a week in advance to book a seat - they fill up pretty quickly. Even if you don't buy anything, wondering around the building is an experience on its own. www.galerieslafayette.com
5. Paris Royal Botanical Garden (Jardin des Plantes)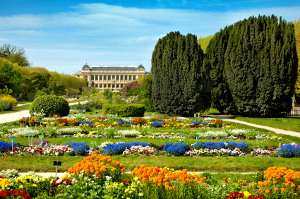 Admission fee: €0
If it's a beautiful day and you're looking for something relaxing to do, the 371 year old 'Garden Of Plants' is a sure-fire winner. With over 20 hectares of land to explore, it's the perfect place for a sunny stroll - whether its solo, with your partner or with the whole family. If the kids are looking for something more than flowers, mazes and green houses to stimulate their minds, the Paris Natural History Museum is on the premises (entrance fee is less than a tenner!). The dinosaur exhibitions will blow their minds (and yours too probably).
4. Paris Plage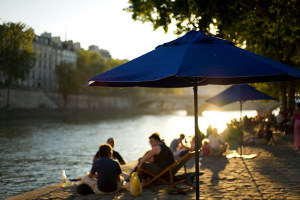 Admission fee: €0
The Paris 'Plage' is a fun attempt to bring the beach scene of the Riviera to the city. Every year during the hottest summer months, sand is dumped along the sidewalk beside the Seine River. There are deck chairs laid out and ice cream stands. You can build sand castles and tan until you're crispy brown. In the evening there are sunset concerts and plenty of people to enjoy them with. For the most part, it's just like being at the beach - except you can't swim (the river is rather unsafe).
3. Paris Roller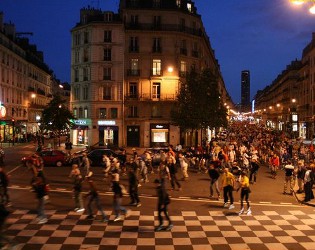 Admission fee: €0
Our hearts nearly fluttered away joyfully when we heard about the roller skating scene in Paris. Paris Roller gets our vote for being the most awesome self-governed sports group in Europe. On Friday nights, thousands of people gather at the metro Bastille to go for a cruise through the city - the route changes every time. The organisers have no political or financial motivation for the group: it's purely for fun and enjoyment. As their website says, their goal is: "to encourage roller skating as a leisure activity, as a sport or as a means of transportation, to skate for pleasure, discover the city and meet other people...in other words, for freedom." Cavorting through the streets of Paris like a gang from the eighties might sound very dangerous, but the ride is fully protected by the police. The only requirement for people to join in the fun is to be a competent skater - this is for the safety of all participants. Skaters are encouraged to wear bright clothing (visibility = safety) and to bring water, because it gets exhausting. If you're looking for a healthy way to see the city, meet people and an excuse to bring out the old skates gathering dust in your closet, get to Paris Roller. Find out more at www.pari-roller.com
2. Notre Dame de Paris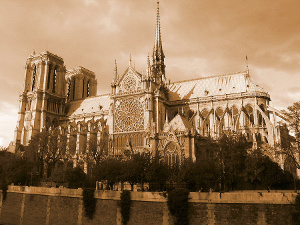 Admission fee: €0
The cathedral of Notre Dame has almost two hundred years of workmanship invested in it - you can see this in the details. Construction originally began in 1163 and outlasted three generations. In 1345, the cathedral you see today was completed. The craftsmanship that went into every inch of the building (from the stained glass windows to the the flying buttresses) has an eternal quality about it that gives you goose bumps. It's incredible to think about the Cathedral of Notre Dame ('Our Lady Of Paris'), in all its magnificence, standing in that exact spot eight hundred years ago. Even if an entrance fee were charged, you'd still find this cathedral appearing on lists like this. www.notredamedeparis.fr
1. Musee du Louvre, Paris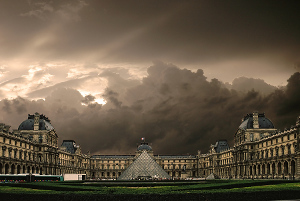 Admission fee: €10 (all day access to permanent collections), Free on the first Sunday of every month
We know this is supposed to be a list of things for under a tenner, but at €10 for all day access we figured going a cent over was worth it for this. The Louvre is a time capsule that houses an extensive collection of the most important historical artifacts on earth. It's an absolute must-see on any visit to Paris - whether its your first or fiftieth time - there aren't enough hours in the day, months and years to take in everything. You'll see Egyptian antiques from the year 4,000BC, famous Greek sculptures from the Hellenistic period (like the Venus de Milo), paintings by the great master of art, Da Vinci, Medieval architecture, weapons from the Middle Ages and much, much more. Standing inside the museum takes you as close to the origins of modern civilization as you can get. Check out their interactive website for a closer look at what is on offer. www.louvre.fr
Last Updated: May 2011