Top 10 Outdoor Summer Activities

Alfresco concerts, regattas, London lidos and sporting events... outdoorsy types need look no further than our pick of Outdoor Summer Fun this August.
1: Big Green Gathering
After taking a brief break last year, Big Green Gathering is back to prove festivals can be squeaky clean. Its eco credentials include stages powered by renewable energy, green debates and workshops, 'healing' fields and an on-site farmers' market.
Where: Somerset (near Cheddar)
When: Jul 29-Aug 2
Tickets: £50-£125 www.big-green-gathering.com
2: Cowes Week
Established in 1826, Cowes is the largest and longest running international sailing regatta in the world. This is where amateurs can compete against the professionals while shore side spectators watch live music and the legendary Friday night fireworks.
Where: Cowes, Isle of Wight
When: Aug 1-8
Tickets: Free to spectate www.cowesweek.co.uk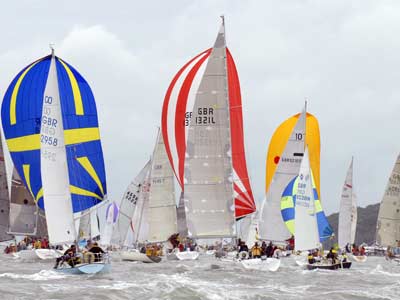 3: National Eisteddfod of Wales
Expect a celebration of all things Welsh at this long standing festival. Open air theatre, comedy, music, literary readings and performance artists are scheduled alongside science and technology exhibitions and more than 300 food, craft and activity stalls.
Where: Rhiwlas Estate (near Bala), Wales
When: Aug 1-8
Tickets: Prices vary, see www.eisteddfod.org.uk
4: London Lidos
Can't get to the beach? Head to an urban pool to cool off. Most UK cities sport a good lido or two, but London reigns with more watery havens than you could shake a rubber ring at!
Where: www.fusion-lifestyle.com, Tooting Bec, Hornsey Park Road, Hampton, Parliament Hill, Serpentine, Richmond (020 8940 0561), Oasis in Covent Garden.
5: Relentless Boardmasters
Adenaline junkies get serious bang for their buck at this fest. Surf, skate, BMX and freestyle motocross competitions jostle for attention among musical acts (Cypress Hill, The Streets, Noisettes, Super Furry Animals... ), a bikini contest and a stack of after sports parties.
Where: Newquay, Cornwall
When: Aug 5-9
Tickets: £29.99-£89 www.relentlessboardmasters.com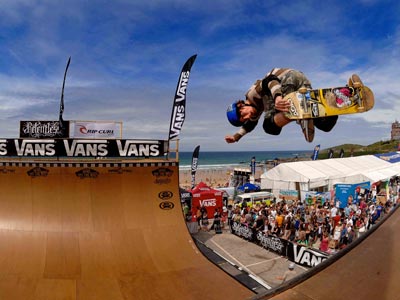 6: Alfresco Film Screenings
Pack a picnic and a blanket and enjoy celluloid classics under the stars.
Scotland: Tilda Swinton and Mark Cousins tour their film bus with a difference ( Aug1-9). A Pilgrimage stops off 8 times on its route through the Highlands including Strontian, Dores and Cawdor with films such as Brigadoon and Cold Fever. Film buffs are invited to camp along the bus route.
London: Dulwich Picture Gallery is screening a singalong Mamma Mia! on Aug 31 while Somerset House offers its annual Summer Screen (Jul 31-Aug 8) with a programme including Slumdog Millionaire and Cool Hand Luke.
Manchester: The city's Spinningfields district is screening an outdoor film every Thursday until Sep 12. Catch ET, Wizard of Oz and The Reader.
7: Open Air Gigs
If film isn't your bag, try an alfresco concert - without committing to camping.
Bristol: The city zoo (yes, the zoo) is again hosting outdoor music, this year its Congolese outfit Samba Mapangala & Orchestra Virunga on Aug 15 (£5-£40).
Arundal, West Sussex: Supergrass pitch up to play against a castle backdrop on Aug 21 (£26 ).
Belvoir Castle, Grantham: Picnic while Jools Holland & his Rhythm & Blues Orchestra do their thing on Aug 8 (£27).
Carisbrooke Castle, Isle of Wight: Catch Madness headline their own event, Summer Madness, on Aug 30 (£35).
8: Red Bull X-Fighters
There's no Red Bull air show this year, so get your action sport fix watching the twelve top freecross motorcycle (FMX) riders in the world at this tour finale. Expect gravity defying stunts in front of the imposing Battersea Power Station.
Where: Battersea, London
When: Aug 22
Tickets: £20-£45 www.redbullxfighters.com
9: Notting Hill Carnival
The annual Rio-esque carnival returns to West London. Get down for alfresco dancing in front of stellar sound systems, colourful parades and lots of rum.
Where: Notting Hill and surrounding area
When: Aug 30-31
Tickets: Free www.thenottinghillcarnival.com
10: Play The Field
Classical music gets a chance to shine at this day festival. Conductor Chales Hazlewood leads two concerts of progressive and classic music including the world premiere of Holst's The Planets.
Where: Keinton Mandeville, Somerset
When: Aug 29-30
Tickets: £25-£160 www.orchestrainafield.co.uk
Last Updated: July 2009