Top 10 October Half-Term Ideas

October half term is a great time to get active and unless you're going skiing, it's probably one of the last chances you'll have to get outdoors until Spring. As the air gets crisper and the leaves on the trees turn a gorgeous golden-orange, what could be better than dashing around Great Britain's countryside, gulping lungfuls of fresh air, shouting at cows and generally experiencing arguably our prettiest season in all its glory?
This month we have a host of great half term ideas to satisfy your thirst for outdoor entertainment and exercise. From horse riding in Wales, to blokarting in Cornwall, there's a little something for everyone.
10. Blokarting
Take the best aspects of flying a kite, add that to the thrill of racing a go kart around, and you've got blokarting! It looks a little bit like a yacht - but with one sail, 3 wheels and it moves on land. Cornwall's Atlantic winds and gorgeous, sandy beaches make it the ideal location to learn.
Autumn is the perfect season for it too, as the beaches are less crowded but the weather is still decent. As intimidating as it seems, you and your kids will be whizzing along the beach in no time. Fast. www.cornwallblokartcentre.co.uk/
9. Down On The Farm
www.farmstay.co.uk lists a huge range of accommodation options - from B&B to hostels - on working farms and rural retreats across the country. It is the best way to savour this pretty season: nestled in the picturesque heart of rural life, enjoying traditional cooking and a warm, country welcome.
8. Saddle Up
Trans Wales Trails offers a variety of horse-back riding tours across the gorgeous Welsh countryside. From the Turner family farm in Pengenffordd, Brecon, you and your guide will ride out into the stunning Brecon Beacons National Park, up into the dramatic Black Mountains and down along the empty beach. Trans Wales caters for every type of riders - and for the pony-mad, this is horsey heaven. www.transwales.demon.co.uk
7. The Blue Lagoon, Wales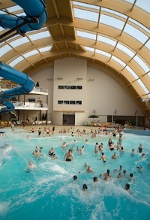 Even if it's rainy and wet, the Blue Lagoon is still a great place for youngsters (and their parents) to blow off some steam. The indoor water park boasts a wave pool with six different patterns (nothing too rough) and a host of flumes that will have the kids screeching with excitement (we're not joking - they will screech). For only £4 you can get in between 5 and 7 pm between Monday and Thursday, or pay £10 per person (£35 per family of 4 and £2 for kids under 4) for a day ticket. www.bluelagoonwales.com
6. Tintagel Castle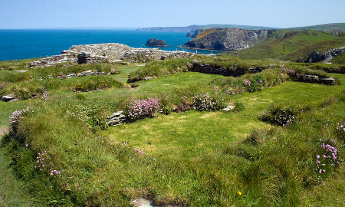 An attraction that captures your children's imagination and gets them exercising at the same time is a great blessing to parents with kids on holiday. In the case of Tintagel Castel, it's going to give you a good work-out too, but this amazing piece of mythical/historical architecture is worth every drop of sweat. It is the site where it is believed that King Arthur was born and the wizard Merlin lived (in a spooky cave on the rocky shoreline). The path up to the castle is steep and quite a tough walk, but the backdrop is spectacular: it is set against the moody Atlantic Ocean and the Cornish hillsides. Walking through the ruins brings the tale of the great knight and his wizard companion to life in the most dramatic location. www.tintagelcastle.co.uk/
Extra Tip: bring comfortable, closed walking shoes or boots. No heels or flip flops!
5. V & A Museum Of Childhood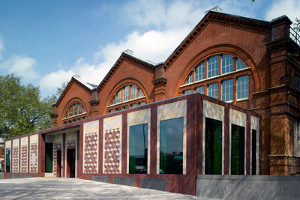 The V & A Museum of Childhood pays tribute to the years we cherish and reflect on constantly, but will never get back. The passage of time is chronicled though its various collections of toys, games and other artifacts, taking us as far back in time as the 1700's - when letter blocks first tried to combine entertainment and learning for little ones. You can get lost in the eras that have come and gone, revisiting old favourites like Frank Hornby's classic trains, early doll houses, Barbie, He-Man, Game Boys and more. Their website says that it 'aims to encourage everyone to explore the themes of childhood past and present, and to develop an appreciation of creative design through our inspirational collections and varied public programmes'. It's a great way to connect with your children and offer them a closer look at the world you grew up in. www.museumofchildhood.org.uk
4. Centerparcs
Yes, we know that Centerparcs is a family cliche, but seriously: have you been? Even if you don't want to try abseiling, fencing, archery, raft building - and the whole other raft of activities aimed at 3 to 13 year olds - how can you resist lazing around in the spa drinking wine, reading Grazia and waiting for your massage? Sites are at Longleat, Elveden, Whinfell and Sherwood forests. Book early! www.centerparcs.co.uk
3. Saturday Night Fever
Afro? Check. Bell bottoms? Check. Cheesy gold jewellery? Check. Arsenal of electrifying dance moves? Check. Roller Disco is a chance to live out the Saturday Night Fever star living inside of you. Every Thursday, Friday and Saturday from 8pm until the stroke of midnight, this crazy night club is jammed packed with disco zealots, giving it their all on the dance floor. Entry is only £10 on Thursday night, including renting your skates; £7.50 if you have your own and £6 if you are a student (must have valid student ID).
It is one of the most fun night clubs around, especially if you are in a large group and well dressed for the occasion. It might not be outside, but you'll definitely work up a sweat on the floor. Just watch out for over indulging on the disco juice (booze). There is always a point where your extra confidence turns into clumsiness... and then you will fall. Hard. www.rollerdisco.com
2. Glamping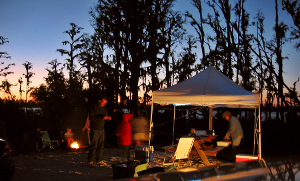 Glamping (glamorous camping) has been huge this year. It's the preferred camping holiday of big families with fussy customers who love the outdoors, but don't always like being filthy and marooned in the wild. Glamping still gives you the rustic charm and fresh air of regular camping in the Lake District, but throws in a few luxury items (a gazebo, wifi and gas cooker) and something comfortable to sleep on. Those cheeky autumn days of lingering sunshine and powder-blues skies are ideal for getting one last run with nature, so don't waste time packing the car. wwww.lake-district-yurts.co.uk
1. Have An Adventure
TYF Adventure's website says it all: "squeeze into a wetsuit, safety helmet and old trainers then scramble, climb, swim and cliff jump your way around Pembrokeshire's spectacular rocky coastline, turning rocks, cliffs, caves and waves into playthings!"
This adventure charter company, based at St David's in Pembrokeshire, promises a range of adrenaline pumping activities for 8 year olds and up. They offer everything from sea kayaking to surfing in some of the most stunning surroundings in the UK. Family rooms are available at the eco-hotel. www.tyf.com
Last Updated: October 2009