Mexico City is the place to visit the Old World from the comforts of the New. There is even a story in the soil of the city: it was once an Aztec stronghold, built on the main island of Lake Texcoco thousands of years ago. Today it's one of the biggest cities in the world, with a vibrant social scene, a wide selection of cultural check-points and historical centres - all built on top of the original foundations. To provide some inspiration for your trip to one of the oldest cities in the world, we would like to take you through our personal top 10 Sights in Mexico City.
10. Journey's Beyond the Surface City Tours
Mexico City is a place that needs to be experienced at street level. The high rise buildings and air conditioned coffee shops are all fair and well, but those things are available everywhere. Driving through the city doesn't allow you to really connect with its vibe (even if you roll down the windows). You have to get your hands dirty, put some mileage on your sandals and open all your senses up to properly appreciate the crowded city. Journeys Beyond the Surface offers highly rated walking tours of some of the biggest landmarks and neighbourhoods, allowing you to experience a good blend of the history and current culture in one swoop.
Day trips usually cost between MXN$140 to MXN$180 (about £7.40 to £9.50). For more information see travelmexicocity.com.mx
9. Frida Kahlo Museum
Any discussion on Mexican art inevitably leads to Frida. Her eccentric ways and quirky art created a legacy that put Mexican art in the limelight and paved the way for many others. Her equally quirky house has been turned into a museum celebrating her life. "La Casa Azul" or the Blue House is decorated with folk art, pre-Hispanic (from before the arrival of the Spanish) artifacts and personal memento's. Also visit the accompanying Anahuacalli Museum by her husband, Diego Rivera. A celebration of Mexicanidad (pre-Hispanic Mexican culture) housed in a building made of volcanic stone.
Entrance fee is MXN$55 (£3). A ticket to the Frida Kahlo Museum gives you free access to the Anahuacalli Museum. For more information see museofridakahlo.org.mx
8. Palacio de Belle Artes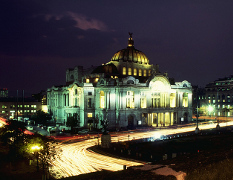 The Palace of Fine Arts is the most important culture hub in Mexico, hosting the best in dance, music, theatre and visual art in the city. The star attraction of the Palace is the Ballet Folklorico de Mexico - an extravaganza of Mexican song and dance: think Riverdance with a distinct Mexican flavour.
For more information see bellasartes.gob.mx
7. Niños Heroes and Chapultepec Park
The monument that leads into Chapultepec Park is a dedication to the Boy Heroes who defended Mexico City in the Mexican-American War (in the 1840s). Surrounded by American forces at Chapultepec Castle, the six boys fought to the death. The last survivor wrapped himself in a Mexican flag and leapt to his death to defend it - a very dramatic scene, worthy of such a moving monument.
6. Leon Trotsky Museum
One of the great revolutionary thinkers of modern history, Leon Trotsky, was banished to exile in Mexico City, where he was killed in 1940. His former house-come-fortress has been preserved and turned into a museum. Students can see the bullet holes from an earlier assassination attempt, as well as the room he eventually died in. The room is frozen in that dreadful moment with books left haphazardly and the general mayhem still evident. The museum also houses a library of books by and about Trotsky, exhibition spaces and a theatre.
Entrance fee is MXN$40 (£2.10). For more information see museocasadeleontrotsky.blogspot.com (in Spanish)
5. National Museum of Anthropology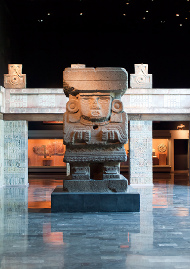 Mexico has a long pre-Hispanic history. Olmec, Maya, Teotihuacan, Toltec and Aztec civilizations have all left their mark on the land. Mexico City has an impressive museum to accommodate this rich history, filled with rare intricate historical artifacts. The centrepiece is the mysterious 'Aztec Sun Stone,' which still has experts puzzled over its meaning. Budget at least a day to visit the museum and wear walking shoes, because it's a big place with plenty to see, and you wouldn't want to miss out because of aching feet.
Entrance fee is MXN$51 (£2.70). Free for children under 13 and adults over 60. For more information see mna.inah.gob.mx (in Spanish)
4. Floating Gardens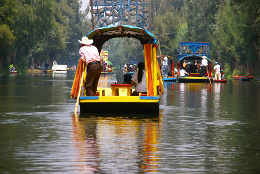 Mexico City's favourite weekend getaways displays shades of Venice: instead of gondola's we have broad trajinera's (flat boats) and mariachi music filling the air. The waterways of Lake Xochimilco snake their way through artificial islands - which formerly served as farms, before Mexico City was established. For a day of fun and music on the water, hire a boat with a group and buy your food from the floating mariachi bands and restaurants that pass by you.
Boats cost MXN$200 (£10.50) to rent per hour. Bring extra money if you intend taking pictures - the bands will charge you for photographs.
3. Basilica of Our Lady of Guadalupe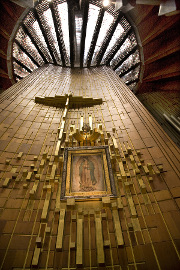 Legend has it that an apparition of the Virgin Mary appeared to St. Juan Diego (the first Mexican saint) and asked him to build a church. As proof of the encounter, she gave him a rose that turned into the image known as Our Lady of Guadalupe. To honour that encounter, the grand Basilica was built on that spot. The rose-tinted image is now suspended above the altar in the New Basilica, which has space for 10 000 worshippers. The Old Basilica next door is a museum of religiously themed art. The Basilica is the second most visited Catholic site in the world with millions of travellers visiting it every year.
For more information see virgendeguadalupe.org.mx (in Spanish)
2. Lucha Libre at Arena Mexico
For a religious experience of a different sort, try out lucha libre (wrestling) at Arena Mexico. Part soap opera, part acrobatic brawl, these epic matches are a Mexican institution on their own. The atmosphere is electric and the fans are seriously loyal to their heroes. Part of the attraction of the sport is the hidden identities of the luchadores (Mexican wrestlers). Like superheroes, they wear masks and take on alter-egos; some luchadores never remove their masks in public. The most popular matches are the máscara contra máscara (mask against mask) where the loser is forced to reveal his identity.
Lucha libre at Arena Mexico is on Tuesday and Friday nights. Ticket prices range from MXN$30 to MXN$300 (£1.60 to £16) depending on the match. It is advisable that you arrange transport to and from Arena Mexico with your hotel beforehand. For more information see arenamexico.com.mx (in Spanish)
1. Zocalo Square
Zocalo has often been described as the heart of Mexico. Even before the Spanish conquest, the site was the centre of the Aztec capital of Tenochtitlan. Tourist attractions like the National Cathedral, Palacio de Belle Artes (No. 7) and the National Palace are situated around the square, but spare a few hours for exploring the square itself. Early birds can catch the flag raising ceremony at 6 am, before the markets open and all manner of souvenirs can be bought for a low price - with a smile and some haggling. Dance groups in elaborate Aztec dress entertain throughout the day.
For more information see www.mexicocity.com.
Last Updated: June 2011