Top 10 International Diving Wreck Sites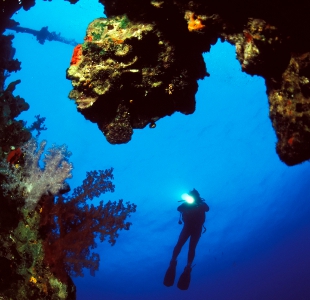 Diving wrecks are a unique phenomenon. These eerie underwater mausoleums tell the story of our history - some sunk during wars, others were just unlucky to be in the wrong place in the wrong sea conditions. From Micronesia to the Orkney Islands, there are some amazing, strange and tragic stories making up this Top 10 Wreck Diving list, but they're all worth telling.
If you think we've left a better diving site out, please feel free to drop us a comment below or speak up on Facebook.
An important note about wreck diving and travel insurance:
From the Essential Travel Policy Wording: Scuba diving is covered to the confirmed depths per grade, provided you are diving under the direction of an accredited dive Marshall, instructor or guide. If you are suitably qualified, and are not diving alone, cover is provided within the guidelines of the relevant diving or training agency or organisation as confirmed below:
PADI Open Water - 18 metres, BSAC Ocean Diver - 20 metres, PADI Advanced, Open Water - 30 metres, BSAC Sports Diver - 35 metres, BSAC Dive Leader - 50 metres.
Zingara (Kormoran) - Red Sea
Depth: 38,3 metres
The Zingara, or Kormoran as it was originally named, was a cargo ship that struck the Laguna Reef along the Straits Of Tiran with a full load of phosphate rock on board. This happened fairly recently, back in 1984. Evidence below the surface points to a monumental navigation fumble, resulting in the 80 metre vessel's unlucky end along a stretch of the reef that wasn't quite so popular to divers until the wreck. It's a fairly weather-dependent site that lights up best when the wind is calm and there's little wave interference (a contributing factor to the ship's demise).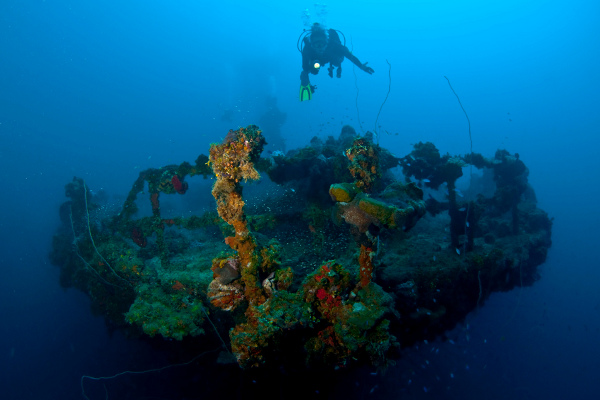 Zingara
SMS Kronprinz Wilhelm - Scapa Flow
Depth: 12 - 38 metres
The 175 metre long battleship 'Crown Prince Wilhelm' was launched and put to work in the German Imperial Navy in 1914, only months after the First World War started. Part of a fleet of four armed military vessels, she saw plenty of action during the war, including a raid on the East Anglian Coast, which struck Lowestoft and Great Yarmouth in April, 1916. A month later she was involved in the Battle of Jutland, the largest battleship engagement in the war, and survived without any fatalities. In June 1919, after the Armistice Agreement was signed, the Wilhelm's Admiral Ludwig von Reuter scuttled (deliberately sank) the fleet off the Orkney Islands before British Guard Ships could repurpose her.
Today she lies on the seabed at Scapa Flow. It's a massive wreck that'll take several dives to really scratch the surface - if you're a military or boat person you could keep coming back for the rest of your life to appreciate the engineering of such a vessel. With six of her guns still in tact, it's a rare opportunity to stare down the barrel of history.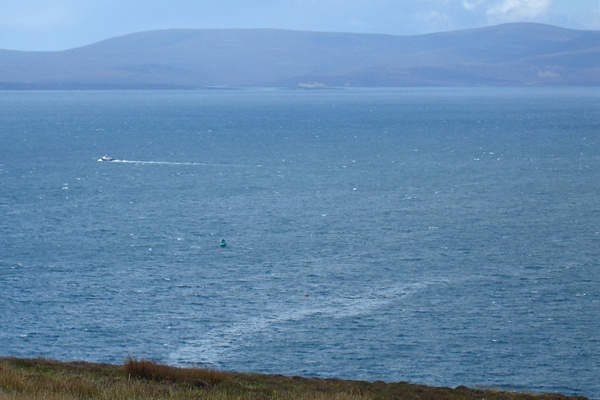 Aerial view of Scappa Flow
Madeirense - Madiera Islands, Porto Santo
Depth: 37 metres
The Madierense is another vessel that was scuttled, but not under duress like the case of the Kronprinz Wilhelm. She was a ferry boat that was relieved of her duties in 2000 off the coast of Porto Santo, near Madeira, in order to create an artificial reef for local and international divers. The 70 metre vessel is very impressive in her own rights, but its the combination of crystal-clear water and marine life that really make this a Top 10 destination. The Madierense has created a unique backdrop to view the local inhabitants: moray eels, Beiçolas or 'Big Lips' (large and tame grouper fish), manta rays, devil rays and barracuda, along with seasonal dolphins and whales.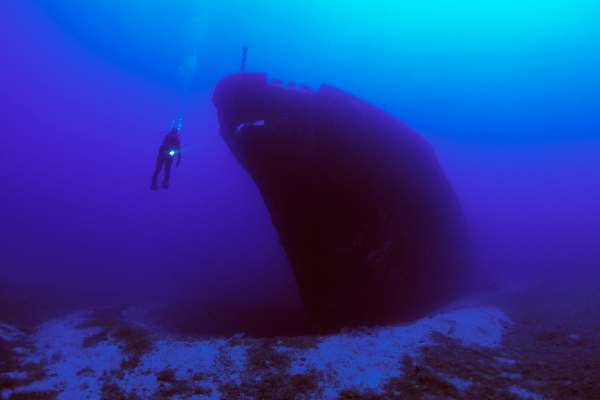 Madeirense
Felipe Xicotencatl - Cozumel
Depth: 26,7 metres
The Mexican island of Cozumel was made famous as a diving hotspot after French naval explorer and manly man's man, Jacques Cousteau, raved about the beauty of the island's Palancar Reef. Over the years the island has garnered a big international reputation, which has placed a considerable amount of pressure on the existing marine parks and their ecosystems. So in 2000, the Felipe Xicotencatl, was donated by the Mexican Navy, sunk and secured to the ocean floor away from the popular dive sites, as a way of relieving them while expanding on Cozumel's growing popularity.
She was originally named the USS Scuffle and was a decorated vessel that served in the Second World War as an Admiral Class Minesweeper. If she was hung up in a naval or maritime museum you wouldn't quite get to see her in the same, immaculate detail - or in such a beautiful setting - Cousteau wasn't wrong about Cozumel being exceptional.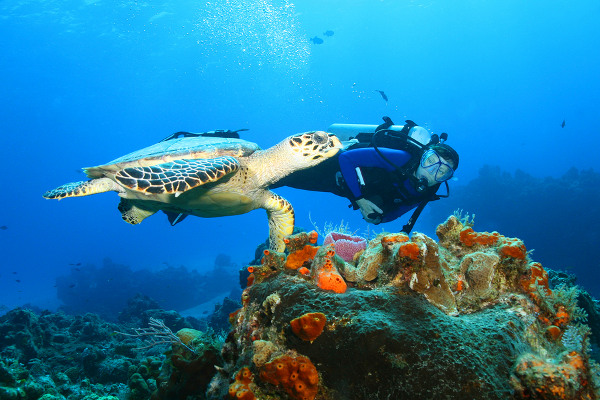 Diving in Cozumel
USAT Liberty Wreck - Bali, Indonesia
Depth: 9 - 30 metres
The United Stated Army Transport vessel, Liberty, was torpedoed by a Japanese submarine off the island of Lombok, Indonesia, back in 1942. Attempts were made to tow the wounded 125 metre ship to Singaraja, a Dutch administrative centre in Northern Bali, but they only got as far as Tulamben, a small fishing village, where it was beached on the shoreline for salvage purposes. Just over two decades later, after everything worth taking had been removed from Liberty, tremors caused by the eruption of Mount Agung sent it back down the sandy slope, to a gentle location 30 metres offshore. And there she remains, for our enjoyment. One of the great things about Liberty is her location and accessibility - at the most shallow point you don't even need a tank to do some basic exploring. She is still in great condition (as far as torpedoed ships are concerned) and the range of sea life allows for all levels of experience to enjoy this historical wreck.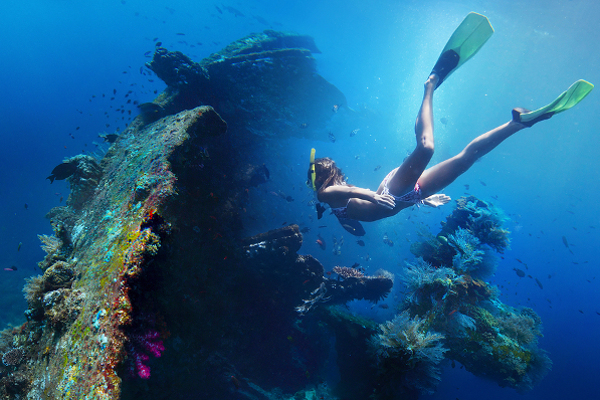 USAT Liberty Wreck
MV Salem Express, Red Sea
Depth: 12 - 30 metres
The story of the MV Salem Express is one of the most tragic tales of modern Maritime history. It was in December 1991 that this 100 metre car and passenger ferry set off from Jeddah, Saudi Arabia, with a heavy load of cars and pilgrims returning from the Holy City, Mecca. A big storm had been building throughout the day, bringing gale force winds that moved the vessel off course, causing it to crash headlong into the Hyndman Reef off the coast of Egypt. The initial blow tore a hole in the bow, which caused the vessel to flood and sink within 10 minutes, far too quickly for anyone to react in time. 470 of the 650 passengers were killed, although it's rumoured that the death toll was far higher than ticket sales indicate. Search and rescue teams removed as many bodies as they could before ceasing due to safety restrictions, leaving an uneasy sense of mystery down there with the remains of the vessel.
The spooky aura and tragic nature of the wreck hasn't stopped the burial site of MV Salem Express from becoming a hotspot for wreck divers. Much of the original structure is still in good condition and, combined with the Red Sea's immaculate visibility, it's easy to imagine the devastation that went down twenty two years ago.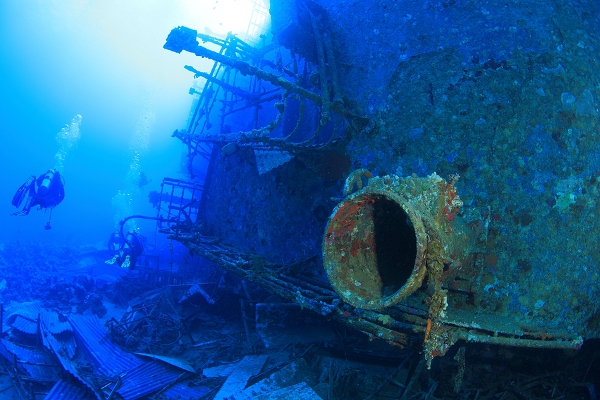 MV Salem Express
Rainbow Warrior - Cavalli Island, New Zealand
Depth: 17 - 24 metres
Rainbow Warrior was a Greenpeace vessel set to sail for the Moruroa Atoll to conduct a non-violent protest against French nuclear testing. One of the French volunteers at Greenpeace HQ in Auckland, named Frederique Bonlieu, was actually a French Secret Service agent named Christine Cabon, who worked with a team of saboteurs who placed two bombs inside the vessel and detonated them before departure. There was only one casualty, a photographer named Fernando Pereira, who tried to salvage something from the ship before it sank and was caught in the second blast.
After an official trial and a statement from the French Minister admitting that it was the French Secret Service who orchestrated the attack, the wreck was refloated and then dropped into Matuari Bay to form an artificial reef and a new dive site.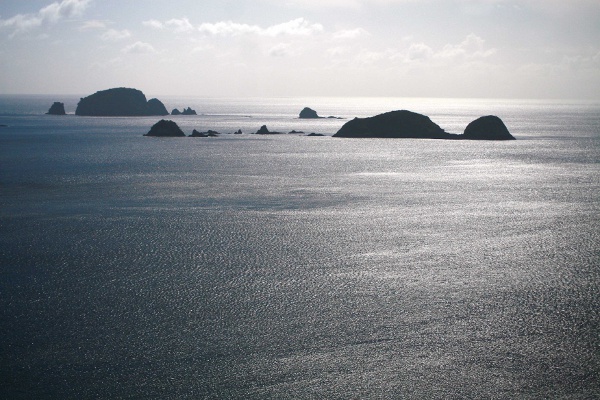 Cavalli Island, New Zealand
Chuuk Lagoon - Micronesia
Depth: 10 - 40 metres
Chuuk Lagoon (formerly 'Truk') is a bizarre testament to the brutality and senselessness of war. The stark, haunting contrast between the Micronesian island's electric beauty and the 335 aeroplanes and ships buried beneath its turquoise water challenges the mind to make sense of human history. In the 1930s and 40s Japan used Chuuk Lagoon as a strategic and coordination naval base for a fleet that was developed to win wars. In 1946 the US launched operation Hailstone, a strike that lasted two days and sank 60 military vessels and 27 planes in the shallow water. What remains of the Japanese fleet is an underwater museum that offers a glimpse into the time, workmanship and effort that went into the creation of instruments of war. All things considered, it's a spectacular place to dive in a surreal setting.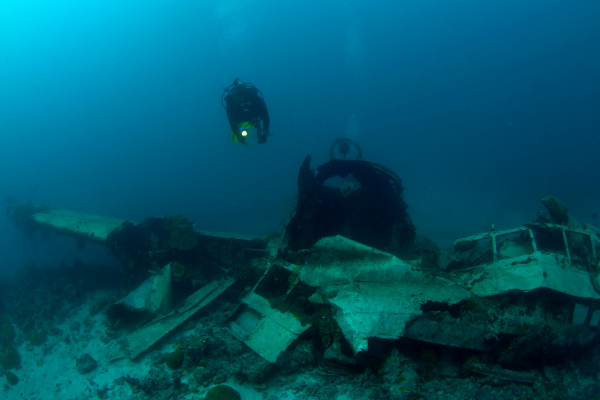 Chuuk Lagoon
SS President Coolige - Vanuatu
Depth: 20 - 50+ metres
The SS President Coolige was a 187 metre Ocean Liner and then Troopship that sailed from 1931 to 1942; a very short life for such a sturdy vessel. In October 1943 she left San Francisco for New Caledonia with over 5,000 infantrymen on board. Upon reaching Espiritu Santo in Vanuatu, Captain Henry Nelson tried to guide her in through the most accessible channel, which happened to be teeming with landmines. The SS President Coolige was struck twice and then beached, so that everyone on board could evacuate, save for a fireman who was working in the engine room when the first landmine hit, and a Captain who went back to save people who were stuck in the infirmary. Hours later, the vessel slid down the coral reef and sank.
The wreck has since become a huge diving destination. The combination of clear visibility underwater and an array of sea life has turned it into a playground for wreck divers. "The SS President Coolidge is the largest accessible shipwreck in the world and due to its size and stable condition it's a comfortable to dive for anyone qualified. With the 3 inch gun on the Coolidge at 17 metres, Open Water Certified Divers with little experience can take a tour of the wreck under the care of an experienced dive guide", says Allan Power, who has been diving and giving guided tours of the wreck for over 35 years.
"My favourite dive on the wreck is to swim along the Promenade Deck down to 40 metres, cross over the hull to the bilge keel and return to the front of the wreck after swimming under the bow - it's amazing."
For more information about diving the SS President Coolige and booking information, go to www.allan-power-santo.com.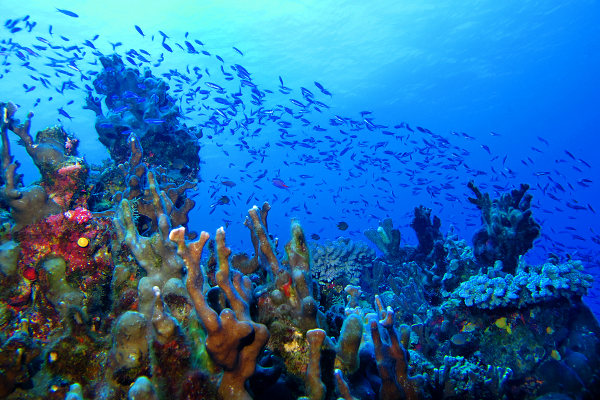 Diving at Vanuatu
Bikini Atoll - Marshall Islands, Micronesia
Depth: 10 - 50+ metres
Bikini Atoll is the Everest of wreck dives. In a nutshell, it's a piece of paradise that was used for nuclear testing, and has now been changed forever. After the atomic bombs had been dropped on Hiroshima and Nagasaki, thus ending the Second World War, the United States embarked on another nuclear venture: Operation Crossroads. Over the next twelve years, the United States conducted a series of nuclear tests that involved detonating bombs, similar or larger than the 'Fat Man' used on Nagasaki, onto an assortment of military vessels and aeroplanes to study and exhibit the firepower at the nation's disposal. Once the local population had been relocated to a nearby island for their own safety and a large portion of the natural reef had been cleared with dynamite, the games began. Odds are you've seen the iconic image of the Micronesian island with a giant mushroom cloud in the distance, which is from the Baker Bomb, detonated twenty seven metres below the surface. Over the course of the experiment, 200+ vessels (of Japanese, American and German origin) and 100+ planes were used as crash test dummies, and today they decorate the ocean floor at Bikini Atoll. It took years for the threat of radiation to clear, as well as a rap sheet of other devastating effects to work themselves out.
The collection of ships littering the bottom of Bikini Atoll is unprecedented. There's enough to see and explore to keep you down there for decades. Some noteworthy names include the carrier USS Saratoga, the submarine USS Apogon and the battleship HIJMS Negato. Diving Bikini Atoll today is not a picnic or a first-timer excursion.
For a full account of this dive by Pete Mesley of Lust4rust.com, check out his story featured in Advanced Diver Magazine www.advanceddivermagazine.com - it's pretty wild.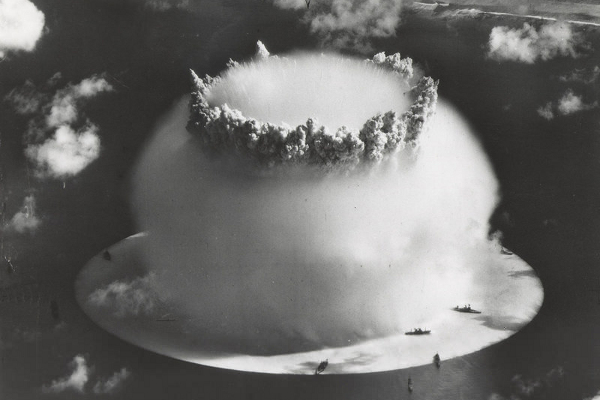 Operation Crossroads