Top 10 International Christmas Traditions

The celebration of Christmas and the winter solstice celebrations that preceded it are the most enduring internationally recognised festivals. Whether Christmas is being celebrated as a religious event, a secular anniversary or as a day of commercial excess, the tradition adapts to local conditions as fluidly as if it had originated there. Beyond our shores, there are a diverse range of Christmas and Christmas-like traditions that show just how universal the holiday is: from Ganna to Sheng Dan Jieh and Surp Dzinut. Christmas pops up in many disguises throughout the world.
10. Ganna in Ethiopia
Merry Christmas in Amharic: "Melkam Ganna"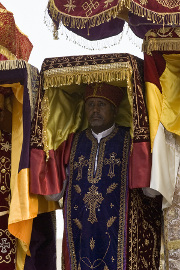 A little known fact is that Ethiopia was one of the first nations to adopt Christianity as the state religion in the 4th Century AD. In fact, according to legend, the king who bought frankincense as a gift to the baby Jesus is reputed to have been King Balthazar of Ethiopia. Ganna, as Christmas is known in Ethiopia, has been a fixture since then. With the local Ge'ez calendar being slower than our own Gregorian calendar, Ganna is celebrated on the 7th of January with Timkat, a celebration of the baptism of Christ, observed 12 days later. During the Timkat procession, the Tabot, a stone replica of the Ten Commandments, is wrapped in rich fabrics and borne by priests on their heads (see right).
Food: Doro Wat, a spicy chicken stew, served with Injera - a flat round bread. Injera is used to scoop the stew with the right hand (eating with the left hand is considered uncouth). Feeding a friend, a ritual known as gorsha, is a sign of mutual respect. The larger the portion offered, the more respect between friends.
9. Sheng Dan Jieh in China
Merry Christmas in Mandarin: "Shèngdà n Kuà ilè"
Even the last bastion of communist secularism celebrates a milder form of Christmas - known locally as Sheng Dan Jieh (the Holy Birth Festival). In Hong Kong, Christmas coincides with the Taoist festival of Ta Chiu - the feast of Peace and Renewal. The city loses itself in a haze of lights, fireworks and celebrations between Christmas Eve and New Years that will leave you wondering what festival is being celebrated on any given day.
Mainland Chinese Christmas is a commercial affair with many of the religious elements stripped out, which is perhaps fitting for the country that is literally Santa's workshop. Santa Claus (known as Dun Che Lao Ren or the Christmas Old Man in China) is the central figure of Christmas and the focus is on gift giving and buying. The exchange of Holy Apples is the uniquely Chinese twist to Christmas; the local custom having been cannibalised by Christmas - buy your apples early though as prices multiply before the season.
8. St. Lucia in Sweden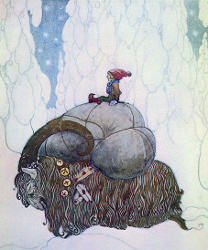 Merry Christmas in Swedish: "God Jul"
The feast of St. Lucia, on December 13, is the beginning of Sweden's Christmas season. The festival celebrates the patron saint of light, during the darkest month in Scandinavia. Young children attire themselves in white and each town picks a girl to represent Saint Lucia (or Saint Lucy). During the public procession and the service that follows, the elected Lucia wears a crown of candles and leads proceedings.
Candle light continues to play an important role during Christmas. Candle-lit windows are a common scene in the smaller sleepy hamlets of Sweden and the Christmas Mass is traditionally begun with a candle procession to church. On Christmas eve the gnome Jultomten and his steed, the Yule goat Julbock (see left), bring gifts to children. These Swedish folk figures are slowly losing ground to Santa Claus, but still retain some of their old charm. A popular Swedish custom for singles is supping on Risgrynsgrot (rice pudding). Finding an almond in your pudding is akin to catching the bouquet.
Food: The favoured treat of St. Lucia is the lussekatt - a delicious saffron-flavoured bun with raisins. On Christmas day, a sumptuous feast fit for kings - called Julbord - is prepared. A long table of finely prepared hams, fish and soup to leave you stuffed for days. The centrepiece of this feast is usually julskinka: a delicious aromatic ham. The brave may want to try out the lutfisk described by famed food critic Jeffrey Steingarten as being "so full of emotions that the taste buds get knocked out."
7. La Posada in Mexico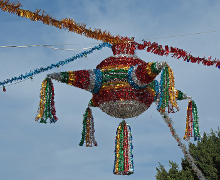 Merry Christmas in Spanish: "¡Feliz Navidad"
December is a solid month of religious festivals in Mexico, such that Christmas is just a part of one long celebration known as the Guadalupe-Reyes marathon. The beginning of December sees the feast of our Lady of Guadalupe in the most attended Catholic pilgrimage in the world, with visitors numbering in the millions. That feast kicks off Las Posadas (which literally translates to 'the inn') a few days later. Las Posadas recreates Joseph and Mary's search for an inn before the birth of Christ. On finding a residence that offers hospitality, the children usually play 'pin the piñata' with a special Star of Bethlehem piñata. The point of the game being to crack open the candy filled piñata while blindfolded.
Mexican children have to wait a little bit longer for their gifts, which are delivered by the Reyes Magos (three kings) - who pass through Mexico on January 4. Shoes are filled with gifts and later, on the Twelfth Night (from Christmas), the season comes to a close with a special supper.
Food: Variety is the spice of Mexican Christmas cuisine: from fishy produce with Bacaola (dried and salted cod) to Romerito salad made from indigenous wild plants to traditional Tamales - minced meat in a doughy encasing. To wash it down, ponche, a sugary Christmas punch, is the preferred drink. On Reyes Magos a special cake called Rosco de Reyes is eaten. A small baby doll is baked into the cake to represent the hiding of baby Jesus from Herod's army.
6. Hanukkah in Israel
Happy Holiday in Yiddish: "Chag Sameach"
This year Hanukkah coincides with Christmas - beginning on December 20 and ending eight days later. The word itself translates to 'dedication' in reference to the re-dedication of the Temple in Jerusalem - after it had been turned into a Greek temple. The symbol of the holiday is the nine-candle menorah which commemorates the Miracle of Oil; where, after the re-dedication of the Temple, a meager amount of oil lasted eight days.
Each day of Hanukkah a candle is lit so that by the end of the period all eight candles are alight. The extra candle called the samash is used for illumination. A much enjoyed past time during Hanukkah is the game of Dreidal; a game of chance played with a four-sided spinning top with Hebrew letters on each side.
Food: Hanukkah food usually comes out the deep end of a frying pan. Fried foods like livivot (fried potato pancake) and sufganiyot (doughnuts with custard or jelly centre) are enjoyed as treats.
5. Gabonetako in Basque Country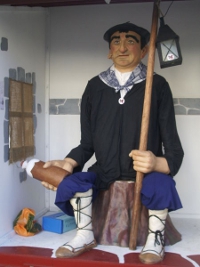 Merry Christmas in Euskara: "Eguberri on!"
There is no better time to see traditional Basque life than around Christmas. Events begin with the feast of Saint Thomas four days before Christmas. The dress code here is traditional with women wearing long skirts, headscarves and aprons while men wear black shirts and berets.
On Christmas day itself you may encounter a giant effigy of a farmer called Olentzero - the Basque version of Santa Claus. The charcoal burner by trade delivers carved wooden gifts to children. His effigy (see left) is carried around the streets when Christmas carols are sung and burnt in the season ending bonfire.
Food: Christmas cooks must go to the either the Bilbao or San Sebastian Santo Tomás markets to get the finest turkeys and fresh produce for Christmas dinner. Don't deny yourself a taste of txistorra's: mince pork sausages encased in lamb tripe. It is usually eaten with a tortilla-like flat bread called a tola with a shot of sidra - a distinctly Basque cider.
4. Giáng Sinh in Vietnam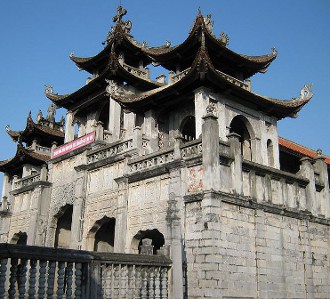 Merry Christmas in Vietnamese: "Chúc Giáng Sinh Vui Vẻ"
Vietnam is a largely Buddhist country so the celebration of Christmas is a secular event. It has only been recently reintroduced after authorities relaxed restrictions on religion in the early 1980s. In this environment, a few oddities have sprung up: you may notice the relative absence of baby Jesus in Christmas (except in churches), Santa sometimes ditches the sleigh for a scooter and the churches are built like Vietnamese temples. Vietnamese Catholics gather at Phat Diem church (see right) on Christmas Eve to celebrate mass at this uniquely Eastern church. Everyone else throngs in the city centres to enjoy the festive atmosphere and later retire home for some Christmas chicken soup.
3. Yuletide in Iceland
Merry Christmas in Icelandic: "Gleðileg Jól"
Iceland has a rich Christmas story filled with quirky characters. Instead of just one Christmas figure, there are a number of mischievous sprites known as the Yule Lads. Each of the thirteen Yule Lads visit good children on one of the thirteen days preceding Christmas to leave gifts - bad children get a potato instead. Really bad children get a visit from Grýla, who is said to descend from her mountain lair to scare bad children straight. Usually with her Yuletide Cat, who is fond of eating children in old clothing - which is why you'll find that most Icelandic children get new clothes for Christmas.
Food: The most important part of an Icelandic Christmas dinner is the Laufabrauð (leaf bread). The bread is pressed with patterns that are often family heirlooms. The preferred Christmas drink is Skyr; an enigma in that it straddles the line between cheese and yoghurt. A tad sour, but quite filling.
2. Pasko in the Philippines
Merry Christmas in Filipino: "Maligayang pasko"
Almost half the year is Christmas in the Philippines with a Christmas season beginning in September - with the feast of Saint Pio - and ending five months later in January. You may be surprised to hear the locals wishing you an 'advanced Happy Christmas' months before the event, but it really is that long. The festive mood is maintained by a series of uniquely colourful events. The closest to Christmas being the nine day mass called Simbang Gabi. Mass begins in the early hours of the morning, sometimes before 4am, and ends at breakfast.
Everywhere you will find brightly coloured star-shaped lanterns called Parols (looking much like Mexican piñata's) decorating the streets. They represent the Star of Bethlehem that guided the magi to where Jesus was born. The night of Christmas Eve is the all night celebration of Noche Buena (Translation: Good Night) followed by day of family talks and gift giving. Three days later the playful festival of Ninos Inocentes is observed; a day to remember the children killed by Herod's army in their efforts to find the baby Jesus.
1. Kwanzaa in America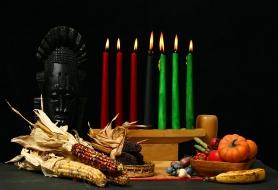 Happy Kwanzaa: "Heri za Kwanzaa"
Kwanzaa is the most modern Christmas-like tradition, having begun in the 1960's as an alternative holiday for African Americans (but is now observed by all races). The week long celebration of African culture straddles the days between Christmas and New Years and draws on African practices, Hanukkah and a little bit of Christmas.
The festival is centred on the seven principles, each accorded a day of observance: Umoja (Unity), Kujichagulia (Self-Determination), Ujima (Collective Work and Responsibility), Ujamaa (Cooperative Economics), Nia (Purpose), Kuumba (Creativity) and Imani (Faith). During the celebrations, involving dance and music, the dress is traditional African; kaftans (West African wrapping dresses), kufi caps (short rounded caps), and dashiki's (men's West African shirts) are standard dress. The festival has no religious aspects to it and is seen as more of a cultural event.
Last Updated: November 2011