Top 10 International Beaches

Where is the best beach in the world? That's a tough question, because the answer totally depends on what you're looking for. Some people prefer a big crowd, volleyball courts and a tiki bar that serves pink drinks in hollowed-out coconuts. Others want rocky shorelines and a tough walking trail to keep the heart rate going. Dog owners just want a place to let their companions run wild and burn off some steam. It all comes down to personal choice. So this month, when counting down the Top 10 International Beaches we've tried to keep everyone in mind.
Best For Tanning: White Island, Camiguin, Philippines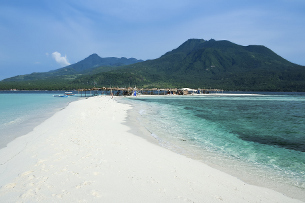 The "island" is really just a sand bank that lies more than a mile offshore from Camiguin. When the tide starts to drop, you head out there on a rented boat and wait for the sand bank to grow. Once the "island" has taken shape, you've got a perfectly flat beach with a postcard view of Mount Hibok-Hibok in the distance and no shade whatsoever. It is literally heaven for sun tanning enthusiasts, but take care to wear proper lotion and to watch the clock – the last thing you want is to turn your island holiday into a hospital drama from over exposure to UV rays.
The Ice Princess: Llandudno, Cape Town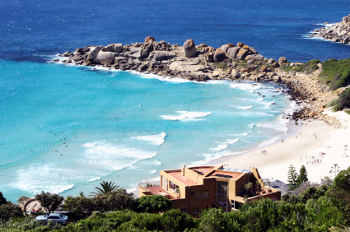 Table Mountain might hog the limelight in Cape Town, but you haven't seen the real heart of the city until you've walked along the beaches. Looking at Llandudno from afar, you'd swear you were in a strange Mediterranean dream, with perfect sandy shores, water that flirts between emerald green and blue, giant boulders surrounding its perimeters and millionaire mansions peppered along the hillsides. The first thing you feel like doing is running in for a dip, until you feel the icy-Atlantic water. Make no mistake, you'll be back on the sand pretty quickly, thawing your fingers and toes out on one of the most beautiful and glamorous beaches in the world.
Best Inland Beach: Mumbo Island, Lake Malawai National Park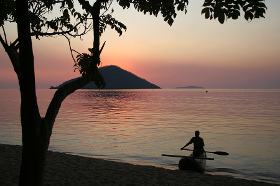 Mumbo Island is Malawai's answer to Bora Bora. The freshwater lake has the clarity and temperature of the well-maintained swimming pool at your rich auntie's house, while the island itself looks like a luxury backpacker's resort in Tahiti – except that you're in Africa. Located in the Lake Malawi National Park, with no electricity or buildings, you're as removed from the humdrum of day-to-day life as you can be. Days are spent snorkeling, diving, kayaking around the island or sipping cold beer in the soft hammocks.
International Hotspot: Providenciales Island
Recently voted the Best Beach Destination in the World by Tripadvisor, Providenciales Island is everything you want in a beach holiday: it's tropical, secluded (but close enough to the USA to make it reasonably easy to reach), beautiful in a way that will make you reconsider everything human beings value in this world, and luxurious. As an added bonus, the Turks and Caicos Islands happen to be part of the British Empire, so you're still technically on home turf. With 2012 looking like a big one for tourism in the USA, Providenciales is as good a place as any to dust off the shame of a week in Vegas, Miami or LA.
2012 Value For Money: Yalta, Crimea, Ukraine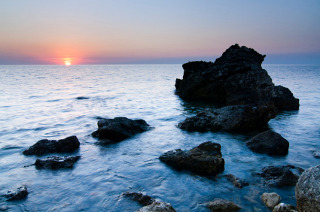 The Crimean peninsula is far and away one of the most underrated regions for holidaying in Europe. The beaches in Yalta are enshrined by mountains, which face the unpolluted Black Sea. There are several beaches to choose from, ranging from popular city beaches where you can mingle and bob around in the calm shallows, to more secluded locations that offer snorkelling or water skiing at an affordable rate. With this year's UEFA venue shared between Poland and Ukraine, there's never been a better time to test the waters, so to speak.
Best For Caves: Phra Nang Beach, Thailand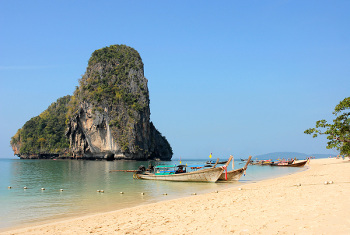 Even though Phra Nang Beach is only accessible by boat, you'll still find it packed on just about every day of the year. It's everything you're looking for in a Thailand beach experience, from the white sand that looks good enough to call home for a few days, to the soft water you could stay swimming in forever, it's all the clichés we're looking for. On the beach you'll also find striking limestone cliffs to climb, as well as an entire fortress of caves and strange rock formations to explore.
Best Dog Walking Beach: Your Local Beach
The truth about pets and traveling is that most of them aren't fond of it. They don't need palm trees and sand as soft as marshmallows. Just your local 'dog friendly' beach is more than enough to keep them happy throughout the year. For a list of our personal favourites, follow the link to the Top 10 Dog Holiday Ideas in the UK.
Best For Celebrity Spotting: South Beach, Miami, Florida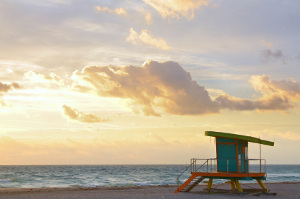 To be a paparazzi photographer you only need two things: a camera and an empty space where any normal person's soul is supposed to be. However, to be a 'celeb spotter' is much more dignified, challenging and fun. Miami's South Beach is a prime celeb spotting turf for anyone interested in claiming a few scalps from the who's who of show biz, fashion and sports entertainment. The entire beachfront area is decked out with clubs, cafes and spas that scream Celeb Getaway. On a typical summer afternoon, you're likely to spot the Kardashian sisters (if they're in town), the Hilton's and fifty other soap opera stars you'll recognise from daytime television back in 1993. You'll also be able to get a nice tan on the pretty beaches and pick up an overpriced cocktail in one of the swanky pubs along Ocean Drive – where more stars are guaranteed to be.
Best For Diving: Cozumel, Mexico
French Action-Man extraordinaire, Jacques Cousteau, first put Cozumel on the map as a turtle sanctuary and diving hot spot. Since then, this little Mexican Island off the Yacatan Peninsula has been growing in popularity at a steaming rate. As a beach holiday venue, Cozumel is going to blow your mind – it's fun, hot and gorgeous. If you're more interested in doing some scuba diving, the island's protected reef takes you a step further and will have you snapping pictures underwater faster than your fingers can keep up.
Best For Beach Parties: Arambol Beach, Goa, India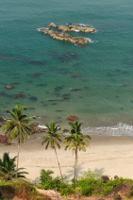 Goa has been the destination of choice for Bohemian types and faux hippies in search of inner Zen, obscure passport stamps and ruckus parties for many a decade. In that line of thinking, Arambol Beach is a Mecca for thirsty backpacker's wanting to have a good time on a stunning beach, where all the "alternative lifestyle" values are embraced. With loads of affordable accommodation, beach bars, restaurants and sand that is soft enough to pass out on during the day or night, you're guaranteed to have a great time and get exactly what you came for: a fun beach party.
Last Updated: March 2012