Top 10 Happiest Cities In The World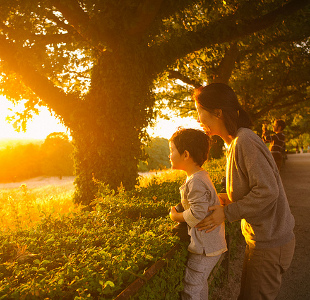 Much like beauty, happiness is in the eye of the beholder. It's such an elusive concept as it can mean different things for different people, so I accept that this list might bring up some contestations. However, there are a few things that can be accepted across the board as contributing to happiness and whatever your standard of happiness may be - whether it's palm beaches, a cheerful atmosphere, good weather or inspiring and exciting activities - you're bound to find it in these cities.
Auckland, New Zealand
With trendy eateries, a vibrant nightlife, an impressive art scene, and a lush rain-forest, Auckland sounds like a place that you may never want to leave. It's no wonder this city can be regarded as one of the happiest, with low crime rates, little pollution and good living standards. Of course being by the ocean doesn't hurt either.
What To Do
To experience Auckland's wildlife you should try Muriwai Beach Horse Treks. The trek caters to all levels of riders, so even if you aren't familiar with horse riding the helpful guides will ensure that you have a wonderful experience on this unique tour. You can ride down the sparkly black sands of Muriwai Beach and up through the beauty that is Woodhill Forest - such a great way to experience the rugged West Coast and some of the most picturesque scenery Auckland has to offer.
Another exciting activity is walking across Auckland's Sky Tower. Skywalks offer the opportunity to jump off the Sky Tower, or even walk around the 1.2 metre wide walkway, which sits at 192 metres above the ground. The thrill seekers will enjoy this one. This is an absolutely exhilarating experience and you really should try it if you plan on visiting Auckland, even if you are afraid of heights.
Where To Stay
Bavaria Bed and Breakfast Hotel is a mix between a hotel and a bed and breakfast. It offers all the homely comforts of a B&B with the amenities and services of a hotel. It is situated on the western side of an extinct volcano in the heart of Mt. Eden, one of Auckland's most charming and historic suburbs, so you will be surrounded by the beautiful views all around.
Calgary, Canada
Calgary is an attractive and clean city that has taken major strides in keeping their streets litter free and their rivers sparkling and clean despite having a huge oil and gas industry. These measures seem to be working because it was recently voted the cleanest city in the world. Surrounded by lots of lush green gardens and trees, clear blue lakes and snow-capped mountains, Calgary is the ideal destination to escape your busy life and connect with nature.
What To Do
The Canadian Rocky Mountains are a great place for nature seekers, walkers and anyone who enjoys being out in the open. With Canadian Rockies Tour you can chose to explore the picturesque rockies by train tour, coach tour or both. Taking in the waterfalls, mountains, vast glaciers, spectacular turquoise lakes, and grazing wildlife is sure to be an experience of a lifetime.
Where To Stay
Hotel Arts, a chic boutique hotel that places you in the heart of Calgary, offers large newly renovated rooms overlooking the great city views - they even claim to have the best beds you will ever sleep in. The hotel's art, found in the reception area and carried on throughout the rooms, looks like it should be in a gallery - definitely a feast for your eyes. And while your eyes are feasting, you should too, which won't be a problem as Hotel Arts has some of the best food in the city.
Florence, Italy
Florence is known for its charm and romance and sometimes it's these simple things that can brighten up your mood. Whether it's taking an idyllic stroll in the summer evening, tasting delicious wine from grapes grown in the popular vineyards, appreciating the architecture or just watching a jazz show, Florence is only too happy to offer the kind of pleasures only an Italian metropolis can deliver.
What To Do
Enjoy the best of Florence wine with the Florence Wine Tasting Walk Tour and experience the wine culture with an expert guide. You will be taken to some of the city's wine bars where you can taste the most esteemed wines in Florence.This tour will give you an insight into Florence's fascinating heritage and a tasting of two Tuscan wines as well as the opportunity to snack on some the local specialties.
Where To Stay
Hotel Home is centrally located, making it a pleasure when exploring the city. Elegant, stylish and comfortable, Hotel Home is the ideal place to relax while you're in Florence. Breakfast is delicious and made from the freshest, top quality produce. The hotel is located in a quiet area so you can be sure to get an undisturbed night's rest in a warm, cosy and welcoming environment.
Hong Kong, China
A productive and trendy city certainly makes for a happy place, and Hong Kong is exactly that. Anyone who uses public transport will appreciate the joys of efficient travelling, as Hong Kong boasts a great public transport system that is known for being on time and safe. If you've ever been stuck in traffic or arrived late for work because your bus broke down, then you can understand just how useful and stress-free a well-functioning public transportation system is.
What To Do
An especially exciting and relaxing activity is the tai-chi exercises that take place in the Hong Kong Zoological and Botanical Garden. Once you've completed your early morning tai-chi routine, you can wander around the garden, which boasts over a thousand plant species and a small zoo that houses various birds and mammals.
Where To Stay
Xi is a stylish boutique hotel in the centre of trendsetting Hong Kong. From the furniture to the contemporary art work, it exudes luxury. Their rooms reflect their attention to detail and are all tastefully furnished to make your stay an enjoyable one. Breakfast is served in the lounge and you can also enjoy cocktails on the terrace. This hotel is bound to make a lasting impression with its flair and heartfelt service.
Lyon, France
There is one main reason why Lyon was chosen to be on this list: it is the gastronomic capital of France, and it has been proven that food can improve your mood. Seriously! Lyon basically serves happiness on a plate; over 2000 restaurants and the best French chefs make it a delicious place to visit. It's also a relaxing place with some of the friendliest and most welcoming people - even the weather is perfect. Whether you're exploring the intricacies of Lyon's architecture, wandering through the cobbled streets or simply relaxing on the banks of the Rhone Valley, you're sure to find contentment in Lyon.
What To Do
For a light and easy tour through the city, a bike ride is just the thing for you. Only Lyon bike tours will take you along the River Rhone to the Bellecour University Bridge, through the Parc de la Tete d'Or and the International City. Be sure to get there 10 minutes before the tour begins and be advised that the tour can only accommodate 20 people and unfortunately bicycles are not provided.
Where To Stay
La Villa du Rhône B&B is set on five hectares of parkland and is an amazing place to stay to experience the beauty of Lyon. The hillside villa has views of the Alps and is just 1km from the Miribel Jonage Park and its lake. You can enjoy a peaceful and quiet atmosphere in their spacious rooms, which caters for families, couples and individuals.
San Francisco, United States
San Francisco made the list of happiest cities for a number of reasons. It's a vibrant blend of entertainment, cultural activities, clean air and a good economy. It's also considered safe, making it easy for travellers to explore. It boasts the San Francisco Waterfront, one of the best places to visit in the popular city.
What To Do
Known for its modern and lively art scene, a visit to the San Francisco Museum of Modern Art is a must. This museum offers exhilarating and unparalleled collections that are committed to fostering creativity and new ways of seeing the world. The art on offer varies, but includes photography, sculptures and paintings.
Another popular experience in San Francisco is the cable car - the best and most fun way to get up the steep streets. You can also visit the Cable Car Museum where you can learn about the history of the cable car and immerse yourself in all the technical aspects of just how these nifty transport modes work.
Where To Stay
Half Moon Bay Lodge offers plush and comfortable accommodation overlooking the Californian countryside. The lodge has newly renovated rooms and unique suites with high-speed internet, cable TV and fireplaces in some rooms. Half Moon Bay Lodge is surrounded by scenic views and offers plenty of activities and attractions. With access to the exercise room, sauna and the outdoor heated pool, a stay here will no doubt leave you feeling relaxed and rejuvenated.
Singapore City, Singapore
Singapore is one of the cleanest and safest cities in the world so you can explore to your heart's content. From movies on the beach to litter prevention campaigns, Singapore is on the ball when it comes to promoting public programs and organising fun activities. Despite all these good qualities, what makes Singapore really stand out are the people; friendly, warm and welcoming, they are sure to put a smile on any traveller's face.
What To Do
Visit Clarke Quay in Singapore for a wonderful dining and entertainment experience. This waterfront has an abundance of restaurants serving Chinese, Mediterranean and local cuisines. You'll also find bars, entertainment spots and retail shops dotting the shores and creating a lively, bustling atmosphere. Even as the sun goes down the city remains vibrant and full of life.
Where To Stay
At the heart of Robertson Quay, along the Singapore River, is the Robertson Quay Hotel. The medieval castle–like hotel has immaculate rooms. It is centrally located, just a stroll away from Robertson Walk and minutes from Liang Court. You'll find a number of amenities for your pleasure at this hotel - it even has a pretty palm-fringed rooftop swimming pool.
Sydney, Australia
As nice as it is relaxing by the beach or taking a lovely stroll, it's always more exciting to have loads of activities to do, seeking new adventures and learning new things. Countless number of times friends have told me about places they have gone to and how unhappy they were because there just wasn't much to do in the city they visited. So we decided to put Sydney on this list as the exciting activities will no doubt ensure that you're kept in high spirits and sporting a cheerful smile all the way through. With Sydney's great weather, beautiful landscape and friendly, easy-going people, your holiday will definitely be memorable.
What To Do
You can take an eco tour with the experts of Eco Treasure Tours to discover Sydney's hidden natural treasures. You'll be able to learn about Sydney's wildlife, culture and environment. Nothing beats getting some fresh air and a bit of adventure to boost your mood, and Sydney is just the place for this.
Where To Stay
Located in the centre and close enough for shopping and sightseeing, Capitol Square offers quality accommodation with a contemporary edge. The hotel is a refreshing blend of modern amenities and personal service for a relaxing stay. You will wake up feeling relaxed and refreshed in any of their comfortable rooms and if you want a bite to eat, just pop down into the restaurant and enjoy the delicious breakfast on offer.
Vancouver, Canada
Vancouver is the birthplace of Greenpeace, one of the world's largest environmental organisations. It has continually made the list for the city with the highest quality of life and according to the Economist Intelligence Unit's study, it is one of the best cities in the world to live in. Vancouver is also the most ethnically and linguistically diverse city in Canada. With friendly people and scenic views as well as a temperate climate, Vancouver is an all-round delightful city to experience.
What To Do
If you want a unique way to discover Vancouver and see some of its wildlife, the Whirlybird and Whales Tour by Prince of Whales Tours is perfect for you. It includes a whale watching experience you won't want to miss and a thrilling helicopter ride over Vancouver.
Where To Stay
West End Guesthouse offers a cosy and social atmosphere for you to enjoy your stay in Vancouver. Rooms are furnished in contemporary as well as more classic styles, with ensuite bathrooms and complimentary refreshments. You can start your day with a gourmet breakfast served in the dining room, where you can also enjoy lively conversation with guests from all over the world who are just as eager to experience Vancouver's hospitality.
Venice, Italy
Sometimes you can't help but be happy when experiencing something beautiful, whether it's art, music, nature or architecture. So naturally we chose Venice - a city that has all of this and more - as one of the happiest cities in the world. The canals, the piazzas and the art give Venice a touch of magic. Couple that with its cultural activities, entertainment options and ambience, and it'll be hard not to be all smiles on your trip.
What To Do
With Venice by Night Tours you'll be able to experience the city in all its shining glory and your nighttime stroll through the streets will introduce you to all the charm and intrigue on offer. Venice Urban Adventures also offers tours for those who would like to taste the flavours of the most popular dishes in Venice and learn the history and stories of this cosmopolitan city.
Where To Stay
For a mix of old and new, Casa Nicolò Priuli is perfect. It's a 19th century Venetian residence with original decor and an atmosphere reminiscent of the Victorian era. Rooms are luxuriously and comfortably furnished with all the amenities of a modern hotel. Friendly and professional staff are on hand for any request you may have, and they will even be able to give you advice on the best shows or restaurants in Venice.
Last Updated: September 2013