Top 10 Half Term Activities For 2012

The Spring term is almost over and with that comes a brood of excitable and easily bored kids. February can be a long month for parents, but with a little planning keeping your kids entertained with fun, educational activities through half term - and away from those addictive gadgets - need not be a chore. We've done the legwork for you below; all that's left is to find a suitable activity, be it re-enacting Roman battles, creating pirate paraphernalia and teapots, or learning to play Futsal and be a real rock star.
10. February Frolics at Willows Farm Village
The simple pleasures of farm life are what Willows Farm Village offers. The events programme of farm activities will turn the city slicker into an experienced farm hand or at least teach about where your food comes from. From events like 'Meet the Falconer' and 'Meet the Shepard' to the 'Mad Science Farming Show' and 'Frisbee Golf', there's a day's worth of fun activities to do and enjoy. For the little tots, there's even a dedicated under 5's play area.
Venue: Coursers Road, London Colney, St Albans, Hertfordshire AL4 0PF
Date and Time: Friday (11/2) to Sunday (19/2) from 11am to 6pm
Cost: Free
For more information visit www.willowsfarmvillage.com
9. Celebrate Chinese New Year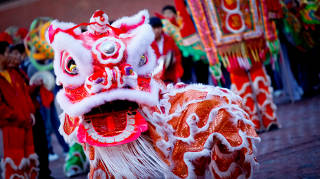 The Year of the Dragon has just begun but the festivities are set to continue well into February. The Chinese New Year celebrations at the National Maritime Museum are a continuation of those festivites. The event will include a giant dragon installation, flag-making workshops, workshops on tea and tea-pots - and MORE than enough tea - and a traditional procession led by River Cultures.
Venue: National Maritime Museum, Romney Road, Greenwich, London SE10 9NF
Date and Time: Saturday (18/2) from 11am to 6pm
Cost: Free
For more information visit www.rmg.co.uk
8. Household Cavalry Review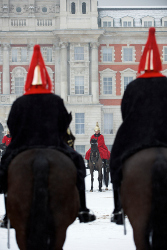 The Household Cavalry is one of the pre-eminent regiments of the unit attached to the royal household; whose duty is the protection of the Sovereign in case of war. But you're more likely to see them all dressed up during royal events. In addition to the daily inspection at 11am, the Household Cavalry Museum has a number of events for children during the February half-term from the popular Lion hunt (find Lions - not real lions!) amongst the exhibits, to craft activities, throughout the week beginning on the 13th of February, to story time for the younger kids (3 to 7 years old) on the 14th.
Venue: Horse Guards, Whitehall, London, SW1A 2AX
Date and Time: Monday (2/13) to Friday (2/17)
Cost: £15 for family tickets (2 adults and 3 children)
Details: Contact Doreen Hewitt at the museum on 0207 930 3070 for further information and to book your place.
For more information visit www.householdcavalrymuseum.co.uk
7. Become A Roman Soldier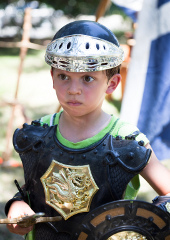 Ship your kids off to the Roman army for a week to play at being Centurions and learn a little history along the way. The National Museum of Wales has a week of Roman-themed events for children including a training ground parade, sword practice and marching practice.
Venue: Cathays Park, Cardiff, CF10 3NP
Date and Time: Monday (2/13) to Friday (2/17) from 11am to 4pm
Cost: £2 per child
For more information visit www.museumwales.ac.uk
6. Futsal in Swindon
Ever wondered why South American football players have such poise and technique on the pitch? Well the game of Futsal is one of the reasons. Most big-name players from that continent grew up playing this modified five-man version of football. Swindon, that fount of footballing talent, will be hosting training camps for tots (4 to 11 years). Send your little Pele to enjoy a day of futsal fun.
Venue: Unit 29, Bramble Rd, Kembrey Park, Swindon SN2 8HB
Date and Time: Monday (2/13) to Friday (2/17) from 8am to 3pm
Cost: £18 per day
For more information visit www.futsaluk.net
5. Theatre at The Public
The People's Theatre Company is putting on a production of There Was An Old Lady Who Swallowed A Fly - one of our favourite nursery rhymes (even though we still don't know why she swallowed the fly in the first place). Adults too will find their inner child with this colourful and heart warming play.
Venue: New Street, West Bromwich, West Midlands, B70 7PG
Date and Time: Saturday (2/18) from 2.30pm to 3.30pm
Cost: £24 for a family of four
For more information visit www.thepublic.com
4. Rock Out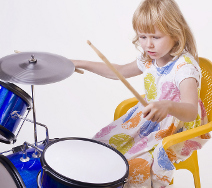 Everyone grows up wanting to be a rockstar so why not introduce your kids to the wonderful world of music. Replace that air guitar with something better suited to actually making music at the First Play music experience for children between six and ten years old. The all-day sessions introduce younger kids to musical instruments, with more advanced courses for older kids. The musical instruments include drums, bass, keyboard, singing and guitar. The Rock and Pop foundation is the perfect place to learn to play, without annoying your neighbours and giving you headaches.
Venue: Rock and Pop Foundation, Suite 1 Wesley Cahmabers in Aldershot
Date and Time: Monday (2/13) to Wednesday (2/15) from 9am to 3pm
Cost: £36 (if you book online), £44 (normal price)
For more information visit www.scampscamps.co.uk or visit the Rock and Pop Foundation website.
3. Peak Pursuits
iPhones, Playstations, computers and everything else with a screen are leading us to increasingly become an unhealthy nation - especially children. The people of Peak Pursuits have organised a week in the outdoors to get fit and to get reacquainted with nature. The schedule includes a day of scrambling, archery, orienteering and on the last day - skiing at the Stoke Ski Centre.
Venue: Peak Pursuits at Tittesworth Water, The Fishing Lodge, Tittesworth Reservoir, Meerbrook, nr Leek, ST13 8SH
Date and Time: Monday (2/13) to Friday (2/17) from 9.30am to 3.30pm Cost: £30 per single day, £120 for the full 5 day programme
For more information visit www.peakpursuits.co.uk
2. Become A Pirate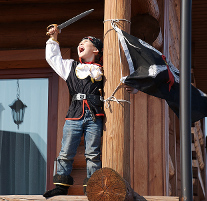 Gather up your swashbuckling shipmates (your kids) and make your way to the Fleet Air Arm Museum for some rum (of the non-alcoholic variety ie. juice) and good cheer. Pirate week at the Museum is a dress up party for the whole family to enjoy. We're told a number of Jack Sparrows will be there, so don't neglect your Blackbeard or Calico Jack uniforms. The event will include workshops on making cutlasses, spyglasses and eye patches.
Venue: RNAS Yeovilton, Ilchester, Somerset, BA22 8HT
Date and Time: Monday (2/13) to Friday (2/17) from 10am to 4.30pm
Cost: £38 for family tickets (2 adults and 3 children)
For more information visit www.fleetairarm.com
1. Face Britain at the Palace of Holyroods
As part of the record-breaking effort by Face Britain to create the biggest gallery of self-potraits, the palace at Holyrood is inviting families to create their own self-potraits. All the portraits will be used in a composite image of H.M The Queen during the Diamond Jubilee. For inspiration take the Royal Portraiture trail and then create your own masterpiece.
Venue: The Royal Mile, Canongate, Edinburgh, City Of Edinburgh, EH8 8DX
Date and Time: Saturday (2/11) to Friday (2/17) from 11am to 3pm
Cost: £28.60 for family tickets (two adults and three children)
For more information visit www.royalcollection.org
Last Updated: February 2012