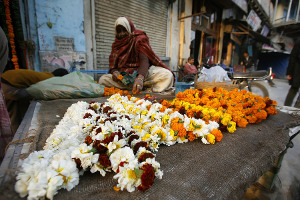 It's said that smell evokes our memories more than any of our other five senses. Travel in search of sweet-scented flowers and you're assured recurring happy memories of your trip. Many regions around the world are known for their magnificent flower displays. Often naturally occurring and intensely colourful, these floral displays are the stuff of romantic poetry, love stories and perfume adverts. Our Top 10 is a flourish of the finest blossoms, posies and perennials on Earth.
For Lavender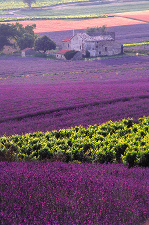 Provence, France
From mid-June to mid-July the picturesque landscape of Provence becomes all the shades of lavender - from deep purple to delicate mauve. Cultivated lavender fields are in full bloom until August's harvest time. The fields cover the Sault area, Apt area, the Luberon, the Valréas Enclave and are grown at the base of Mont Ventoux. The aromatic plant is used to make herbal and medicinal products. One of the main attractions is the culinary use of lavender in the region. Bee sure to taste the delicious lavender honey. The lavender fields stretch so far that it makes for a spectacular driving holiday, but cycling and hiking is also encouraged throughout the region.
For Sunflowers
Tuscany, Italy
The Tuscan sunflower fields extend for miles between the quaint towns of Val d'Orcia and Maremma. You may be inclined to drive the narrow roads that cut through the bright yellow countryside in a little red sports car, but a far more popular pursuit is to rent at a villa among these magnificent floral displays and enjoy the scenery. Sunflowers came to Tuscany in the 18th century and have since become an iconic symbol of Tuscany. Visit in June for the best blooming holiday ever.
For Poppies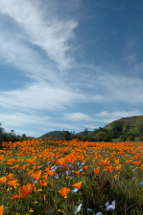 California, USA
Spring sees the Californian Poppy burst with sunny orange and yellow petals. They grow from Oregon in the north to Baja California in the south. Vast meadows of these fragile flowers can been seen in the Californian valleys, seaside meadows or on steep hillsides. A striking display of natural beauty and best experienced driving through the untouched meadows of the Antelope Valley California Poppy Reserve, or on popular hikes such as the Hite Cove Trail and the Point Buchon Trail. Catch the sun-worshipping poppies some time before dusk when they close up for the evening. So wild are these poppy displays that often they offer up a reckless repeat flowering in September.
For Tulips
Lisse, The Netherlands
Every April and May, the lush western region of Holland radiates with the bold colours of tulips. Take in the densest concentration of multicoloured flower fields with a so-called "Spring drive" along the Bloemen Route (Flower Route). Start in Haarlem and travel approximately 25 miles through Lisse and south to Leiden. The neatly cultivated landscape will dazzle you with alternate bands of rich primary colours. The road trip comes highly recommended, but the route is also popular with cyclists.
For Daffodils
I wandered lonely as a cloud
That floats on high o'er vales and hills,
When all at once I saw a crowd,
A host, of golden daffodils
- William Wordsworth
Devon, UK
The southwestern county of Devon is home to the Dunsford Nature Reserve. March and April are the best months to visit and enjoy the enchanting natural beauty of the reserve when it becomes blanketed in wild daffodils. Take the two-mile walk that follows the River Teign where you'll saunter along its lush banks covered in gold Narcissus. This particular wild flower blooms across Britain, but no where seems more romantic than Devon. These golden landscapes are immortalised in the words of Romantic poets: Wordsworth, Shelley, Coleridge and others, who once revelled in these daffodil display. Look out for the rare bright orange Marsh Fritillary Butterflies that also like to holiday among the daffodils.
For Daisies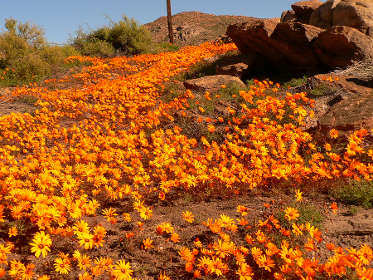 Namaqualand, South Africa
The Southern Hemisphere Spring begins in early August and brings with it a kaleidoscope of colour on the west coast of South Africa. Namaqualand is the large region that spans from just outside Cape Town up to the Namibian border. For just a few weeks, the normally dry and hardy land becomes awash with bright pinks, yellows, oranges, reds, blues and purples. These are affectionately known as "west coast daises", but hundreds of wild flower varieties thrive here. An extraordinary flower display, it is best enjoyed from the long national road that winds up from Cape Town. Stop at the national parks along the way like the Namaqua National Park or quaint coastal resorts like Paternoster.
For Orchids
Greater Tainan City, Taiwan
Southern Taiwan is home to many orchid plantations that grow for the international market. Once a year, buyers and horticultural enthusiasts from around the world descend on Tainan City for the Orchid Fair. Over 3000 foreign visitors and buyers took part in the fair last year. The display is an exhibition-cum-trade show where new hybrid varieties are showcased and elaborate orchid-arranging designs revealed. The fair opens in early March and runs for about two weeks. Local growers offer visits to their plantations and showcase their own top floral displays. This is a vast and vastly interesting flower display to experience in Tainan City.
For Marigolds and Jasmine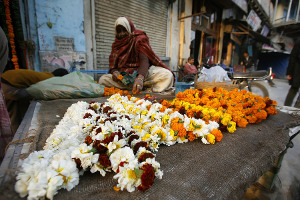 Flower Markets, India
This display is slightly different in that it's the experience of how flowers have permeated traditions and lifestyles. The flower markets of India are vibrant with movement and colour. Sacks of bright red and orange marigold blossoms lie open for threading into intricate festival decorations. Because this flower display is of cut and often crushed blooms, the honeyed scent fills the air and the experience is captivating. A holiday planned around the pursuit of this flower display could shoot off in many directions - tasting jasmine tea, visiting flower farms and celebrating at harvest festivals.
For Water Lilies
Amazon Lowlands, Brazil
Go in search of this flower display to witness a truly unique and slightly temperamental floral variety. The giant water lilies were once named after Queen Victoria, now known as the Victoria Amazonica. Its leaves can grow to over 9 feet wide and its stalk to an astounding 26 feet tall. Its flower is smooth and red, but it changes to white during a bizarre nocturnal pollination ritual. An intense flower display for the intrepid traveller. To come across these wondrous natural phenomenons, you venture out by river cruiser on the ox-bow lakes and lagoons of the Amazon Lowlands at the base of the Andes in Brazil. Tours can be organised and tailored to your particular interest whether it be photography or biology.
For Cherry Blossoms
Tokyo, Japan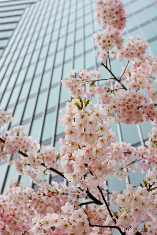 Every year, the Japanese Meteorological Agency announces when the capital city is officially in bloom. It's usually in March and the locals are usually well prepared for a celebration of their cherry blossom trees. The tradition is to sit under the trees in bloom and be ever-so-gently showered in the falling soft pink blossoms. Loosely translated, it is a "flower viewing party" that captures the city's attention. People lay down picnic blankets in all the public parks and enjoy the festivities. The city is a sight to behold - the highly urbanised scene seems to blush with the hundreds of flowering Sakura trees. This particular flower display is breathtaking, but also lots of fun with plenty of outdoor parties.
We put the question to you: Have we missed one of your favourite flower displays, or perhaps you know about some hidden floral gems. Let us know in the comments section below, and we'll be sure to pay tribute to your selection in a sequel.
Last Updated: March 2012