Top 10 Fishing Spots In The UK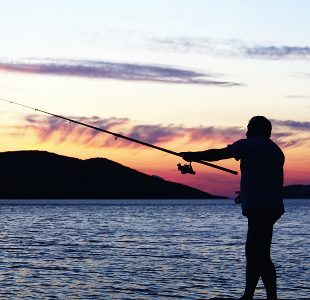 Fishing is the ultimate leisure sport. Even if you spend the whole day sitting on the bank of a beautiful river, drinking beer, telling tall stories and losing bait, you're still technically "fishing". Of course there's a serious type of angler who doesn't go out happy to catch nothing, but one of the by-products of getting good is learning to be patient.
This month we're paying homage to the amazing fishing spots around the UK and counting down our ten favourites. If you have a good fishing story or know of a great spot we've missed out, drop us a comment below or on facebook and let us know.
Ask Before You Cast: Anglers over the age of 12 in England and Wales need to have a freshwater rod licence, which is obtainable at any post office - you can buy it in person, over the phone or via the website.
Whitby
Fish: Cod, Bass, Flounder and other sea creatures
Now that the weather is going to start warming up (we hope), it'll soon be time for the sea-fishing tourist season to take off in Whitby - the locals go year-round. This beautiful harbour town is the gateway to some of the best sea fishing in the UK. If you're not up to heading out with a charter boat, there is eel fishing inside the harbour or at the local pier. Whitby is one of the oldest fishing ports in the nation and full of great fishing stories - it's where Captain James Cook was actually introduced to the life of a seaman, after his first working stint as a shopkeeper's assistant didn't work out.
Northumberland
Fish: Trout (rivers and lakes), Cod, Mackerel, Ling, Pollock (Ocean)
Northumberland is a hotbed for angling options - with beautiful rivers, lakes and an entire coastline to explore. For serious anglers, a day pass at the West Water Angling Club will cost you £30, but gives you access to one of the most beautiful fly-fishing havens in the British countryside. Along the North Tyne River, the Riverdale Hall Hotel is just downstream from the local hatchery, where some 700,000 are fed to the river on a yearly basis. "Thanks to a highly successful hatchery program, Tyne salmon stocks have boomed in the last 15 years and the river now competes with some of the best that even Scotland has to offer", reported Natalie Ashworth from Visit England. "Now generally regarded as the best salmon river in England, the North Tyne also produces very large salmon. With the average size most seasons being in double figures, 20lb fish are relatively common, with salmon in the 30 to 40lb range a distinct possibility." Day passes are available to non-residents for £35 per day and access to the river is strictly limited to spinning and fly fishing.
Last Updated: April 2013
Clayton is a comfortable traveller, having grown up in a small city that was far away from everything. He spent lots of time in the car as a child, driving up and down the coast of South Africa on surfing trips with his family. After studying abroad in the United States and spending a year working in London, he moved to Cape Town, where he completed a Master's Degree in Creative Writing. He now works as a freelance writer for various travel, surfing and action sports publications.