Top 10 UK fishing breaks
Fishing is the ultimate sport. Okay, so it mostly consists of spending the whole day sitting on the bank of a beautiful river, drinking beer, telling tall stories and losing bait, but technically, it's still a sport. Of course serious anglers will go home unimpressed without a catch, but the only way to up your fishing game is to learn to be patient.
This month, we're paying homage to the best fishing spots around the UK and counting down our ten favourites. If you have a good fishing story or know of a great spot we've missed out, drop us a comment below or on facebook and let us know.
Ask Before You Cast: Anglers over the age of 12 in England and Wales need to have a freshwater rod licence, which is obtainable at any post office - you can buy it in person, over the phone or on the Royal Mail website.
Whitby
Fish: cod, bass, flounder and other sea creatures
Now that the weather's warming up (we hope), it'll soon be time for the sea-fishing tourist season to take off in Whitby. This beautiful harbour town is a gateway to some of the best sea fishing in the UK. Whitby is one of the oldest fishing ports in the nation and full of great fishing stories. It's where Captain James Cook was actually introduced to the life of a seaman, after life as a shopkeeper's assistant didn't work out.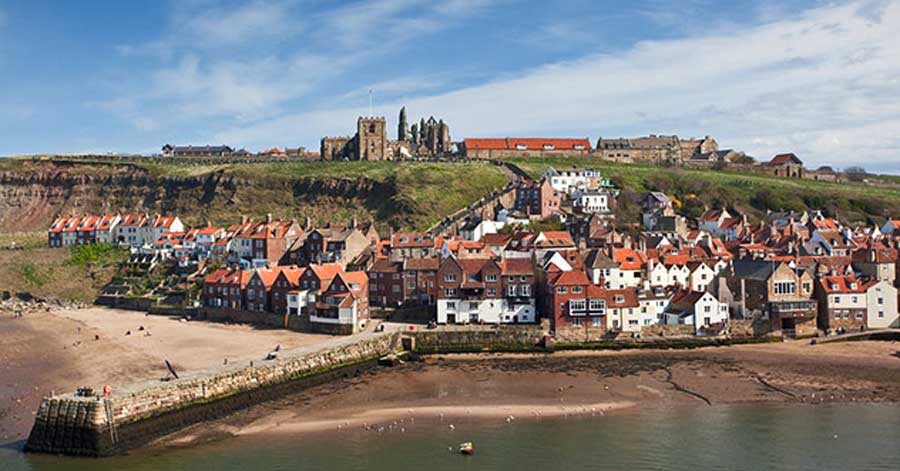 Whitby Town Harbour
Northumberland
Fish: trout (rivers and lakes), cod, mackerel, ling, pollock (ocean)
Northumberland is a hotbed for angling options with beautiful rivers, lakes and an entire coastline to explore. For serious anglers, a day pass at the West Water Angling Club will cost £30, but gives you access to one of the most beautiful fly-fishing havens in the British countryside.
Along the North Tyne river, the Riverdale Hall hotel is just downstream from the local hatchery, where some 700,000 are fed to the river on a yearly basis. Thanks to a highly-successful hatchery program, Tyne salmon stocks have boomed in the last 15 years and the river now competes with some of the best that even Scotland has to offer, according to Natalie Ashworth from Visit England. Now generally regarded as the best salmon river in England, the North Tyne also produces very large salmon. With the average size most seasons being in double figures, 20lb fish are relatively common, with salmon in the 30 to 40lb range a distinct possibility. Day passes are available to non-residents for £35 a day and access to the river is strictly limited to spinning and fly fishing.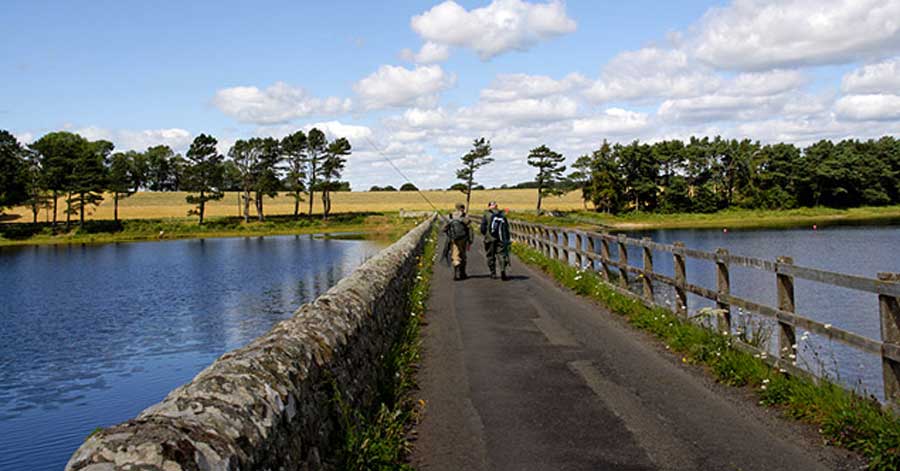 Northumberland
Llangammarch Wells, Wales
Fish: trout, salmon, grayling
Llangammarch Wells is a beautiful village on the River Irfon in mid-Wales. It's just a scenic, quiet place with some of the most picturesque walking trails in Wales (for the best walking trails in the UK, click here). The fact that there's some great fishing to be done there is a bonus. There's a little river retreat that balances fishing and luxury in a prime setting. The Lake House & Spa has a well-stocked trout lake a short walk from the hotel grounds. If your spouse is not a keen angler, the on-site spa is a good compromise for a day of fishing. The Lake House provides everything, from tackle to guides, but you'll need to have your rod licence. You can get one from the Wye and Usk Foundation.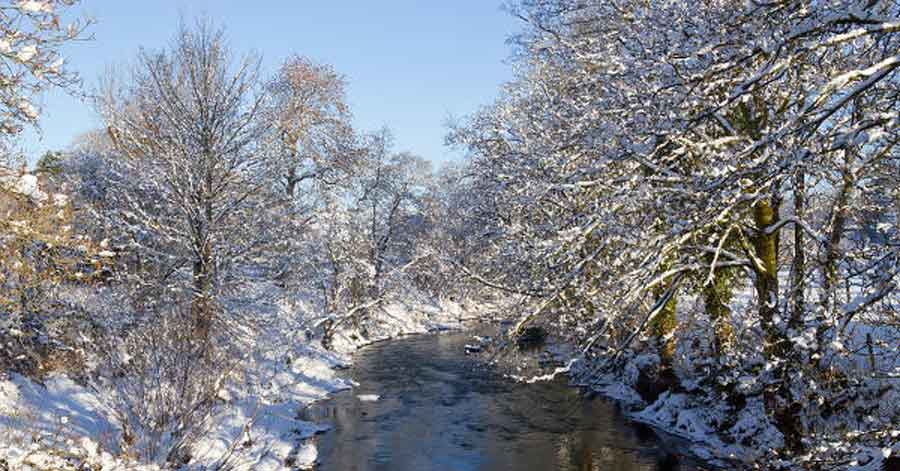 Llangammarch Wells
St. Ives, Cornwall
Fish: mackerel, cod, pollock, haddock and more...
Sea fishing is tricky business. A spot may be beautiful and great for catching, but difficult to navigate and possibly dangerous. On the other hand, it could be convenient and stunning, but as fruitful as casting your line in the bath. St. Ives is peppered with great sea fishing that offers a steady blend of all three. The beaches are hands-down the most spectacular along the British coast, which certainly doesn't hurt when picking a spot to cast. Mackerel-fishing season kicks into high-gear during the summer months, while deep-sea and wreck fishing charters are available year-round (weather permitting).
St Ives
Sutherland, Scotland
Fish: salmon, trout
Sutherland, in the Highlands, is the perfect angling destination. It's the kind of place where isolation meets beauty with sloping hills that overlook icy lochs and empty fields. It's a big and sparsely-populated region, but there's no shortage of guest houses and lodges that have access to private reserves where the brown trout and salmon fishing are world class. The Assynt Angling Club is a great source of information for anglers. In collaboration with eight landowners, the club offers access to over a hundred lochs in the area. Although Sutherland is about as far north as you can go, getting there is relatively simple from Inverness Airport or train station.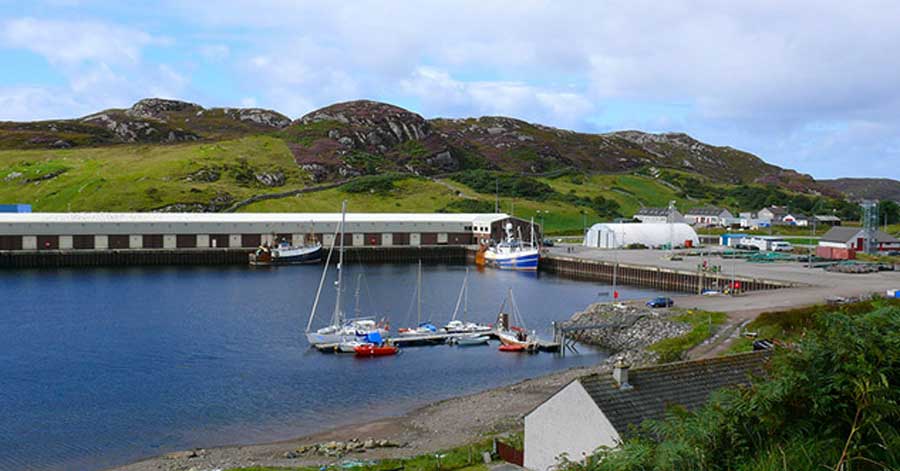 Sutherland
The River Tamar
Fish: salmon, trout
The wild River Tamar and its six tributaries are some of the best salmon marks in the nation. It also forms the border between Devon and Cornwall and is widely regarded as one of the most beautiful areas in the nation. So much so that it has been named a World Heritage site.
The Arundell Arms hotel is the place to stay if you're looking for a local fishing holiday in this neck of the woods. It's a family-owned/family-run establishment with an award-winning fishing school and over 75 years of guiding experience. "We have 25 miles of privately-owned fishing for salmon, brown trout and sea trout and we are in a beautiful stretch between Dartmoor and Bodmin Moor" Adam Fox-Edwards, the hotel's managing director explained. There are two full-time fishing instructors, as well as seasonal staff who fill in during busy periods, who handle everything from rod licenses, to tackle, bait and maps. This makes it perfect for youngsters and novices to get acquainted with the sport, while experienced anglers can expect a good challenge.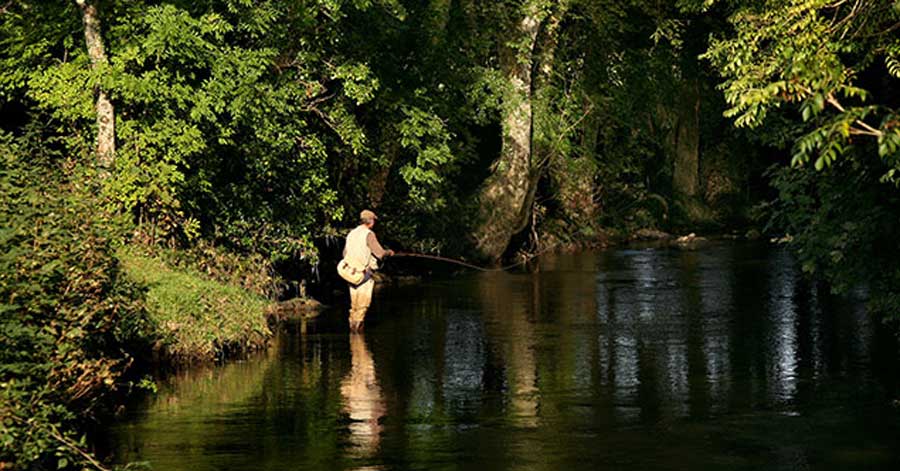 The River Tamar
Horseshoe Lake, Gloucestershire
Fish: carp, roach, rudd
Located in the Cotswolds, Horseshoe Lake consists of 62 acres of prime fishing real estate owned by the Carp Society. The lake's 'horse-shoe' shape is divided into two 'arms' - Summer Bay and Winter Bay. A rate of £1 per hour is charged to visiting anglers or you can get a year's 'passport' for just a tenner. Tickets are purchased from the Horseshoe Specialist Tackle Shop inside the lodge, where you can also stock up on tackle and take a few pointers from the local experts.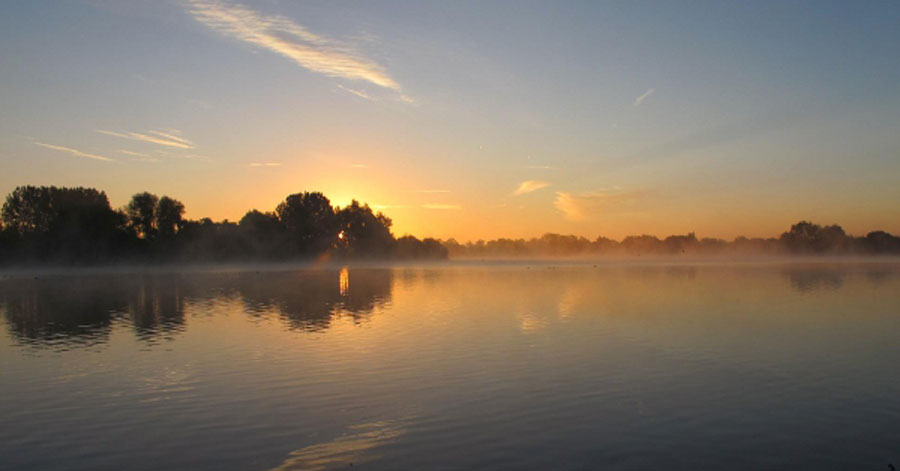 Horse Shoe Lake
Chew Valley Reservoir, Somerset
Fish: pike
"Home of some of the country's biggest pike" - Martin Salter, National Campaigns Coordinator.
There are some beasts lurking in Chew Valley Lake. The monster pike, which get up to 40lbs at their heaviest, are the reason anglers come from far and wide throughout the fishing season (March 23 - November 30). Day tickets at Chew Valley go cheap if you're fishing off the bank, while a spot in one of the 32 hire boats will be more expensive. Advance bookings are highly recommended for anglers wanting to go over a weekend - especially if there's a bank holiday. Tickets are available at the Woodford Lodge, where you'll probably want to chat to some of the local experts about what the fish are doing at that moment.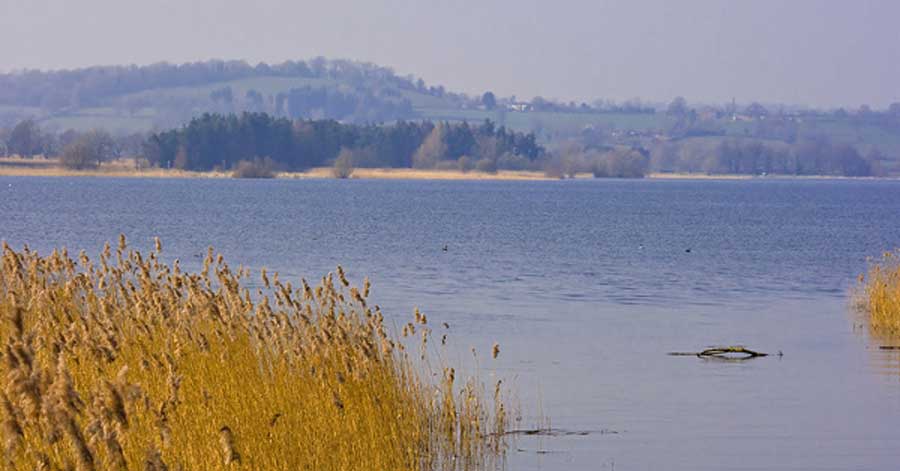 Chew Valley
Game Fishing: River Tweed, Scotland
Fish: salmon trout, grayling
"World class salmon, sea trout and trout fishing" - David Mitchell, Marine Campaigns Manager
Renowned as some of the best salmon-fishing waters in the world, the River Tweed draws a large international contingent of anglers every year - it produces more fish caught by fly than any other in the UK. Salmon season is from 1 February to 30 November, Monday to Saturday, with summer naturally being the biggest time for tourists. From June - September, the weather is nice and the prices are reasonable. While salmon fishing might be the star of the show in the Tweed, brown trout and grayling are also lurking about in great supply. For booking instructions and more information about the regulations in place, go to FishPal.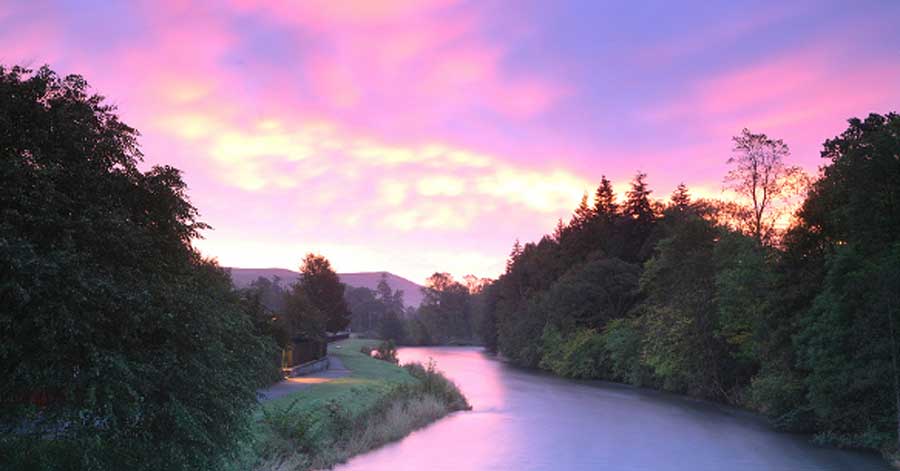 River Tweed
Sea Fishing: Chesil Beach, Dorset
Fish: mackerel, cod, bass, pollock, rockling, pout, plaice
"A traditional Mecca for sea anglers" - David Mitchell, Marine Campaigns Manager
The famous shingle beach that stretches from Portland to the West Bay comes alive from May to September, when temperatures rise. There's a wide variety of fish that frequent these waters and each one prefers a different set of weather variables and sea conditions - this makes each tide, change in the wind direction and rise or fall in swell size a new challenge. Serious cod and bass fishermen have been known to make their way down on the coldest of mornings just to catch the first few hours of daylight when the wind is at its lightest. It's a pristine stretch of beach that really lends itself to a relaxed day of fishing. There's a steep drop in the water level very close to shore, so you don't need to wade in fifty metres before casting. This also means that a strong undertow makes bathing a potential risk for inexperienced or weak swimmers - so be warned. As part of the Jurassic Coast, a UNESCO World Heritage Site, you also have plenty of other magnificent beaches and trails close by.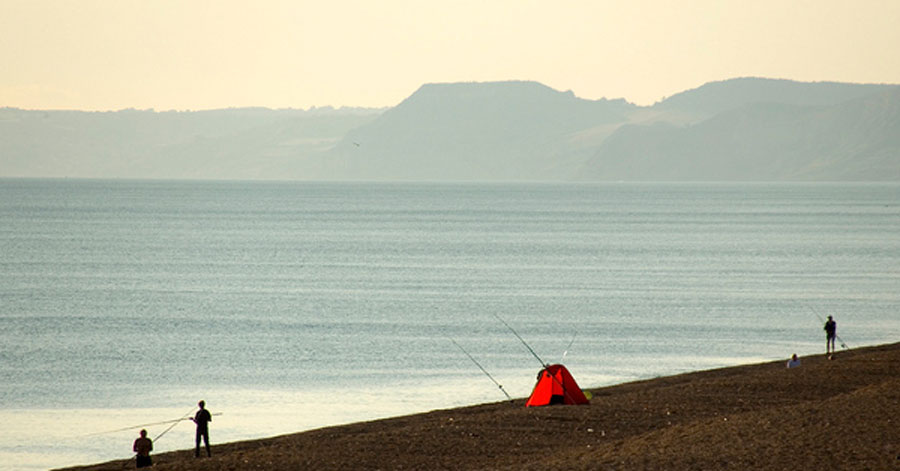 Chesil Beach
By Josh Downes
Last Updated: May 2016