Top 10 Pubs For The Festive Season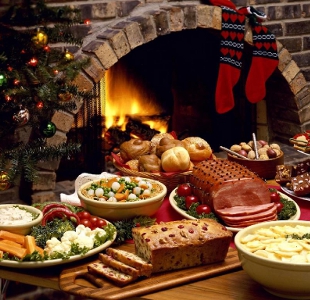 As much as we love Christmas dinner with the family, sometimes we're in the mood for something different. Also, imagining all those dishes piling up while trying to enjoy your meal really puts a damper on the whole event. But what if I said you could get together with your family, enjoy a three course meal and not have to clean up afterwards? The answer is simple: a festive season pub lunch. Whether you're looking for a pub that will remind you of all the comforts of home, or a place that will make you feel like you're on a tropical island, we've got the list of the best pubs to visit this festive season.
Coach and Horses, Berkshire
From the moment you pull up in the parking lot of Coach and Horses, you can feel the Christmas cheer. The beige walls of the two-storey building is dotted with colour as vines grow up the sides adding a touch of greenery, and red and purple flowers sitting comfortably in flower pots hang between the two vintage-like doors. The interior reminds one of a home on Christmas Eve - the fireplace is alight with flames and the mahogany chairs and tables gives the place a nice balance between home comfort and the restaurant experience.
On Christmas, you'll find the place decorated with Christmas socks, a twinkling tree and tinsel. Their Christmas menu is quite diverse, with a mix of traditional and slightly different dishes for everyone to enjoy. The Prawn Cocktail starter with Marie Rose sauce sounds simple delicious - light and appetising, it whets your taste buds without spoiling your appetite. There are a range of main meals, from roast stuffed turkey and honey roast ham to medallions of pork fillet with wild mushroom sauce. And of course, you can end off your meal with Christmas pudding topped with brandy custard. You can expect to pay around £26 for a three course meal and £22 for two courses.
The Prince of Wales, Highgate
The Prince of Wales is a strongly traditional pub, complete with a logo that has a green background and gold letters proudly announcing the name. The beer garden is probably the most exciting part, with long wooden tables and cheery patrons to set the lively mood. In the winter months, the garden is covered, so you can enjoy a drink outside without getting drenched. With the high wooden chairs and beer-on-tap behind the carefully carved bar, a cocktail lounge and The Snug - a room with a fireplace and comfortable chairs - you'll probably be playing musical chairs as you hop from room to room trying to figure out the best seat in the house.
They don't serve food on Christmas day (somewhat tragic because their food is delicious), but after a lunch at home with family you can head down there to work off all that food. It closes at 3:00 pm, so you won't have much time to catch up. If you don't feel like making the trek for such a short stay, you can easily put the visit off until Boxing Day when they serve a mean green curry and fish cake dish, no doubt a welcome change after eating all that stuffed turkey the day before.
The Plough at Bolnhurst, Bedfordshire
If you're really into history, then you'll immediately see that the The Plough has strong ties to Tudor times. The low beams complement the dark brown brick columns, and the dimly-lit dining room stands in contrast to the light and airy cocktail lounge. The towering trees and plants decorating the outside area gives the pub a countryside feel.
At £40 per person their Christmas dinner is a bit more expensive than the other pubs on our list, but with a choice of cauliflower cheese soup with Montgomery cheddar or scallops roasted with fennel and anchovy oil for starters and marinated pork belly, sweet potato puree, bok choi, maple and sesame or venison steak with beetroot puree, shallot cabbage and roasted potatoes and chestnut for main meals, it's definitely worth the extra splurge. Of course, you also have a selection of desserts to choose from too, so you can expect to leave there thoroughly satisfied.
The Lord Nelson, Nottingham
You won't find many places more excited about Christmas than The Lord Nelson pub. From the outside, it looks like you'll be stepping into a rather exclusive club, but don't mistake the manicured lawns and elegant garden furniture for a formal, pompous place. The Lord Nelson is a laid-back, welcoming pub with a friendly atmosphere. Described as a restaurant that blends "a country feel of wooden floors and terracotta tiles with stylish wall coverings to give the place a feeling of informal modernity."
Their Christmas menu sounds divine, and there's a special festive season menu running from December 2 until December 24. On Christmas day there's a set menu that includes butternut squash, carrot and coriander soup or potted ham hock, pineapple pickle and toast for starters, roast turkey, pork and chestnut faggot and roasties or beer battered fish, chips dripping in marrowfat and peas for mains. You can finish all that off with their award winning Christmas pudding and brandy sauce or apple and rhubarb crumble with thick custard. With a two course meal for £15.95 and a three course meal for £19.95, you won't end up breaking the bank to enjoy a hearty festive season spread.
The Mason Arms, Somerset
The thatched roof, windows that peek out over the farmland and yellow and green flowers that line the outside all contribute to the warm, relaxing atmosphere of Mason Arms. The ham stone village where you'll find The Mason Arms is full of tourists attractions, rolling hills and lush countryside. With hands-on owners, great service and generous helpings of food, The Mason Arms is a sure-fire winner.
Their festive season menu is just as attractive as the pub itself. Friends and family can gather for a glass of mulled wine and a buffet dinner for £23. No word yet on exactly what will be on the menu, but you can certainly never go wrong with a buffet - there will be something for everyone - whether you a prefer traditional meal, something a little unconventional or even if you prefer to skip the meal and jump straight to satisfying your sweet tooth with some of the desserts, you will find it on their table.
Greenwich Tavern, Greenwich
The newly revitalised Greenwich Tavern offers a relaxing, chic alternative to the daily pub setting. With views that overlook Greenwich Park (which is illuminated by Christmas lights throughout the season) this hidden nook in quiet South East London makes for a great day out - especially when balanced with a post-meal walk. The menu offers an exciting combination of traditional English soul food, blended with modern touches and premium ingredients – everything from bangers and mash, to pork belly and wild mushroom tart. Between 1 December and 24 December, Greenwich Tavern is offering a delicious and traditional three-course Christmas meal at £25 per person (with a deposit of £10 per person), with several options that cater to carnivores, pescatarians, vegans and fussy eaters.
The Flask, Highgate
The Flask has a strange, eerie history that dates back to the late 1600's and early 1700's, when it originally sold flasks of water filled up from nearby Hampstead Heath – an idea that seems ludicrous today. Each room in the historic building has a different story that ranges from an old Spanish barmaid hanging herself to an autopsy being performed in one of the rooms during the grave robbing days at Highgate cemetery. Needless to say, the pub has character, and all of those creepy old stories give this stylish gastro-pub a unique feel.
The daily food and beverage menu is top-class, boasting a range of traditional and modern meals that are made with locally sourced produce of the highest quality. Over the festive season they offer a special set Christmas menu (two courses for £24.95 or three courses for £29.95) that includes roast turkey with cranberry stuffing, sage and pumpkin risotto and slow-cooked fealtherblade steak on its list of main options.
Bangers Bar and Grill, Moorgate
While regular customers know the house ale well (Davey's Old Wallop), over the festive season Bangers offers a set menu that shows off the level of excellence that Executive Chef, Sean Davies, has set in making it such a solid establishment. At £24.95 for a starter and main, visitors can choose between options like goat's cheese brulee with roasted peppers and basil, pan-fried sea-bass and char-grilled sirloin. Bangers has also just undergone a refurbishment, updating the décor and menu, increasing its appeal.
The Windmill, Clapham
The Windmill sits alongside Clapham Common, one of the most festive public spaces in the city, adding to the atmosphere with its own brand of welcome service. The interior is spacious but cosy, offering comfortable seating and a fireplace that warms up the chilly winter evenings. On Christmas day the Windmill is offering a four course meal for £79 per person that includes champagne on arrival, truffled Jerusalem artichoke soup, dressed Devon Crab, whiskey oak-cured Scottish beef and a crown of English Rose turkey. As far as atmosphere, ambiance and quality go, they deliver something special that'll blow your socks off. Prior to Christmas, the Windmill offers a similar menu that includes three courses for £31.95.
The Northcote, Battersea
The Northcote is a busy pub that organises a string of fun (and often rowdy) events and activities to keep things fresh and fun – from pub quizzes, to beer tastings, mini festivals and a revolving list of specials every week. It's an eye-catching venue that has been carefully decorated with a strong sense of style that makes you want to know the quirky creatives who designed it – all of the same qualities are translated into their food and drinks menu, too. Over Christmas the Northcote is offering a feast that includes oxtail and truffle soup, ballotine of local free range turkey, dry aged fillet of beef and turbot boulagere with melot sauce on its list of choices. This four-course feast costs £70 a head and bookings are required. They're open from noon - 5 p.m. and you can bank on it being one of the most festive celebrations in London Town. The Christmas menu is also available for guests booking dinner parties in their function room at £32 for three courses, with other options available.
Last Updated: December 2013