Top 10 Farmers' Markets
In The UK And Around The World

Farmers' Markets are trending everywhere at the moment because of the global move towards healthier eating, living and spending. Buying fresh produce from local suppliers speaks right to the heart of this shift in consciousness: people eating better food, the communities intermingling instead of wasting away in front of the television, and stimulating the local economy. It's a formula that works on any level and one of the results has been more and more markets popping up around the word.
Today there are specialised venues for fish mongers, vegans, carnivores, omnivores and – it might not be as convenient as a supermaket, but there's enough out there to cater for all palates.
This month we decided to take a look at ten of the best local and international farmers' markets. If you know of another good one or think we've got it wrong, drop us a comment in the box below or continue the conversation on Facebook.
UK Markets
5. Winchester Farmers' Market, Hampshire
This bi-monthly market is a community-driven enterprise that exemplifies the spirit of the farmers' market. All the incredible produce on offer comes from local farmers and suppliers in the Hampshire area (this is a non-negotiable requirement). From standard fruit and veg to organic soap made from goat's milk, you'll find an incredible selection of goods each week, over and above your basic eating needs. It's this blend of top quality goods and innovation that has won Winchester the FARMA's 'Urban Farmers' Market Of The Year' award, amongst other prestigious accolades. For more information about the Winchester Farmers' Market have a look at the video below.
4. Stroud Farmers' Market, Gloucestershire
Stroud Farmers' Market has been critically acclaimed by several major UK publications, taken home awards and become one of the most talked about markets in the nation - and for good reason. Running every Saturday between 9am and 2pm throughout the year (even during the chilly months) the market hosts up to sixty stalls that offer all the delicious, wholesome produce you'd expect from suppliers who grow their own goods. During the last weekend of each month the Threadneedle Flea Market joins the scene and gives shoppers an impressive range of stylised garden accessories and furniture to browse.
3. Bath Farmers' Market, Somerset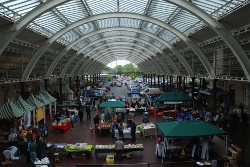 Bath Farmers' Market was the first of its kind in the UK, dating back to September 1997 as a response to Local Agenda 21 and the move towards localised solutions for national problems. The market, which began as a monthly initiative to do something positive for the whole community, has turned into a celebrated affair that is enjoyed by swarms of locals and visitors every week. From prize-winning cheeses to meat, seasonal fruit and veggies, pastries, cakes and homemade preserves, the produce delights anyone's taste buds. The market's pledge is for quality and fairness all round: "At Bath Farmers' Market you will find quality, fresh, seasonal produce at a fair price. The goods are sold directly by the people who produce them and everything usually comes from within a 40-mile radius of Bath". For more information, check out www.bathfarmersmarket.org.
2. Moseley Farmers' Market, Birmingham
Moseley Market is another big, multiple award winner (most notably the 2012 FARMA 'Best Market' award), committed to benefitting the community. Held every fourth Saturday of the month, Moseley Market has over fifty stalls and offers a wide range of locally grown and sourced produce that's as tasty as it is healthy. All surpluses made by the market is reinvested into the community, in keeping with its initial goal to add a new shopping experience for locals and visitors. For more information, check out moseleyfarmersmarket.org.uk.
1. Edinburgh Farmers' Market, Edinburgh
Scotland's largest market is set against the backdrop of its spooky and beautiful castle, making it one of the most scenic locations on this list. Besides the scenery, it's also a great market that offers a wide variety of locally grown and reared produce, ranging from game specialties like water buffalo to seafood delicacies like lobster, as well as veggies, micro-brewed beer and wine, crafts and more. There are over fifty stalls operating every Saturday, giving one of the UK's most popular urban destinations a dose of country elegance. For more information about this award winning market, check out edinburghfarmersmarket.co.uk.
International Markets
5. Chico Farmers' Market, California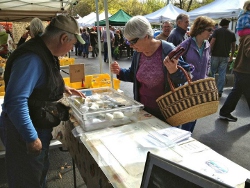 Chico is aptly known as the 'City of Trees', a nickname that becomes blatantly obvious the moment you drive into town - or cycle as the locals are known to do. The almond (pronounced 'Amind' in Chico) and walnut fields, as well as the oak trees lining the streets, are part of the charm of this agricultural city in Northern California. It also boasts one of the nation's most festive and friendly markets, offering everything from fresh produce to local arts and crafts. Over the years it has developed a reputation for being a firecracker market that may be small compared to those in San Francisco or New York, but what it lacks in size it makes up for in good vibes, variety and top quality products. "Fortunately Northern California is the bread-basket of America, almost any kind of fruit, vegetable, nuts and grain grows here," explains Reid Seibold, one of the market's key vendors and facilitators, in between helping customers and greeting a steady stream of friends and acquaintances. "It's one of the few climates where everything does well. We're uniquely set to have a great farmers' market here. People are open-minded about buying from farmers directly, which also means that we're well supported. It's just great."
For more information about Chico Farmer's Market, have a look at their facebook page. Or for a behind-the-scenes peak, check out our interview with Amber Suppus, manager of the market.
4. Mercat de Sant Josep de la Boqueria, Barcelona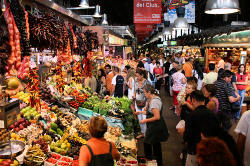 The history of Barcelona's famous La Boqueria market dates all the way back to the 1200s, when it was first used as a meat market for local farmers. What stands today is a colourful celebration of flavours, smells and textures that will appeal to all your senses at the same time. The variety of fruit, meat, vegatables and flowers is mesmerising and the market's has become world-renowned. If you haven't been to de la Boqueria, it's because you haven't been to Barcelona yet.
3. Port Louis Market, Mauritius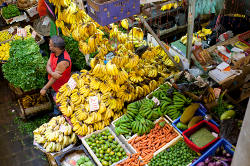 Mauritius is a small, lively tropical island off the coast of Africa. The country's two main forms of income are tourism and agriculture, and the latter is always a nice surprise for visitors. Most tourists come for the affordable, all-inclusive resorts, stunning scenery (including the beautiful Le Morne Peninsula – a UNESCO World Heritage Site) and impressive coral reefs. But the market in the capital city ends up turning as many heads as the natural attractions. Inside the main produce building you'll find a hugely impressive selection of fruit, veggies and herbs - all locally grown and as bright as the day is long. Outside you'll find three separate buildings for beef, pork and seafood. Be sure to head inside early if you've got a weak stomach because the heat can make things a bit pungent by the early afternoon.
Insider Tip: The island may have an abundance of great seafood and vegetables, but it sorely lacks certain goods, like pens and whiskey. If you bring a bottle or a few office supplies, locals will be happy to trade with you.
2. Wild Oats Community Farmers' Market, Sedgefield, South Africa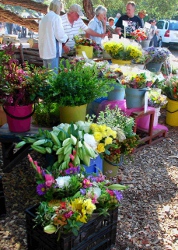 Wild Oats Community Farmers' Market has one of the premium spots in the world as its venue: the Garden Route of South Africa. Before you've had a chance to process the smell of the food and freshly cut flowers, your eyes are absorbing everything around you. The long, hilly road that takes you to Sedgefield, where the market is located, is punctuated by a number of spectacular vista points and stopovers, giving you plenty to talk about on the way there and back. The market itself is outstanding. It has been the recipient of multiple awards since opening in 1999 and has spearheaded a nation-wide wave of markets that try to emulate the Wild Oats "Slow Food" ethos - visitors and locals are given the opportunity to discover exactly what they're eating, where it comes from and whom they are supporting. Their website sums up the Wild Oats experience nicely: "Each Saturday morning, from 07:30 to 11:30, Wild Oats stands as a model and a common-sense solution to food-confusion, social-alienation and global anxiety over food sustainability".
1. Medina Of Marrakech, Morocco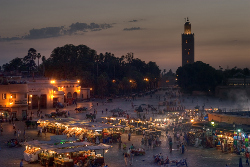 Morocco's famous Medina is a specatular display of human motivation, as the market sets up and closes with the rising sun each day. Now a UNESCO World Heritage Site, the internationally renowned Medina is by far the most mysterious and enchanting entry on this list. Rather than a cover band and buskers on the sidewalk for entertainment, you'll find snake charmers, fortune tellers and sword swallowers. And the spices and local food are just as unmissable and hypnotic. It's more like a bizarre dream than a traditional farmers' market and it deserves to be visited in person to be fully appreciated.
If you enjoy wandering through markets, check out our Top 10 Christmas Markets for the best city markets around the world.
Last Updated: August 2012