Top 10 Culinary Regions of the US

American cuisine has gained a bad rep thanks to fast food giants like McDonalds and Pizza Hut, but if you explore each region of the US, you will find their menus to be quite different and unique. As you venture from the Pacific to Atlantic coast, tastes and flavours vary by region as each flaunts their delicious local specialties and famous fare. Try to keep your mouth from watering as we count down the tastiest Top 10 culinary regions of the US.
10. Florida
Known as the Sunshine state, it's no surprise that Florida oranges are some of the juiciest. As producers of 90% of America's orange juice, there's no better place to get a glass freshly squeezed.
A nationwide dessert, Key Lime Pie, originally made its debut in Key West, Florida. The pie layers start with a graham cracker crust, a dense lime pudding filling, and a fluffy meringue topping - the perfect treat for a hot Florida summer night.
Miami has a large Cuban population and thanks to them we have one of America's most popular sandwiches. The Cubano sandwich combines ham, pork, Swiss cheese, pickles, and yellow mustard on Cuban bread toasted in a sandwich press.
9. Northern California
As producers of 90% of American wine and with over 1200 wineries, California's cuisine also lives up to its wine's excellent reputation. Californians, popular for their healthy lifestyles, can be thanked for the Cobb salad, a main dish garden salad topped with tomato, bacon, chicken breast, hard boiled egg, Roquefort cheese, avocado, chives and a red-wine vinaigrette.
San Francisco is famous for its sourdough bread, a white bread with a distinct sour taste. This bread pairs well with Cioppino, a fish stew cooked with tomatoes and wine originating in San Francisco by fishermen.
8. Texas/Southern Border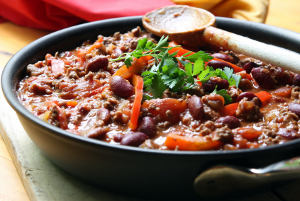 Texans have taken Mexican dishes and put their own twist on them, coining the term 'Tex-Mex'. One of the most popular 'Tex-Mex' dishes is chili con carne, a thick meaty stew with beef, beans and spices that can be found all over the US, but has its roots in Texas.
Found on almost any menu in Texas is chicken fried steak, a thin cut steak that is breaded, pan fried and smothered with peppered milk gravy. Barbecue varies region by region with different meats, sauces, and cooking methods, but in Texas, unanimously, the meat of choice is always beef.
7. Southwest
In southwestern cuisine, the focus is always on the chile pepper and as it is used in almost every recipe and with over 200 varieties, spicy food lovers will thank the chile gods. But for the less adventurous there are milder chiles - your tastebuds will thank you. Chiles Rellenos, peppers stuffed with ground beef, cheese and spices, as well as Chili con Queso, a creamy cheesy dip with green chilis, are well known recipes. All over southern California you will find restaurants serving fresh fish tacos topped with crema Mexicana (sourcream), fresh veggies, and salsa fresca - a San Diego favorite.
6. Carolina
To a Southerner, a breakfast without grits is not breakfast at all. Similar in consistency to porridge, this corn based side dish is often flavoured with butter or cheese. Shrimp 'n' grits is a more savory option and is often served for lunch or dinner.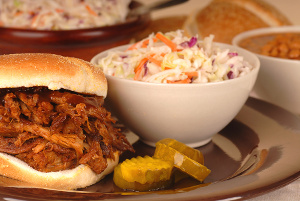 Nationally famous for their pork barbecue, usually served in a bun, this sandwich combines tender pulled pork with varieties of barbecue sauce ranging from tangy to sweet.
Biscuits (not like cookies) are similar to scones, but are fluffy and doughy on the inside with a buttery crust on the outside. To wash everything down, have a refreshing ice cold glass of sweet tea, iced tea flavored with plenty of sugar, a Southern favourite!
5. Philadelphia
Philly and cheese-steaks: they go together like salt and pepper. The traditional version of this delectable sandwich combines juicy thin grilled shreds of steak, sauteed onions and melted provolone or cheese whiz (thick cheese sauce), on a hot long Italian roll.
For a quick bite, street vendors sell soft pretzels, warm, chewy, and salted, with or without mustard - this is the perfect snack on the go. For a cool summer treat try Italian Ice: shaved ice flavoured with lemon or cherry juice - always a favourite at Philly's baseball games.
4. New England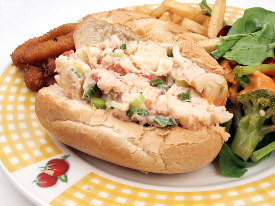 Lobster doesn't get any fresher than in New England, but cracking a lobster can be tricky, so for an easier, no bib option New Englanders have invented the lobster roll: a grilled bun filled with decadent chilled lobster meat fresh from the coast. New England knows a thing or two about chowder. Named after the region it comes from, New England Clam Chowder is a famous staple in the New England diet; a cream based chowder with clams and potato, this is sure to keep you warm during those snowy New England winters.
3. Chicago
Chicago vs. NYC: when it comes to pizza these two cities are inevitable enemies in an unending battle of thin versus thick. The famous Chicago-style deep-dish pizza is unique with thick pie-like buttery crust, about two inches high, cheese on the bottom, sauce on the top, and a variety of toppings to choose from.
Chicago style hot dogs are all about the toppings, layered with yellow mustard, relish, fresh chopped onions, tomato wedges, pickle spear and peppers all in a steamed poppy seed bun, this colourful masterpiece is a one of a kind found only in the windy city.
2. New Orleans/Gulf Coast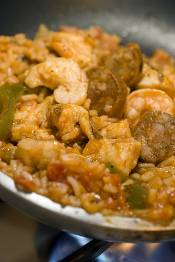 Cajun and French heritage has influenced New Orleans cooking, giving way to dishes like the famous smoky flavored jambalaya, a mixture of chicken, shellfish, smoked sausage, peppers,onions, spices and flavourful rice. The similar but more soupy Gumbo, starts with the 'holy trinity' of Louisiana cooking: celery, bell peppers and onion. Located on the Gulf of Mexico, New Orleans has an abundance of craw-fish, a small lobster used in many recipes.
Gaining a reputation as the signature sandwich of New Orleans, the Muffuletta is made up of layers of marinated olive salad, capicola, salami, pepperoni, provolone, and emmental atop a round loaf of bread. If you still have some room for dessert, try a beignet; French for 'fried dough', this sweet and simple pastry is sprinkled with powdered sugar.
1. New York City
NYC is a melting pot for all cultures, lending itself as the top city for ethnic food. Step into Chinatown to try traditional savory pork dumplings or hop over to Little Italy to taste a handmade ricotta filled cannoli.
For classic New York fare, enjoy a slice of original creamy cheesecake or pick up a warm doughy bagel. Enjoy a slice of New York style crispy thin crust pizza topped with piping hot tomato sauce and stringy melted cheese for a true taste of NYC. Meat lovers will find a plethora of delis, each with hand carved meats, like hot corned beef and pastrami piled high on rye bread.
Last Updated: July 2011