Top 10 Cheesy Holiday Ideas

Cheese is the ultimate food item - it goes with everything from toast to wine, during breakfast, lunch and dinner. It can turn an ordinary cracker into a five-star meal, and stand out as the main attraction on a platter full of gourmet snacks.
As luck would have it, some of the best cheeses are manufactured in a few of the most beautiful locations around the world. So, in the spirit of cheese and travel (our two great passions) we've compiled a smorgasbord of terroir cheeses (cheeses that owe their unique taste to their region). From the expected (France) to the more obscure (New Zealand), these trips will leave you with a permanently cheesy grin.
10. Best...CHEESE AWARDS
International Cheese Awards, Nantwich: You don't need to travel further than Nantwich to see the best cheese awards show in the world. The International Cheese Awards has been going for more than a century and like a wheel of mature cheddar, it gets better with age. More than 600 cheese makers from around the world make their way over to compete for the honour of being named the 'big cheese.' With 2,500 samples for you to spend the day eating through, there is more than enough to get excited about. As a side show there are cattle, sheep, poultry, horse and flower showings, which spreads out the action at beautiful Dorfold Park nicely. What more could a turophile (cheese lover) want?
The event held at Dorfold Park, Nantwich will be open to the public on the 24th of July. For more information, see internationalcheeseawards.co.uk and buy tickets at nantwichshow.co.uk
9. Best...AMERICAN CHEESE TASTING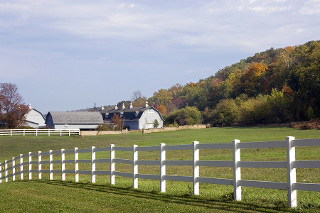 Wisconsin, USA: Wisconsin is so synonymous with cheese that its residents are known as 'cheeseheads'. Turophiles will feel right at home in the dairy state, which produces close to a quarter of all American-made cheese, which is a lot! Much like taking a wine tour of southern France, you can navigate your way across Wisconsin during the lush summer months, following travelwisconsin.com's Cheese Tour route that starts in Madison and goes right into Spring Green. Along the way, you'll stop over at farms, markets, factories and special distributors. A road trip through the mid-western countryside is good for the soul, and a great alternative to many typical city-tourist-attraction-based holidays to America. You'll still come home having eaten more than normal, but it won't be from fast food! Another great stop on your trip to the cheese state is to attend one of the events organised by Wisconsin Cheese Originals.
For more information and the latest cheesy events, see eatwisconsincheese.com
8. Best...ANTIPODEAN CHEESE
Whitestone Windsor Blue Cheese, Oamaru (New Zealand): New Zeland's rugged South Island is home to some of the most renowned landscapes on earth. Following closely behind is its growing reputation for manufacturing cheeses. Whitestone cheese may not have a long history (it began in the 1980's), but the growing manufacturer is already winning big awards for products like its Windsor Blue cheese. Their website says that "the subtle flavours of Whitestone reflect the land, grass and water that gave them birth." Windsor Blue's distinct, yet creamy and smooth, balance of flavours is what keeps it winning awards - as if you needed another reason to visit New Zealand. With its small town charm and wild coastline, Oamaru is the perfect getaway location for a cheesy holiday.
For more information on Oamaru, see visitoamaru.co.nz.
7. Best...LOCAL CHEESE FACTORY TOUR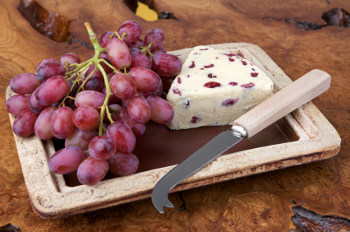 Wensleydale Creamery, Yorkshire Dales: The Wensleydale Creamery produces some of the most heavenly cheese in the country. With crumbly, moist, honey-like flavours combined with the sweetness of cranberries, the good Wensleydale name has been built on generations of excellence. The creamery is located along the rolling foothills and magnificent scenery of the Yorkshire Dales National Park, which is worth the trip up north on its own. The creamery itself boasts a museum, coffee shop, restaurant and viewing gallery, giving visitors more than just a sample taste of their experience in the cheese making business.
Side note:The name will be familiar to Wallace and Gromit fans as the cheese is Wallace's favourite.
For more information on Yorkshire Dale National Park, see yorshiredales.org.uk. For more information on Wensleydale cheese, see wensleydale.co.uk
6. Best...CHEESE EVENT
Cheese Rolling, Whistler (Canada): The cheese rolling tradition may have started on Cooper's Hill in Gloucestershire some 200 years ago, but it has since taken off around the world. In 2010 and 2011, the original event has been sadly cancelled, but the Canadian Cheese Rolling event at Whisteler Blackcomb has picked up the baton and created a huge, fun scene equal in size (if not bigger). Like the competition at Cooper's Hill, you can expect to see plenty of hysterical wipe-outs, some hard falls and one proud winner. It is part of a larger cheese appreciation festival that involves seminars, cheese bowling and tastings of the finest Canadian cheeses. Winners of the cheese rolling event get a season pass to Whistler, bragging rights and a wheel of quality cheese - so strap on a helmet, pluck up your courage and prepare your legs for a tough race.
The Cheese Rolling event will be in Whistler, Canada on the 18th of August. For more information, see canadiancheeserolling.ca
5. Best...FRENCH CHEESE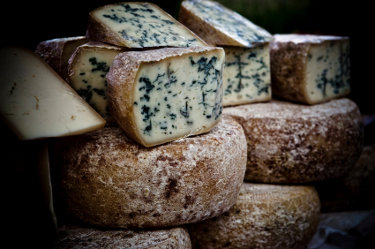 Papillon Roquefort: We've had to restrain ourselves from making a list that consists entirely of French cheese locations - there are so many French cheeses made in incredible locations to choose from. So as hard as it is to pick one, the French cheese that really stands out for us is 'Le fromage des rois et des papes' or 'the cheese of Kings and Popes'. The mystery of the smooth, powerful and lingering taste of Papillon Roquefort lies in their maturing method, which takes place in the on-site caves - now open to the general public for tours.
4. Best...CROATIAN CHEESE
Paški Sir: The salty Paški Sir is made exclusively on the island of Pag in the Adriatic. Siran Gligora, the top Paški Sir producer, is a winner of three Superior Taste Awards from the International Taste and Quality Institute. A walking tour of the facility is the perfect way to work up a sturdy appetite, which you'll reward afterwards in the tasting room over a glass of wine and some local ham. If your feet should get restless, don't be afraid to get up and dance - the feel-good combination has been known to have that effect.
For more information, see sirena.hr
3. Best...ITALIAN CHEESE
Parmigiano-Reggiano: There's Parmesan and then there's Parmigiano-Reggiano. Widely imitated but rarely matched, the latter is an Italian treasure. So valuable is this cheese that Italian banks accept it as collateral. Nowhere else can you find a cheese that caters to all the senses. The rich, complex taste, the distinctive aroma and the feel of crystals as you chew makes for an experience unlike any other. A pilgrimage to the Emilie-Romagna (the region where the cheese is exclusivley produced) is de rigueur for any cheese lover.
For more information, see parmigianoreggiano.com
2. Best...CHEESEMAKING EXPERIENCE
Beecher's, Seattle: Fancy yourself a cheese maker? Try your hand at the ancient art with Beecher's of Seattle. Vocation Vacations offers you the full cheese making experience. From the pasteurisation of the milk, to curdling the milk with rennet, to forming your cheese and tasting it - all under the guidance of a master cheese maker to make sure your cheese is edible. Be warned: cheese making is addictive. You may not want to go back to your office job after this.
For more information, see vocationvacations.com
1. Best...CHEESE MARKET
Alkmaar, Netherlands: Nothing beats a traditional cheese market and the best can be found in Alkmaar, Netherlands. Noisy, colourful and always entertaining, the Alkmaar cheese market is once again open for the summer season. The day's trade begins with a ritual called handjeklap, where, with a flurry of hand claps and exclamations, deals are settled. Once the cheese is sold, special guilds of carriers are entrusted with transporting the cheese. The action concludes at noon, but there is plenty else to do in Alkamaar. The Dutch Cheese Museum is open all day and is located near the cheese market. Learn the history of the cheese trade traditions and Dutch cheese making. The museum also offers tastings.
This year, the market is open from the 6th of April to the 7th of September. For more information on the Dutch Cheese Museum, see kaasmuseum.nl. For more information on the Cheese Market, see kaasmarket.nl
Last Updated: May 2011