A successful day at the beach lies in the balance between being prepared and being spontaneous. The wind, tide and sea conditions are always changing, offering new opportunities to those who are ready for the weather's mood swings. To give you an unfair advantage over other holiday makers, we've compiled a Top 10 Beach Accessories list that caters for almost every condition.
10. Sun Screen
We don't want to moan like a worrisome mother, but for your benefit we will (very quickly). The risk of skin cancer is real - especially for people with fair skin, like many of us, who experience erratic exposure to the sun's harmful UV rays. There is nothing wrong with catching a tan and adding some colour to your visage, but please be careful when doing so. Scabby lips, blisters and skin flakes are no fun and will cost you in the long run.
Good sun screen (factor 15 and up) will last roughly eighty minutes. If you are sweating or swimming, it will last you from 30 to 45 minutes. So it is vital to re-apply throughout the day. It might not be the hippest beach accessory out there, but it is certainly a must-have.
9. Comfy Deck Chairs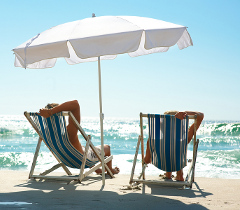 A good deck chair is almost worth its weight in gold. The sand is great for sitting and lying down, but sooner or later you'll want some back support. Quality deck chairs (widely available at most supermarkets and outdoor apparel shops) provide a firm place to rest your bottom, a cup holder for your water/juice bottle and support for your back while reading the latest paperback novel (another essential item for windless beaches). For those who are fussy about getting sand wedged in their toes, it makes a nice escape when combined with a cooler box to put your feet up on.
8. Decent Beach Wear
Anyone heading to the beach should invest in a decent swim suit - for your comfort and the consideration of women and small children. Outdated speedos and canvas swimming trunks are conducive to sand rash and unnecessary displays of skin and body hair (possibly leading to embarrassing fines from beach officials). There is a wide range of fancy trunks and bathing suits available from retailers across the nation, which will be kind to your skin and stay on your body when you're frolicking in the waves.
7. Beach Games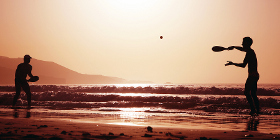 For some people, relaxing in the sun and doing nothing is an impossible task - they need a distraction to remain relaxed. Beach games solve this problem nicely. There are plenty of them around, perfectly suited to people of all ages. For five of the best, check out Essential Travel's Five Epic Beach Games Blog.
6. Shade/Umbrella
Long, lazy days on the beach can get hectic without shade. It may feel a bit silly walking down with a big umbrella, but during the hottest part of the day you will be the only one laughing. Remember to set it up in a safe, secure place and to be on the lookout if the wind comes up - the last thing you want is your brolly flying around like a javelin.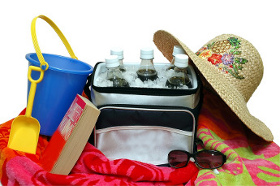 5. Sunglasses And A Hat
Besides the practicality of wearing both, a pair of sunnies and a nice hat are the perfect pea-cocking combination - even for self-conscious hipsters with friends to impress. For little kids who wonder off and forget to re-apply sunblock, a good hat offers them some much needed shade, at least over their eyes.
4. Towels And Beach Mats
Beach towels and beach mats are multi-purpose accessories that provide a myriad of useful functions. You can lie on them, use them to towel off or make a whip to lash your siblings (not really!). Having a good towel to wrap your wet swim suit up in also really helps when it is time to drive home.
3. A Floatation Device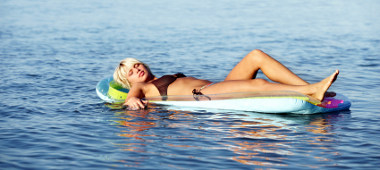 For some it's a boogie board or an inflatable dingy, other prefer a colourful doughnut-shaped inner tube - it all comes down to personal choice in the end. But the beach becomes a whole new world when there are toys to play in the ocean with.
ET Travel Tip: If you are somewhere with no waves, bring a lilo to relax on. Just don't fall asleep, lest you wake up kilometres from shore.
2. Cooler Box
Water after a long swim is great. Ice cold water after a long swim is absolutely incredible. When it comes to cooling down and staying hydrated, you will not regret bringing your own ice cooler. As mentioned earlier, when it's not keeping your juice and water cold, it makes a pretty decent foot rest.
1. Sun Screen
Sun cream is so important we thought we'd mention it twice - don't forget to re-apply!
Last Updated: August 2011