Top 10 Alternative Family Holiday Ideas In The UK

We have got a very special Top 10 this month, just in time for Family Week in the UK. It goes out to all those families with a heavier thirst for adrenalin than most. We are talking about the families who would rather swing from the highest tree tops than spend the afternoon in a hammock. To those who think speeding down the Scottish Highlands on a 4-wheeler is more appealing than a back massage at the spa. The alternative people, who would rather go surfing in Cornwall than cheese tasting in Yorkshire.
Keep your boots tied tight and your helmet fastened, as we count down the 10 best Alternative Holiday Ideas in the UK.
10. Paintball, Across The UK
Paintball is the kind of game that people lose themselves in. When you are kitted out from head to toe like a commando soldier, taking cover behind a rusty oil drum and waiting for your 'enemies' to show themselves, it feels like a real war. Families from around the UK can visit ukpaintball.co.uk to find out where the nearest venue is. It is a non-stop adrenalin rush from start to finish and is guaranteed to be a hit with boisterous families. There are different courses and game-types to choose from, all geared to different crowd sizes and types of players. A great way to make the most of this year's family day is to invite a few families and make teams - either 'Smith Family' versus 'Palmer Family', or Parents versus Children.
9. Go Karting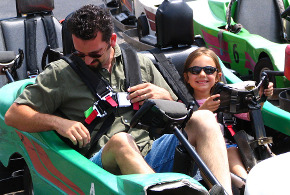 A family day out on the go-karting track can mean serious business. People race against one another for heavy wagers, including laundry and washing up duties, pocket money and homework favours. When the helmet goes on and the engines are firing, family ties mean peanuts...
Jokes aside, go-karting is a great way to get everyone involved in a fun race that resembles all the intensity of the Formula 1 world. Uk-go-karting.com offers links to sites across the UK, giving you a range of options, including indoor and outdoor tracks, competitions, corporate events and more.
8. Sand Boarding, Anywhere You Like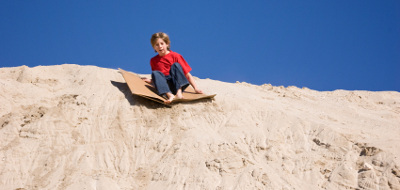 To go sand boarding you only need 2 things: a sandy hill and something to slide down it on. You can approach this sport in 2 ways. The first is to hire a proper board (or use your snow board, which is probably in need of a good spin now) and treat it like the summer equivalent of snow-boarding.
The second way is cheaper, as fun and a lot easier. Head to the nearest sand dune and go down using whatever is available to you. This includes old sleds, dinner trays and sheets of ply wood (use candle wax to make it super-smooth first) - if you have a better idea, great. Sometimes the best sand boards are home-made.
7. Zorbing, Dorset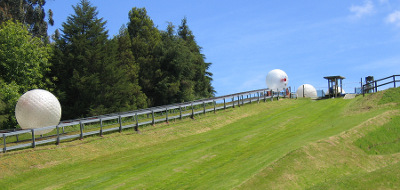 Odds are you haven't heard of zorbing, but by the end of a day on Pine Lodge Farm you will be screaming about it to all your friends. It works like this - you hop inside a large, inflatable ball and go careening down a hill. Zorbing South offer the longest hydro and harness zorbing track in the UK (approximately 200 meters) - guaranteed to get the kids and adventurous adults giggling. It's safe, it's fast, it's fun and it's at a beautiful location - perfect for a family day out.
6. Quad Biking Tours, Scottish Highlands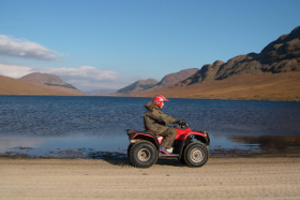 Quad bikes are Harley Davidsons with training wheels and soft seats. They're incredibly fun, very safe and able to go up steep hills in the rain. So what better way to see the Scottish Highlands - arguably one of the most picturesque places in the UK - than from the cushy seat of one? Quad Bike Tours offer a selection of packages to match your family's size, thirst for adventure and skill level on a quad bike. On top of that, there are other adventure sports on offer for when the ride is over: kayaking, 4-by-4 tours, white water rafting and others.
5. Surfing Lessons, Cornwall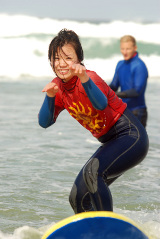 More than 70% of our planet is made up of water - so it only makes sense to use this in a fun and healthy way. The pleasure that surfing brings has been subjected to far too many overused cliches to add to it - people say that it's the ultimate high and the closest you can get to Mother Nature. The best way to find out is to go through a surf school. Perranporth Surf School in Cornwall are affiliated with the British Surfing Association and offer lessons at one of the most beautiful beaches in the UK. The trainers are friendly and qualified to lead you through the first steps of your ride. They'll be there to help you get over any fear of waves, the board or being in the water. While it may seem like an impossible task at first, you'll be hooked before you know what's hit you. If you are too scared to go, let your kids try it first: you will see their faces light up with a joy that outweighs all description when they catch a wave and ride it for a brief moment.
4. A Hiking Weekend In The Countryside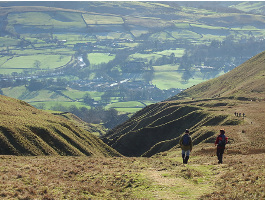 Some feel the need to travel all over the world looking for the most beautiful places to go on holiday, when they haven't fully explored what is in their own back yard. For families with energetic kids and parents who like to stay fit, we can't recommend renting a cottage in the countryside, near a hiking trail, enough. Between the Lake District, the Peak District, Norfolk, Edinburgh, Cardiff and beyond, our nation is blessed with a range of beautiful hiking trails that rival the best in the world. The cost of renting a cottage is a refreshing change from exorbitant hotel rates, and gives you the chance to relax with the family in a far more natural setting. For cottage listings around the UK, check out www.cottages4you.co.uk.
3. Caravan Holidays across the UK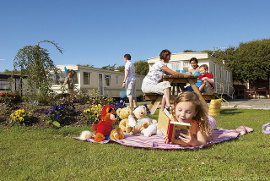 It's time to add a twist to the way you holiday. Caravan holidays are exactly what they imply: holidaying in caravans with an extraordinary interior. Ranging from heated rooms to 14 foot wide caravans, these dwellings are fancier than you think. Take full advantage of being submerged in the beauty of nature while receiving hotel-like accommodation facilities such as crystal clear pools, tennis courts, restaurants and play areas for the kids. Don't feel like driving too far? With a variety of holiday parks across the UK, you can find yourself enjoying a caravan holiday in no time. For more details, visit https://www.findparks.co.uk
1. Go Ape at Coed Y Brenin, Wales
Described as a 'tree top adventure' the Go Ape! course at Coed Y Brenin takes you to the forest's summit, where you'll cruise from platform to platform like a child reared by apes. Your experienced and highly trained guides lead you through a number of high-flying apparatuses, which includes 5 different sections, 31 crossings and a massive 140 meter zip line - always a hit with the kids. The tour lasts for 3 hours and takes you to parts of the conifer forest you thought only birds got to see! When it is all over, there are mountain bike and walking trails, and a visitors center where food and beverages are available. For more information, check out the Go Ape Website.
Go Ape! For 20% Off
The number 1 rated Alternative Family Holiday Idea are hosting an incredible deal for readers of the ET magazine this year. Check out the ET blog for more details...
Last Updated: June 2011